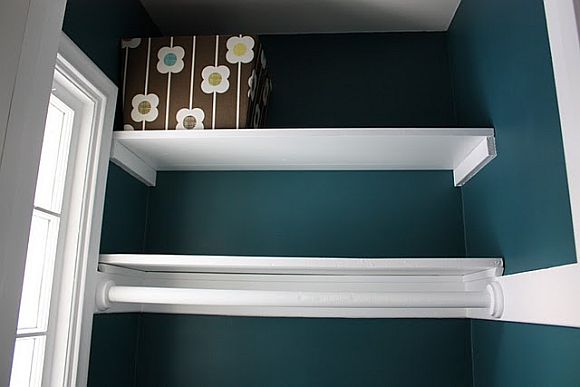 Closets are magic places. They hold lots (and LOTS) of treasures, make great hiding places and are a necessary part of any shopping-obsessed person's lifestyle.
Because they tend to be overfull, a closet's appearance is sometimes neglected. If you've decided it's time to rescue your closet from a non-descript life, we applaud you! Revamping a closet makes for a great weekend project — it's not too terribly time-consuming, and you'll start the next week with a sense of accomplishment — and an attractive closet.
The only downside to working on your closet? You'll have to empty it first. But hey – think of this as a time to declutter and organize! You'll also want to think about the space and how you can improve it. Maybe you need to add some shelving or storage bins to help corral wayward items.

You might also try a vibrant paint color. Although not many people see the inside of a closet, that doesn't mean it can't express your personal taste. We love Sara at Russet Street Reno's application of Ralph Lauren's "Reflecting Pool," a deep turquoise that shifts between blue and green depending on the light.
If you're using a bright color like the one mentioned above, try complementing the vivid hue with crisp white trim and shelving, a contrasting combination also preferred by one of our fearless DIY contributors, Tabatha. You'll add a punch of brightness to the space, as well as an eye-appealing contrast.
Other possible additions?
*Install a full-length mirror.
*Hang another clothes bar.
*Attach hooks to a wall for hanging scarves, ties, bags and belts.
*Swap out the light fixture, depending on the size of the closet.
We hope these ideas will help jumpstart your closet transformation. And if you've recently improved your closet space, we'd love to hear about it!
Photo courtesy of Russet Street Reno [www.russetstreetreno.com]