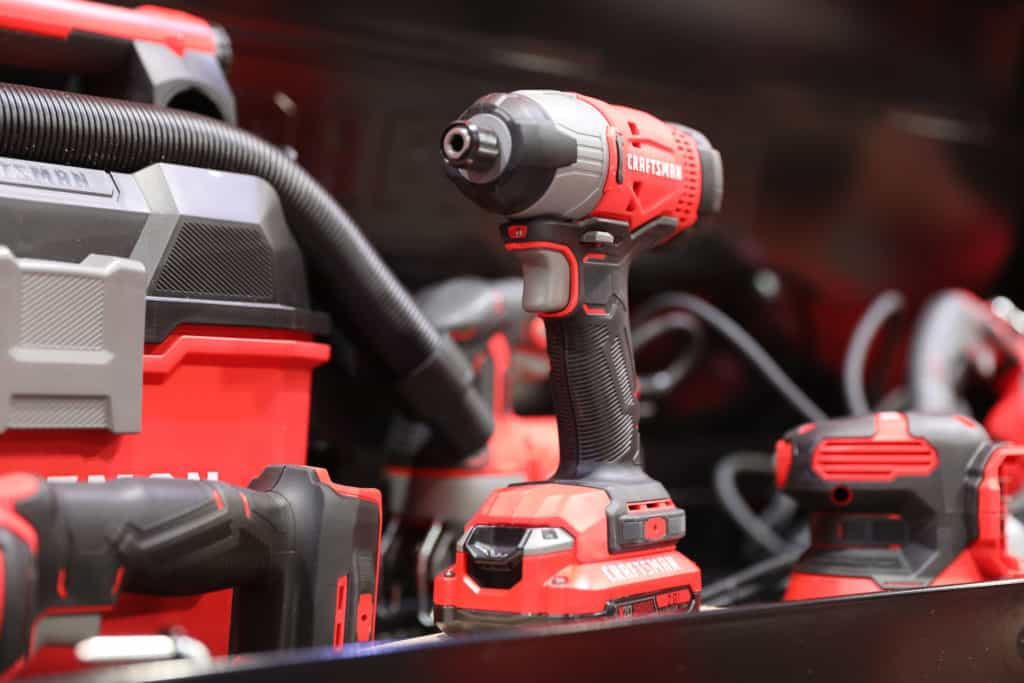 Stanley Black & Decker has just re-launched Craftsman with over 1,200 new power tools, hand tools, yard and garden equipment, tool storage, and more.
What do you get when a company who is responsible for creating some the best tools in the industry purchases a tool brand that is so iconic, its 90 year history is woven into the fabric of America? Simply put, until last week I didn't know the answer to this question, because nothing like this has ever happened in the tool world. However, Stanley Black & Decker tried to answer this question at their 2018 Craftsman Launch in Baltimore, Maryland.
In 2017 Sears put their Craftsman brand up for sale, and Stanley Black & Decker, the company behind famous tool names like DEWALT, Stanley, and Porter Cable, made the historic purchase and began an extensive overhaul. Over the last year the Stanley Black & Decker Craftsman team has been working tirelessly to develop a tool and utility line. It's certainly a difficult endeavor, as the team looks to build on the brand's well known hand tool, storage, and outdoor maintenance lines, while at the same time working to leverage the knowledge and experience across power tool categories to drive innovation under the Craftsman brand.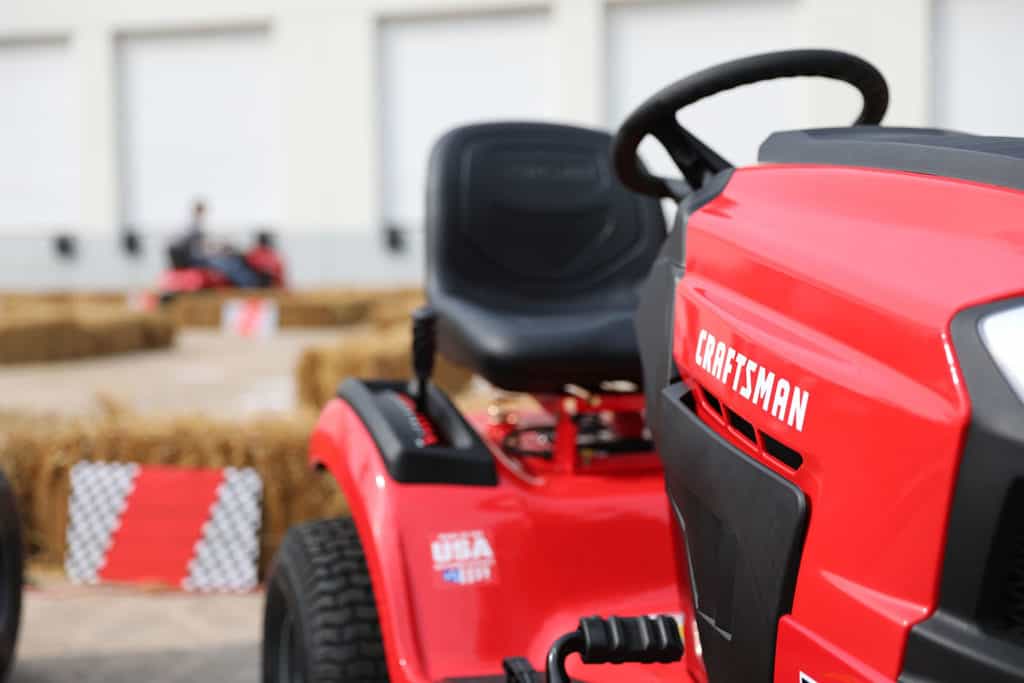 Following more than a year of effort, Craftsman put their results on stage during their official 2018 launch. What followed was a flurry of tool unveilings, demos, stats, stories, and suspense for where Craftsman is headed.
Touting "1,200 new things" the team had planned to show off, the launch event focused heavily on four primary categories of tools and accessories. From storage solutions for the shop/garage, to power tools, outdoor power equipment, and hand tools, the diverse lineup is geared to show the past, present, and future of the Craftsman brand.
Hand Tools


In its history, Craftsman is most widely known for their hand tools. Whether we're talking about the garage mechanic turning a wrench, or the weekend warrior blindly grabbing for a nearby clear handled screwdriver, this is the tool brand's identity to many of its diehard fans. For this reason, a tremendous amount of time and effort has been invested in developing a high quality set of hand tools to accompany the launch of the line.
From tape measures to ratchet sets, and everything in between, the launch event allowed for some serious hands on time. All of the hand tools we tried seemed to be solidly built, and with an emphasis on ergonomics and a pristine finish.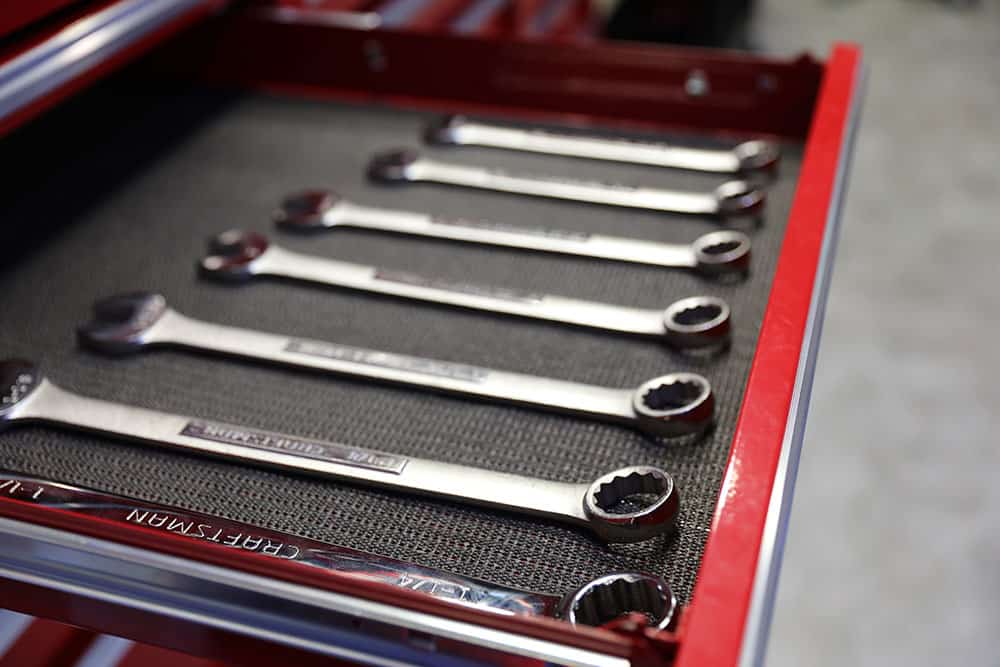 My three favorite tools in the hand tools lineup were the spring loaded folding utility knife, the stud finder with any easy marking center point, and the very comfortable to use metal snips.
Power Tools
When it comes to the power tool lineup of both corded and cordless offerings, it was a very obvious ground up redesign. Though the hand tools made well executed attempts to borrow from classic and familiar designs where possible, the power tools are sleek, compact, and obviously benefit from their proximity to Stanley Black & Decker's existing DEWALT and Porter Cable lines.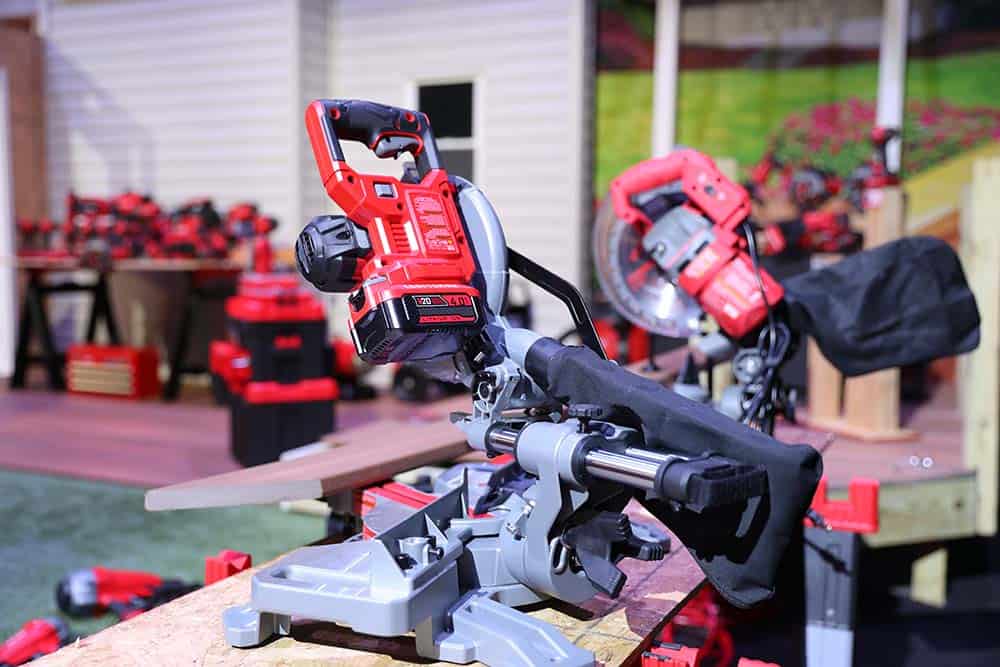 The lineup of power tools are intended as general application tools, meant to cover the bases of the DIYer and pro alike. While you won't see highly specialized trade tools the way you do with DEWALT, Craftsman is launching with a series of high quality general application tools like impact drivers, drills, nailers, utility devices, and cutting tools, including an oscillating tool and two miter saws, just to name a few.
The cordless offerings are based on a new Craftsman specific battery platform. While many would liked to have seen cross compatibility with existing 20v lines under the company's umbrella, the batteries certainly make some significant improvements over the likes of Porter Cable. For example, similarly sized low profile batteries between Porter Cable and Craftsman are 1.5 and 2.0 amp hours respectively. The Craftsman batteries also add an on battery power meter, and the goal is to ship each battery with a charger sized to provide a full charge in one hour.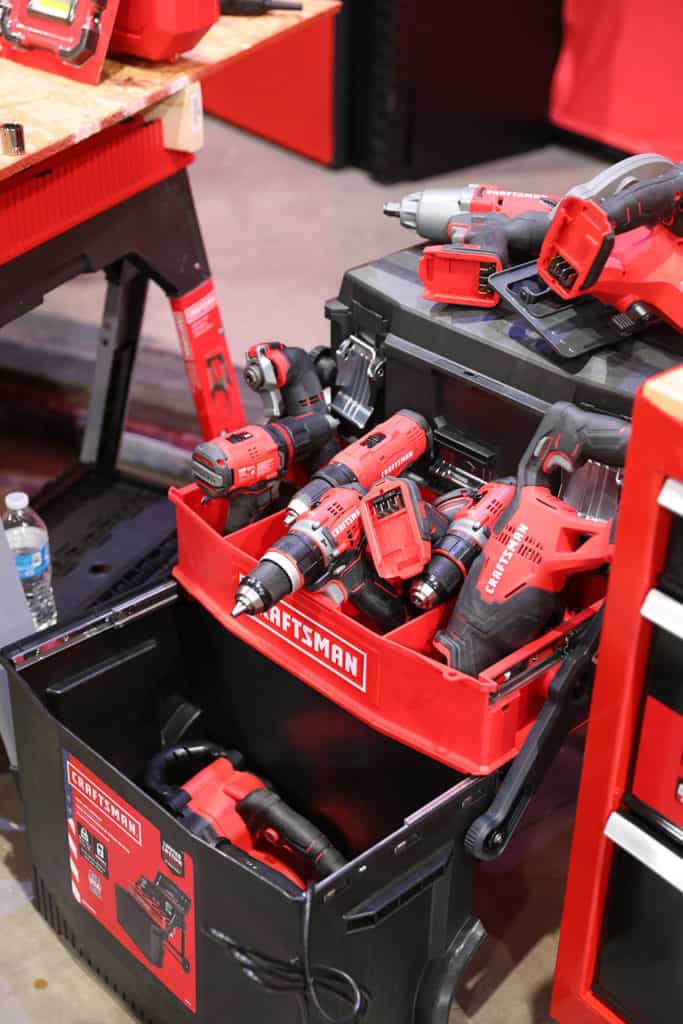 As with the hand tools, a major effort was put into tool ergonomics. Picking up any fo the power tools makes this clear. The tools are very solid when held and offer comfortable overmolded grips where necessary. The brushless tools are sturdy but light, and each tool that I tried seemed to have a very satisfying balance.
Two notable tools in the battery power tool lineup are the cordless tile saw with sliding tray, and the fixed speed compact random orbit sander. The minimized spray on the tile saw was particularly impressive.
Storage Solutions
One of the themes of the event focused on telling your "Craftsman Story." Whether people were sharing stories of hand tools passed down by their grandparents, or the tool box that always sat in the corner of the garage, it is obvious that the Craftsman brand holds a special place in many people's hearts. For me, my Craftsman story involves the large Craftsman branded mechanics chests we saw throughout the event.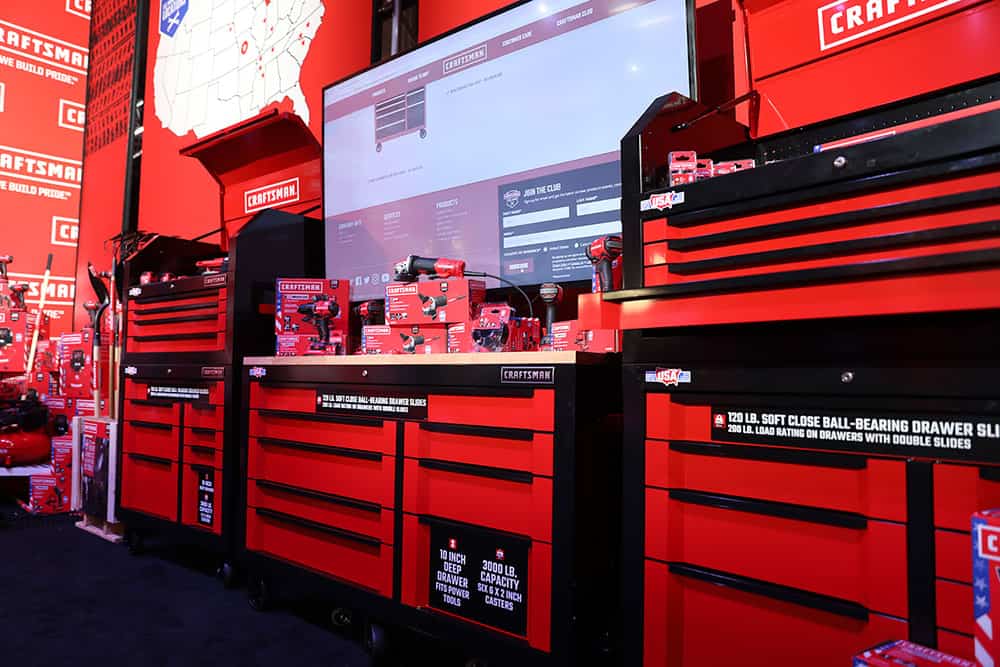 When I was a kid I was fortunate enough to attend Indycar and NASCAR races, often ending up ogling the powerful machines as they were worked on in their garage bays. I distinctly remember the large Craftsman tools chest being hurriedly pushed around the garage area to address whatever part swap, tuning adjustment, or complete engine change out had to happen. I remember thinking, "If these guys use Craftsman for storing their tools, I want to use them in my garage."
The storage offerings launching in 2018 area extensive, and would make my 12 year old heart smile. Whether we're talking full size multi tiered soft close drawers with an overhead hydraulic lift, or smaller stackable plastic molded solutions, there's bound to be something that will fit your needs.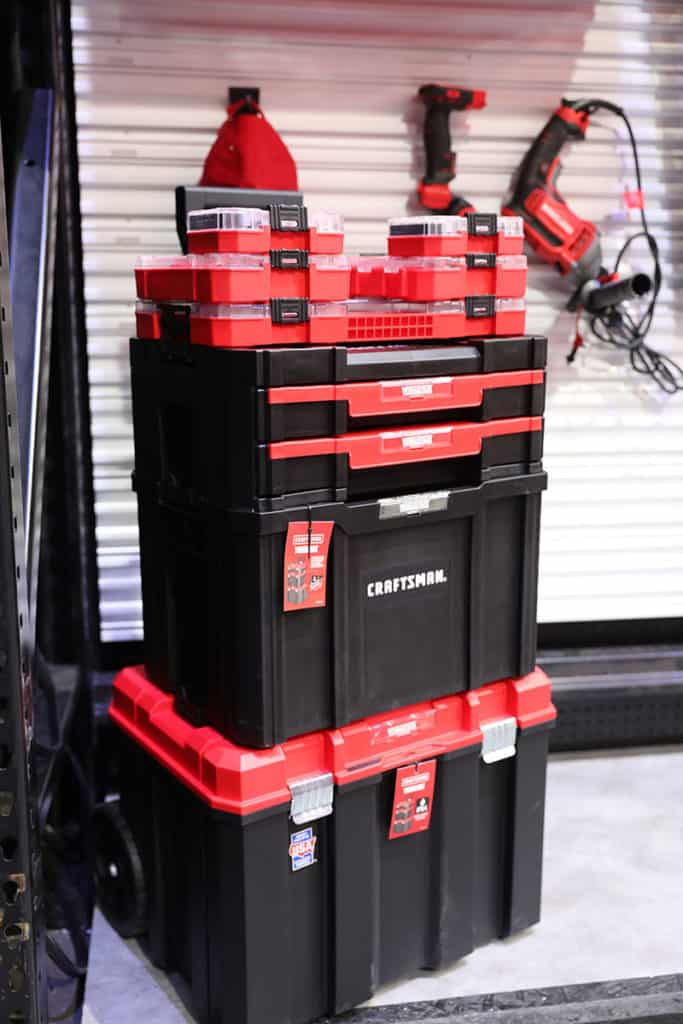 Of particular note is the new line of VersaStack and VersaTrack storage options. The VersaStack line is backwards compatible with the TSTACK line. It feels a little like a Packout meets DEWALT line, and includes a bluetooth capable radio option, as well as smaller storage containers for drill bits or screws.
The VersaTrack is a wall hung HOOKTITE solution that allows you to quickly and easily hang anything and everything on your walls. Just think "pegboard on steroids." Many of the power tools come with the VersaTrack hooks pre-installed, and they also sell more versatile hooks to hang non Craftsman tools. I did ask if they planned to add VersaTrack hooks to the backs of the small VersaStack storage boxes, and I received a bit of a glance and a smile, so I'm hoping for good news there.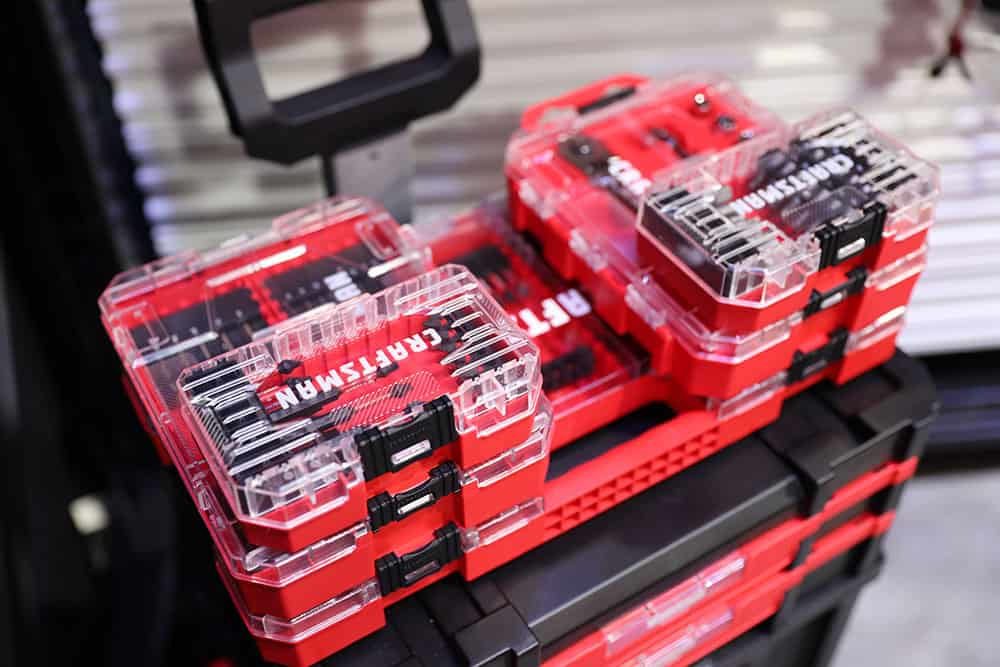 When it comes to storage, I think Craftsman has your bases covered if you're looking to outfit your shop in the iconic red.
Outdoor Power Equipment
Finally, the outdoor power equipment was the star of the show for many in attendance. A mix of gas and battery powered solutions, we saw everything from walk behind mowers and lawn tractors to a 60v chainsaw and snow thrower.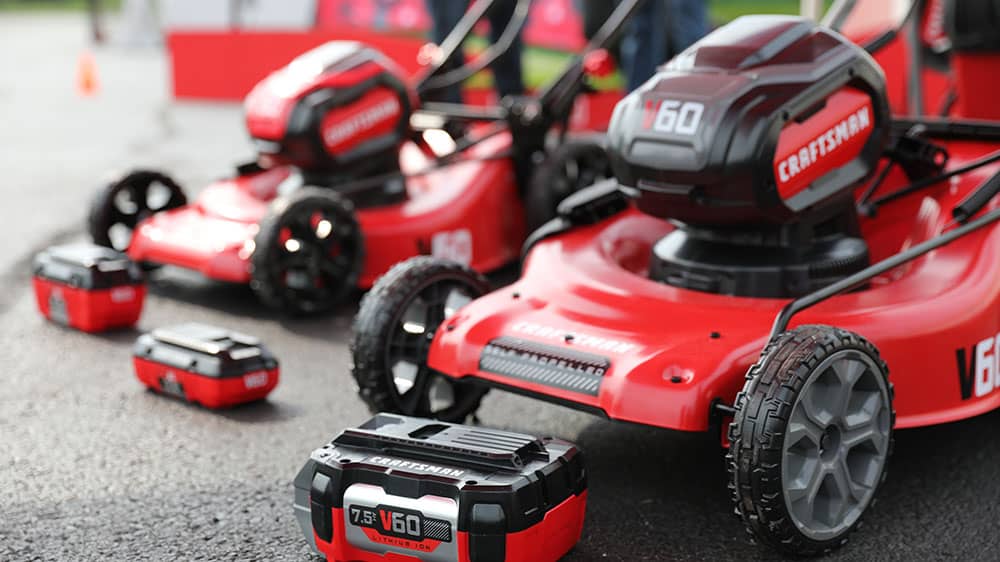 The various sizes of self propelled mowers went up to a massive 60v battery, but was extremely light and maneuverable. When folded up, the mower could be easily tucked away in even the tightest of garages or sheds.
The traditional riding mower was a joy to drive, offering a 5 degree turning radius that almost felt like a zero turn radius mower.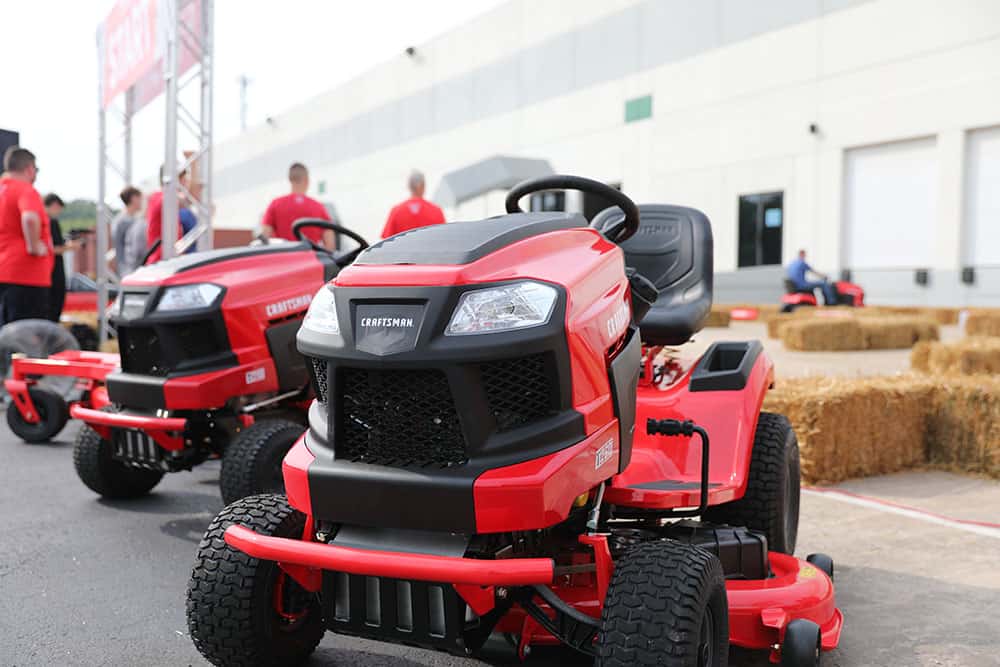 One of the coolest surprises in the outdoor equipment was the integration of the battery platform as a starter option for the gas powered items. Rather than needing to pull a cord to start your engine, or plug your snow thrower into an outlet to get it to turn over in cold weather, just pop in one of the Craftsman batteries and hit the start button.
In addition to the lawn and driveway maintenance items, the outdoor suite was rounded out with everything from shovels and rakes to weed sprayers. This was a very comprehensive lineup, to say the least.
Are You Excited For the New Craftsman?
Over the two day launch event, attendees were treated to an onslaught of tools and accessories that would make just about anyone's head spin. It was hard to keep everything in perspective as we took it all in. Everything we were seeing had been accomplished in the last year. It was astonishing to consider the time and effort that has already gone into making this new Craftsman line a success.
A good deal of focus was put on the "Made in the USA" aspect of the brand. The goal is to continue to expand the American made aspects of the line as time goes on, but there are already quite a few items in the offering that falling into the "Made in the USA with global materials" slogan.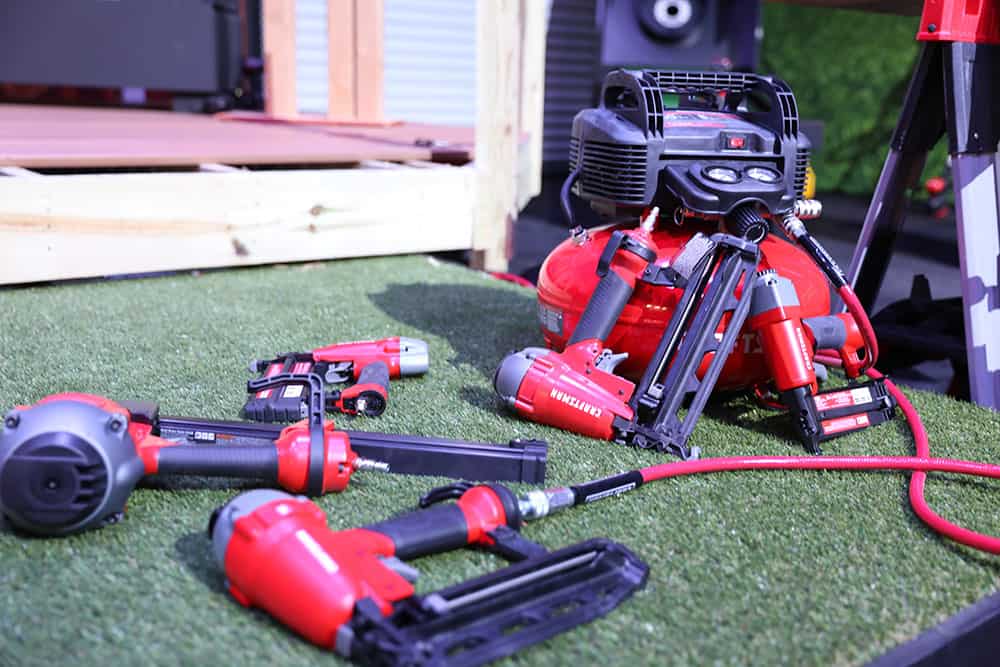 If you're looking to get your hands on the tools, Craftsman has developed partnerships that will make the brand available at Lowe's, Ace Hardware, and Amazon, as well as many other existing outlets. Lowe's is already selling several of the items on their website today. With the wide range of tools and accessories, it seems you'll likely see Craftsman in just about every aisle of the stores that will carry the brand.
The Craftsman brand has been positioned as an all around tool solution geared toward the DIYer, homeowner, or pro getting their start in the industry. Craftsman fans will feel right at home with the offerings, and the platform will continue to grow over time. Most importantly, it aims to offer a quality tool line at a competitive price. With respect to the other brands Stanley Black & Decker offers, the tools seem nicely positioned to fill a gap between the Porter Cable and DEWALT offerings.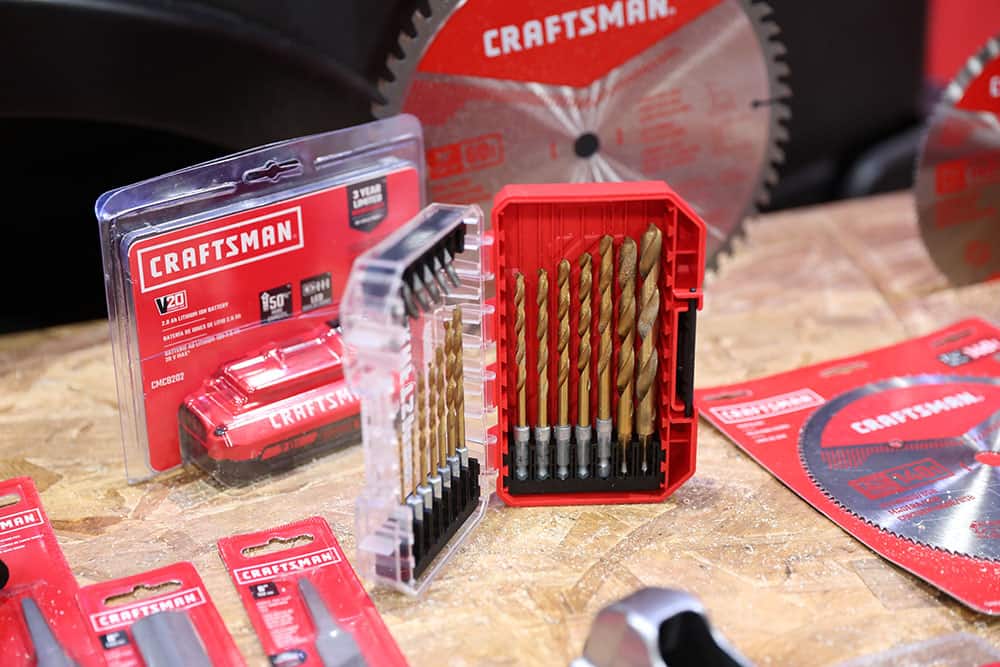 Craftsman's long standing reputation for outdoor power equipment, especially lawnmowers and small tractors, is relatively new to Stanley Black & Decker. It is good to see that the Craftsman team is tackling this as an opportunity to innovate and improve their offerings, and I can only imagine this will benefit not only the Craftsman line of outdoor power equipment.
From start to finish, the event was a combination of nostalgic nods to the brand's history, and a focus on what will set Craftsman tools apart. With an unveiling of this magnitude, it's obviously difficult to cover everything released, but this should offer up a few enticing nuggets that will hopefully encourage you to check out more of what Craftsman has to offer.