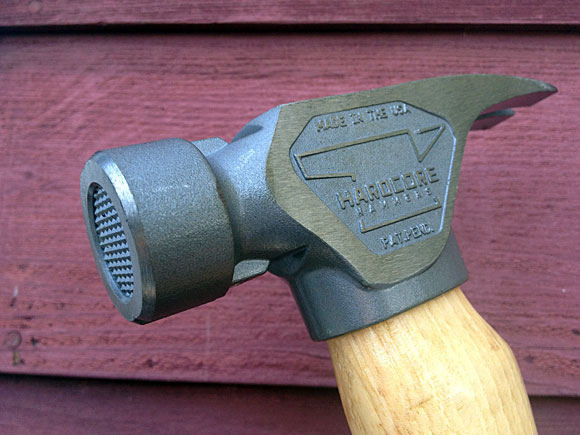 If you value American designed and manufactured tools then you'll love Hardcore Hammers. It's difficult for anyone to break into the tool business, much less two carpenters, but brothers Steve and Rick had an idea for a new type of framing hammer and in a year they had designed and developed a working prototype and sourced American manufacturers to produce it for them.
According to Steve:
"I have first hand experience with the frustration of the waffle on a brand new framing hammer wearing smooth long before the rest of the hammer wears out. As anyone who swings a hammer for a living knows, that grooved surface makes all the difference in driving nails. That same surface, though, damages finished products, and can make mincemeat out of fingers or thumbs that get in the way every now and then."
"For over a decade and a half, I dealt with the aggravation of using a hammer that just did not hold up under every day use. Worse yet, when titanium hammers became available, the problem was all the more troublesome because the cost of those hammers was so much greater, while the traction lasted only a fraction of the time that a steel waffle did, which was only a few months at best."
"It was then that my brother had an idea: place a hardened steel disc with the waffle formed in it into a cavity bored in the face of the hammer, recessed slightly from the smooth outer rim. This protected the waffle from ever coming into contact with anything but the nail being driven, no matter what material the nail was being driven into. At the same time, it also protects fingers from those merciless sharp points on a brand new waffle. His idea worked."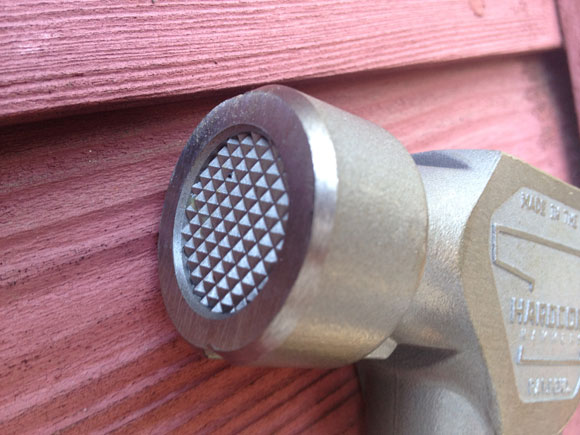 "Now the waffled face lasts longer than the rest of the hammer, and we no longer have to switch to a smoothed face hammer for finish work. We wore out three hickory handles over the course of 18 months, and the first hammer we made still looks like it has only been used for a few weeks."
"The level of abuse this hammer received and survived was astounding. We quickly saw that we needed to get this hammer out there, so we patented it and decided to start a company dedicated to making a hammer that outperforms all others."
Great story right!!!
Immediately upon gripping the hammer you can tell that some love and thought went behind it's design. The curved hickory handle is thin in the center to save weight but gets thicker where you grip. The notch cut at the bottom makes it easy to slide the handle through your loop and adds a nice design touch.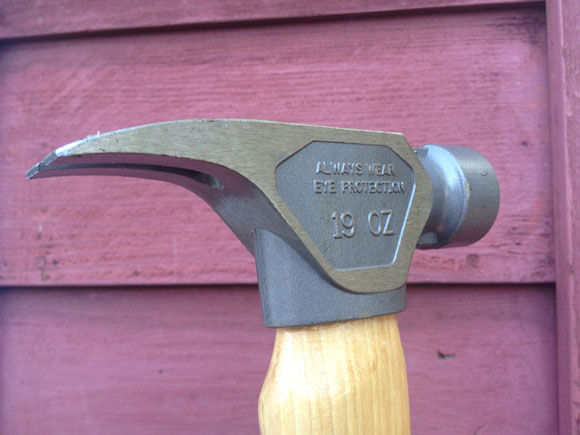 The head of the hammer features a straight claw and two magnetic one-handed nail holders that work well. And of course their patented waffle striking surface.
There are a few features other features of Hardcore Hammers that really separate them from the current market.
Recessed Milled Traction Surface
Grips Only the Nail..The smooth outer rim protects the traction surface from striking anything but the nail, improving resistance to wear. The smooth outer rim also protects fingers and thumbs from injury from the waffle.
Striking Surface
Hardcore Hammers Leave no waffle print and the traction surface wears longer than any conventional milled face. You've got all of the advantages of both smooth face and milled face hammers.
Material
The hammer head is 4140 steel and the striking portion is S7 tool steel.
Hardcore Handle
18″ American Hickory handle is the preferred material for carpenters.
Colors and Customization
They've kept it traditional with a natural finish but you can also get the hammer in gunstock, ebony and an envy two-tone. Plus you've got a choice of a straight or curved handle and a smooth or milled head.
The Hardcore Hammer is $79 but well worth the investment for those that need a never-fail product and are looking for something you won't find at your local hardware store.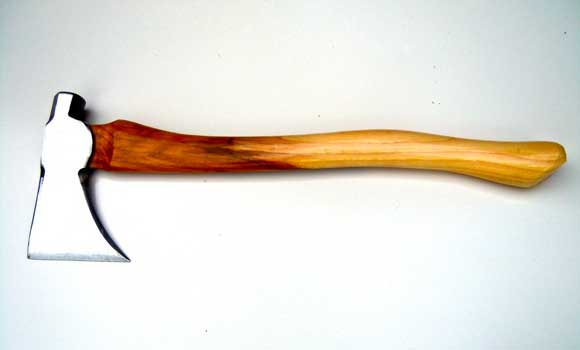 Hardcore Hammers recently introduced their Hardcore Hatchets. They took the same level of design and R & D into building these hatchets and the finished product is fully capable of handling any chopping, hacking or pounding job.
The also had some fun and designed a Zombie Apocalypse handle and a Midnight-Mare blue handle. Axes can be fun right?!
Here are some photos of the axes in production straight from the Hardcore Hammers workshop.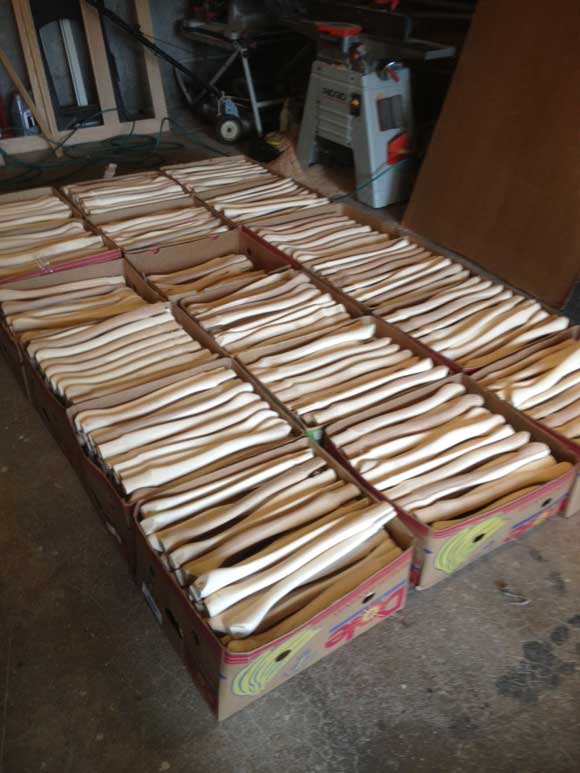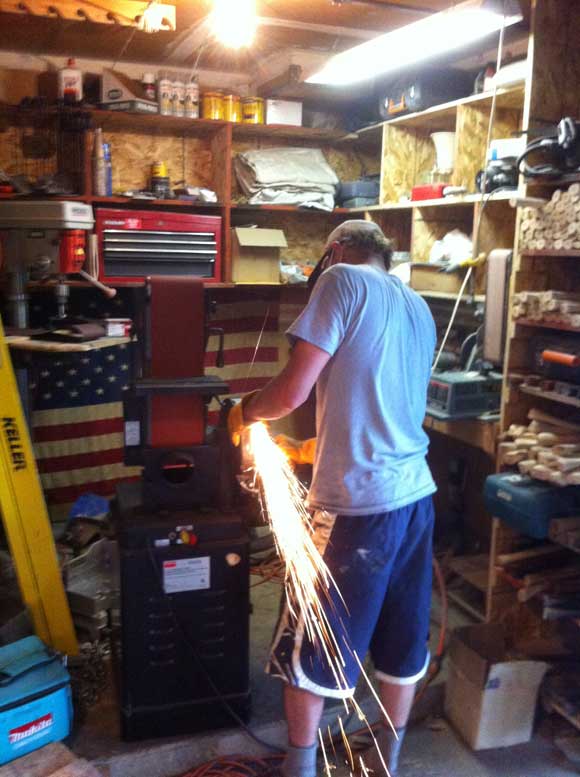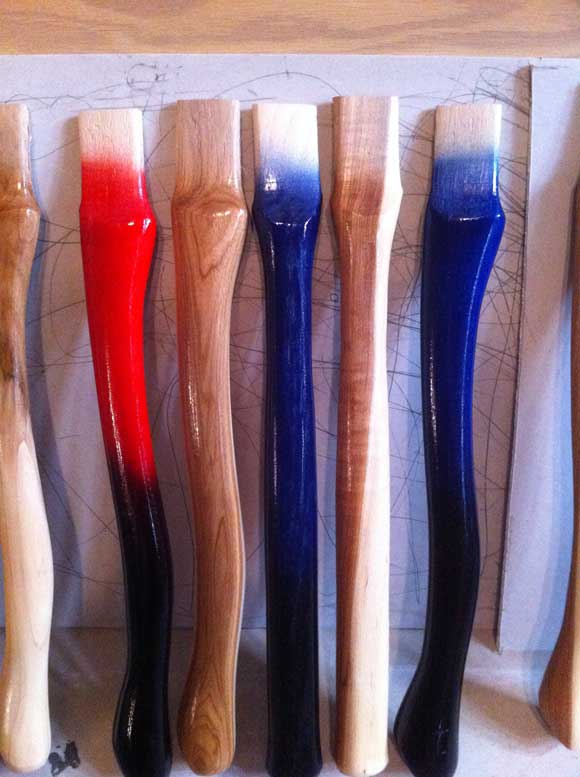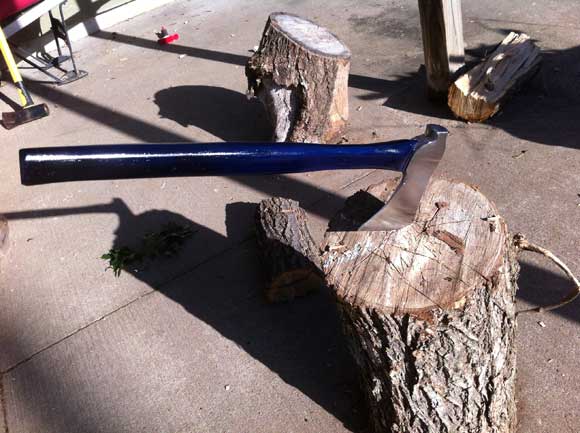 Are you ready for a Hardcore Hammer?