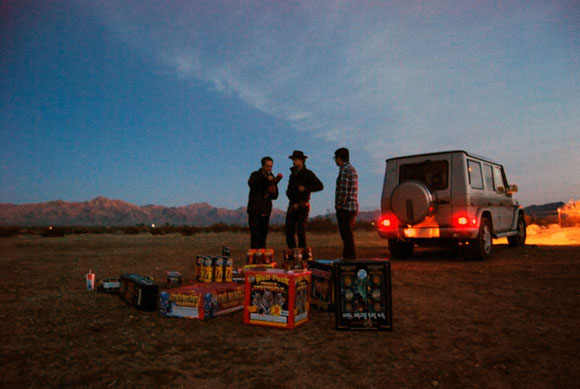 We welcomed 2011 with family, friends and a trip to the Nevada desert and a night in Las Vegas. We're sharing our travel tips and a few photos from the weekend.
Las Vegas Travel Tips

1. To avoid the LA traffic crush heading to Vegas on Friday afternoon or returning on a Sunday, consider the Pear Blossom freeway (CA-138). It's a pretty drive and removes you from the mess of inland empire traffic madness.
2. There are better restaurants on the Las Vegas strip but none with a better location than Mon Ami Gabi in the Paris hotel. Imagine a front row seat to the Bellagio fountain show and people watching on the Las Vegas strip. That's what you will get if you sit outside at Mon Ami Gabi which is located directly across the street from the Bellagio. We had a table for 10 (with heat lamps) and enjoyed a nice dinner and the best show in Vegas.
3. You can legally buy fireworks in Pahrump, NV but they must leave Nye county within 24 hours after purchase.
4. The Cosmopolitan Hotel/Casino is a great addition to the Las Vegas Strip. It's not for everyone but if you enjoy good food and are looking for a party atmosphere, the Cosmopolitan won't disappoint and it delivers a different a more intimate experience than most Las Vegas hotels which have become cavernous and impersonal.
5. If you'd like a side trip away from the glass and brass of Las Vegas, consider playing Cowboy for a Day at Sandy Valley Ranch. Parties, weddings, trail rides and dinner are all available.