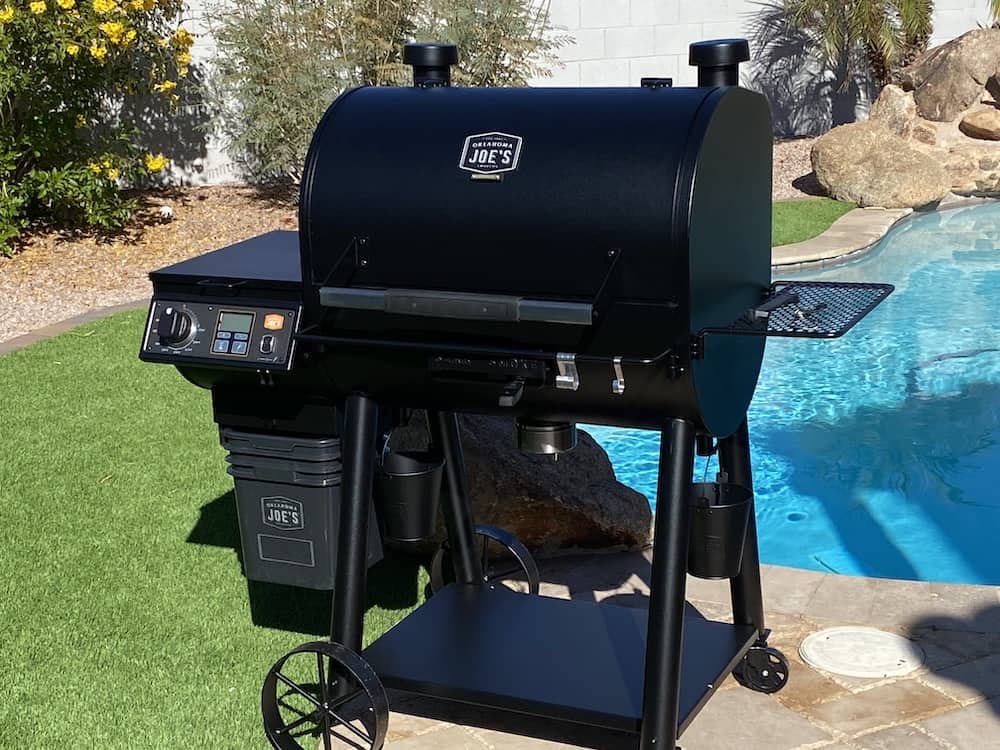 Oklahoma Joe's recently jumped into the pellet smoker game with the introduction of the new Oklahoma Joe's Rider DLX pellet grill. I've had it for a few months now and have cooked a wide variety of meals to great success.
Here's my review of the new Rider DLX.
It's a Beast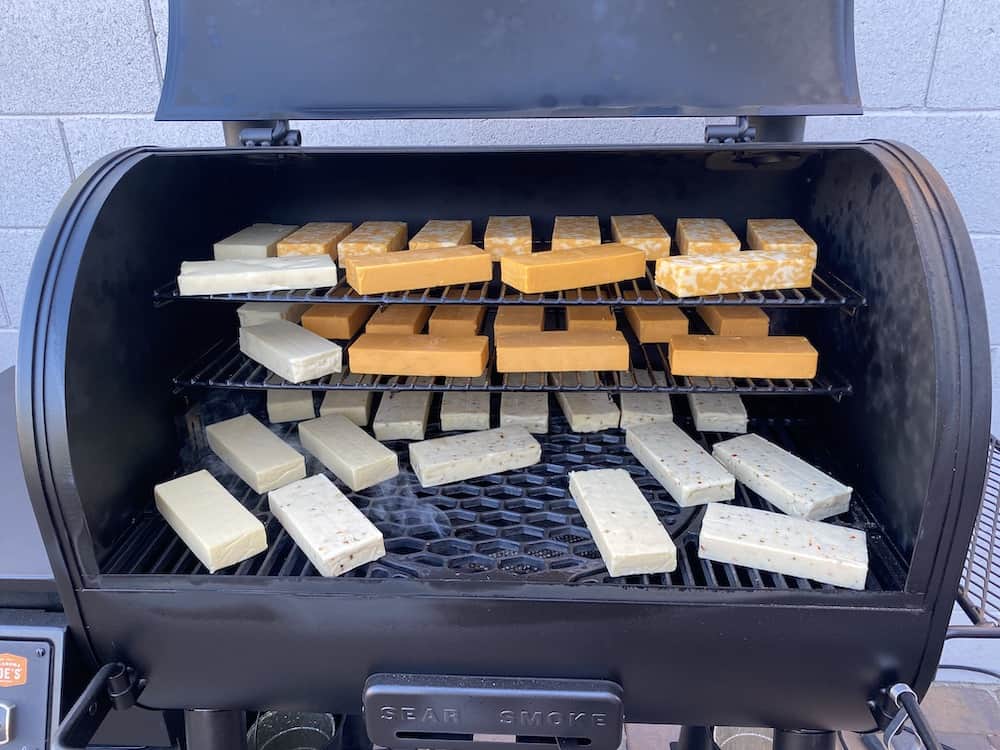 The Rider DLX is a beast, with 3 shelves you can really load it up. The bottom rack is 578 square inches and each upper rack is 328 square inches. The upper racks are large and strong enough to hold an entire brisket and they are also adjustable.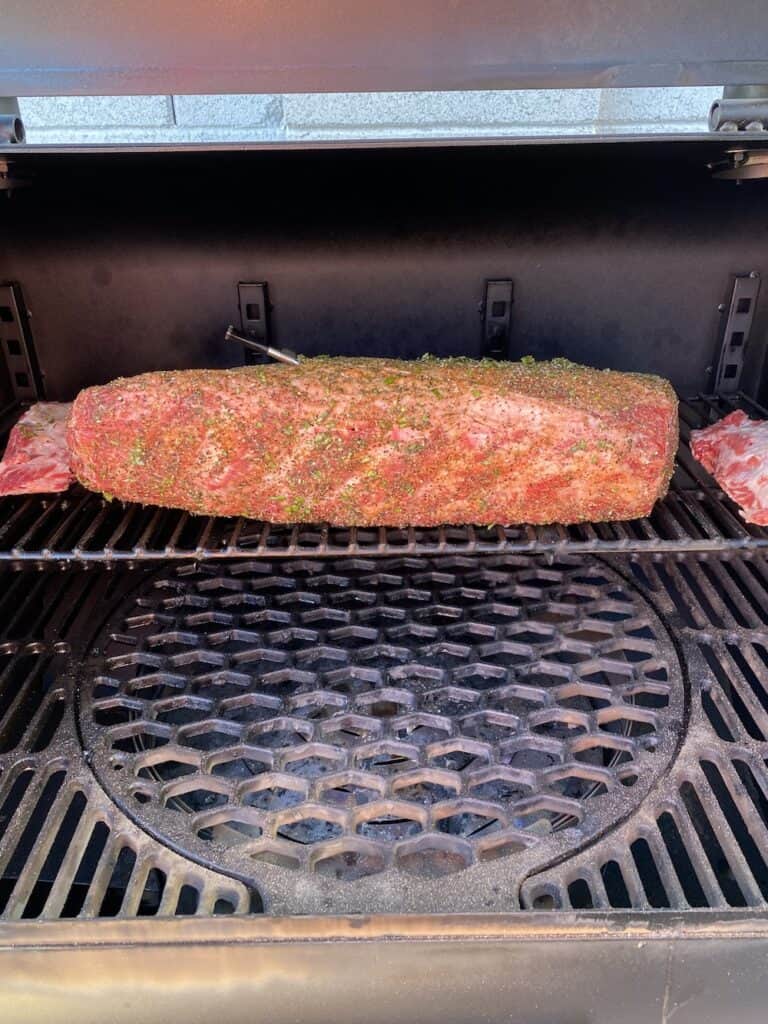 I used the main chamber to cold smoke cheese and fit 42 8 oz. blocks on the grates with room to spare.  I estimate that 3, maybe 4 briskets could fit at the same time. You can always cook a small meal on a big grill but never a big meal on a small grill. 
You can always cook a small meal on a big grill but never a big meal on a small grill.
The chamber is a tall body which helps to really utilize the space.  Another plus is the racks have other configuration options available for purchase with racks and accessories).
It's a True Grill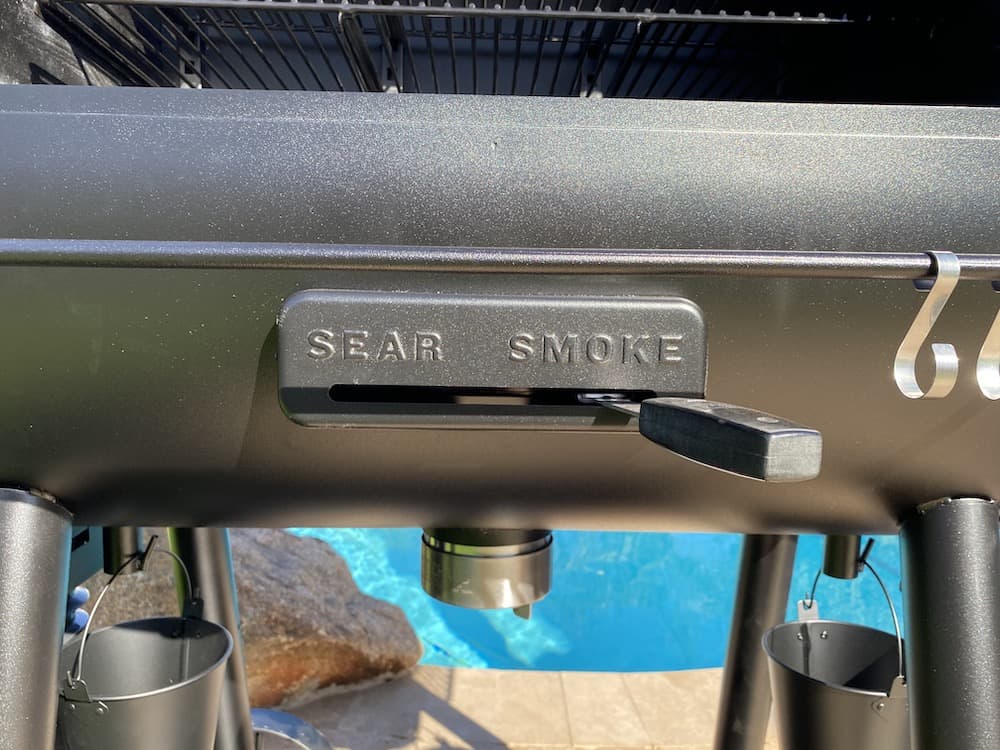 Speaking of size, the sear plate is HUGE and easily identified. The bottom grate is cast iron with an 18" circle in the middle to use with sear mode. I could comfortably fit 3-4 steaks on the space at the same time and a simple slide on the smoke/sear handle unleashes the open flame to toggle between modes.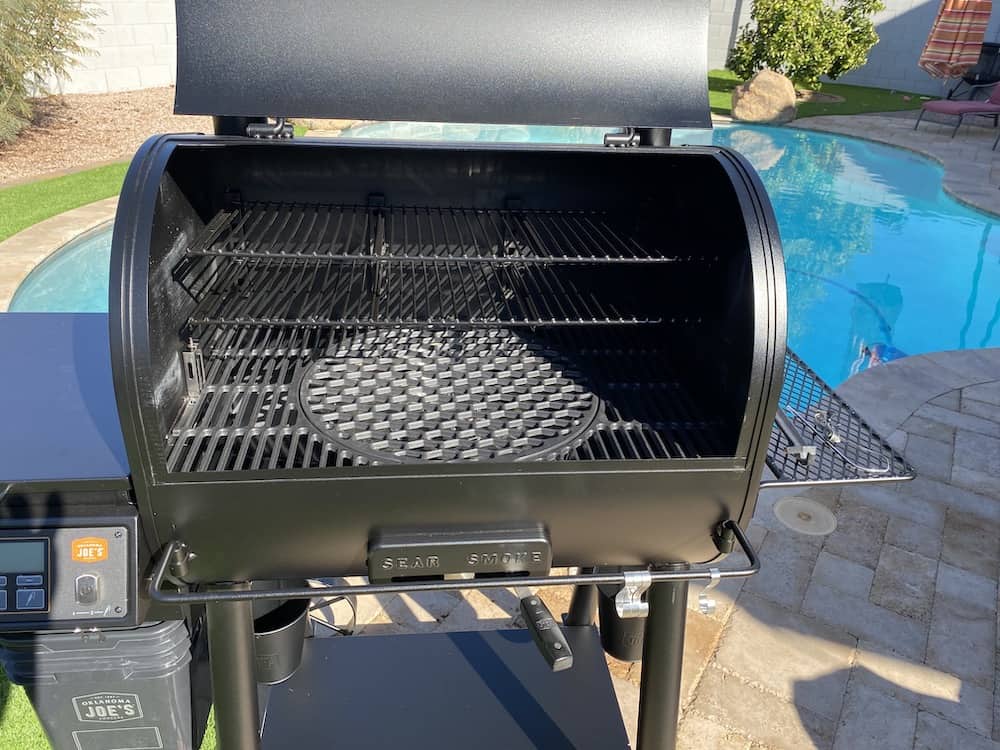 This feature sets the Rider DLX apart and allows the unit to truly be used as a grill.  Some smokers have a sear plate but they are generally much smaller and can do one, maybe 2 steaks if they are really close together.
Monster-Sized Pellet Hopper
The QuickDraw hopper has a stated capacity of 20 lbs. and initially I was a bit skeptical, because of the design (all 4 sides funneling into the auger) it looked smaller.  But indeed, it was capable of holding 20 lbs. of pellets with room to spare.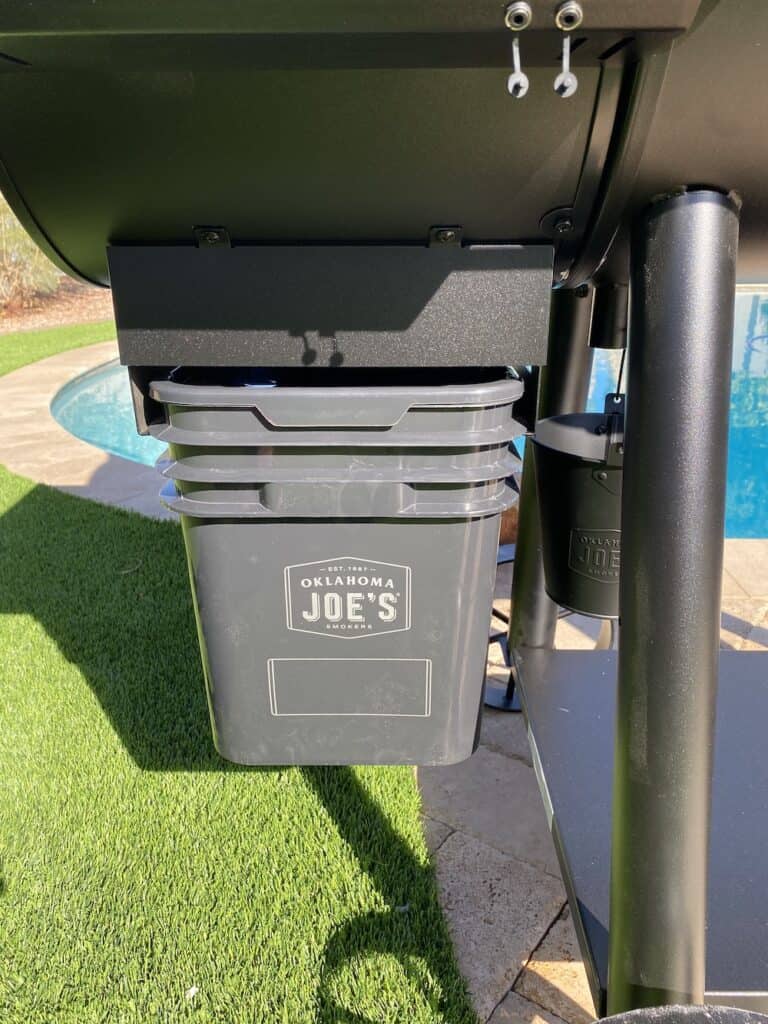 I found the true funnel design to be very effective in feeding pellets into the auger without experiencing any air pockets that I sometimes run into with other units.  The Rider DLX also comes with a storage bucket to empty the hopper between uses.  This is another feature that really shines – it may be the easiest and fastest hopper emptying system I've used. 
With the bucket slide into place, you simply pull the hopper handle out to open the flaps on the bottom of the hopper.  Pellets fall into the bucket and you're done.  I did this after every cook and never lost even one pellet–that was impressive.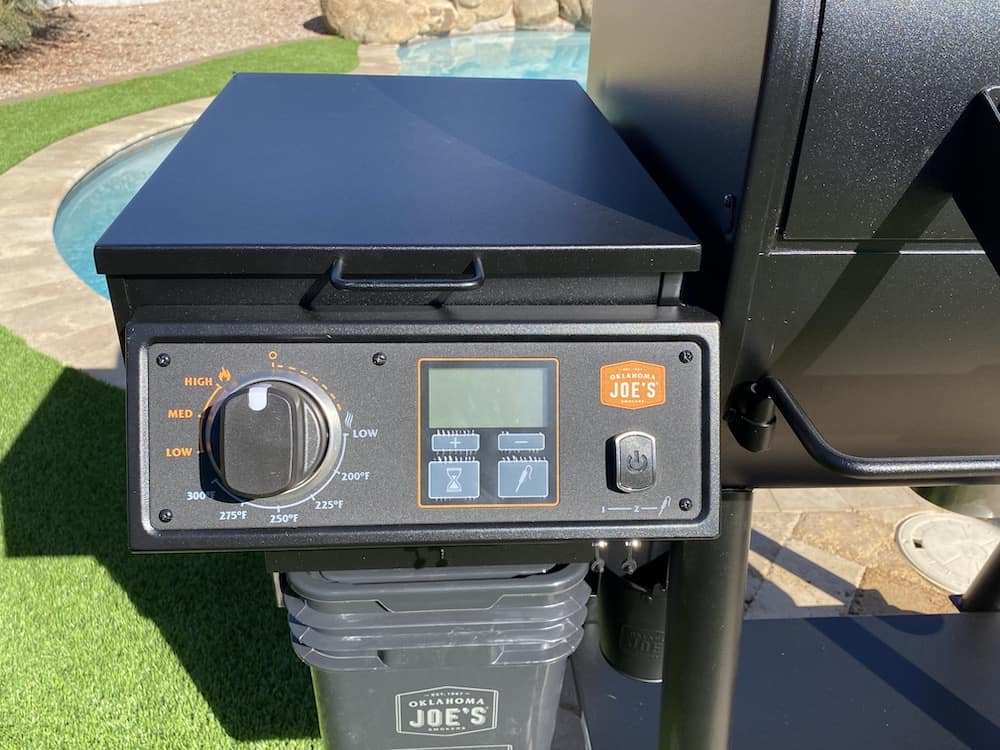 Other Standout Features
The Control board is easy to read and operate. There are temp probes and timers to monitor cooks and the temperature control knob is large.   
High temperatures achieved. On the high heat mode with the sear plate open I hit high temps over 725 degrees.
Four wheels (2 wagon style and 2 on casters) allow for the Rider DLX to be moved around with ease.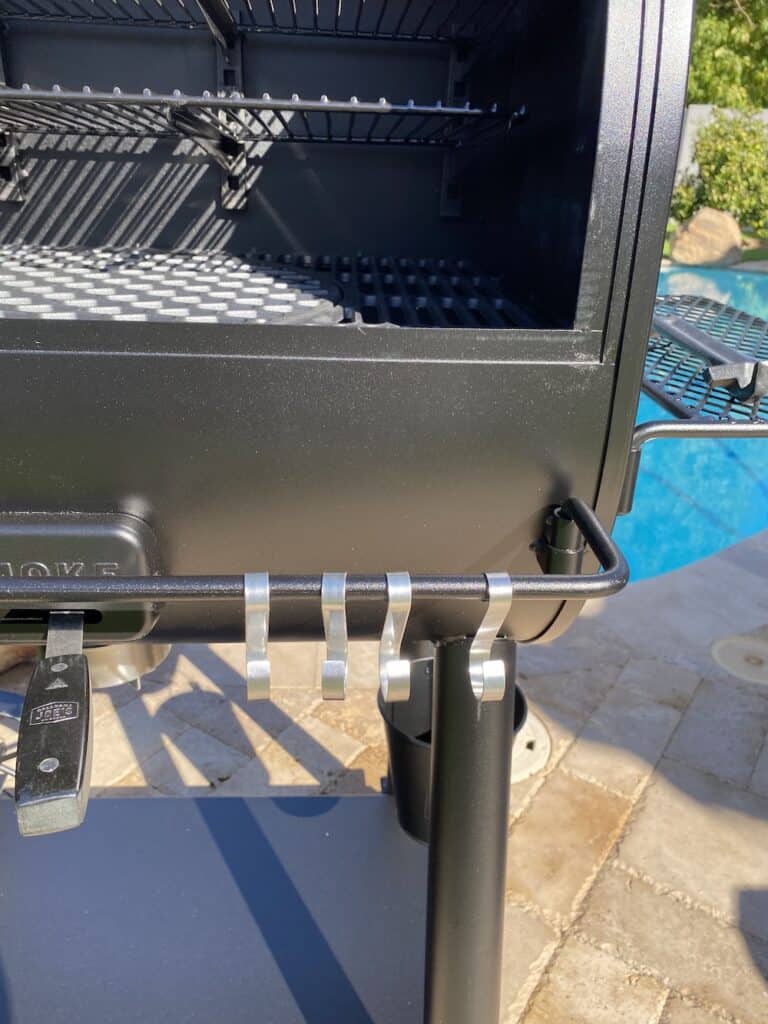 What Can Be Improved
The Rider DLX has a side shelf and the top of the hopper could be used as well but the lack of a front shelf was a bummer. I didn't realize how much I used and liked having a shelf directly in front of the grill until it wasn't there.  
The control panel allows for low and slow cooking between 180-300 degrees and then switches to low, medium, and high setting for 300+.  I found the low setting on "BBQ mode" was 400+ degrees creating a fairly large temp window that cannot be used.  This excluded the ability to use the Rider DLX to cook casseroles or slow cook and then bump up the temp.
This is a really small list wish list of improvements for an otherwise excellent grill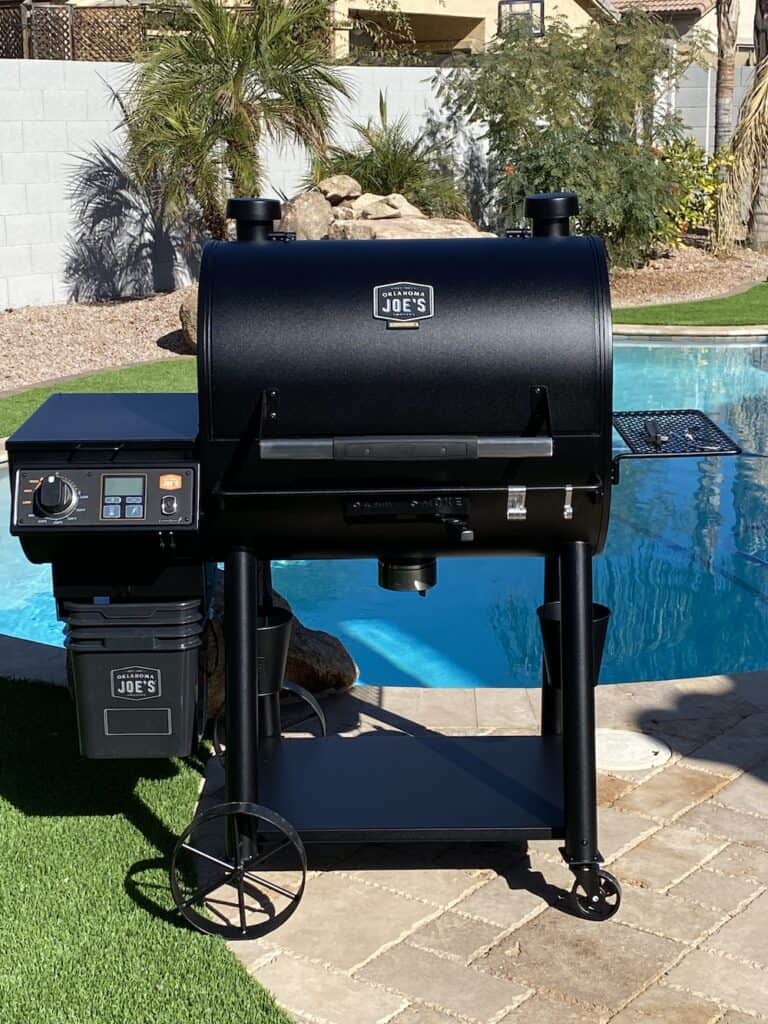 Final Thoughts
After using the Rider DLX for a bit and figuring out what it does well, I loved the unit. 
It excelled when either going low and slow (300 degrees or less) or high heat (400-700 degrees); if that fits your style of cooking then I would recommend this grill. The ability to add flex accessories to customize is also nice. 
Having a storage pellet bucket and cover included provides great value, they would usually run around $50-$75 if bought separately. Everything we cooked on the Rider DLX came out with great flavor and seemed to impart more 'smokey' flavor into the meats than other pellet grills I've tested.
At $599 it features a very large cooking capacity and the ability to truly use it as a replacement to a propane grill as well as a smoker–a big plus if you are looking for a versatile appliance. 
My final rating is 3.5 out of 5 meat hooks.
The Oklahoma Joe's Rider DLX is available now on Amazon.
If you are looking for a charcoal drum smoker, the Oklahoma Joe's Bronco is the best of the bunch.