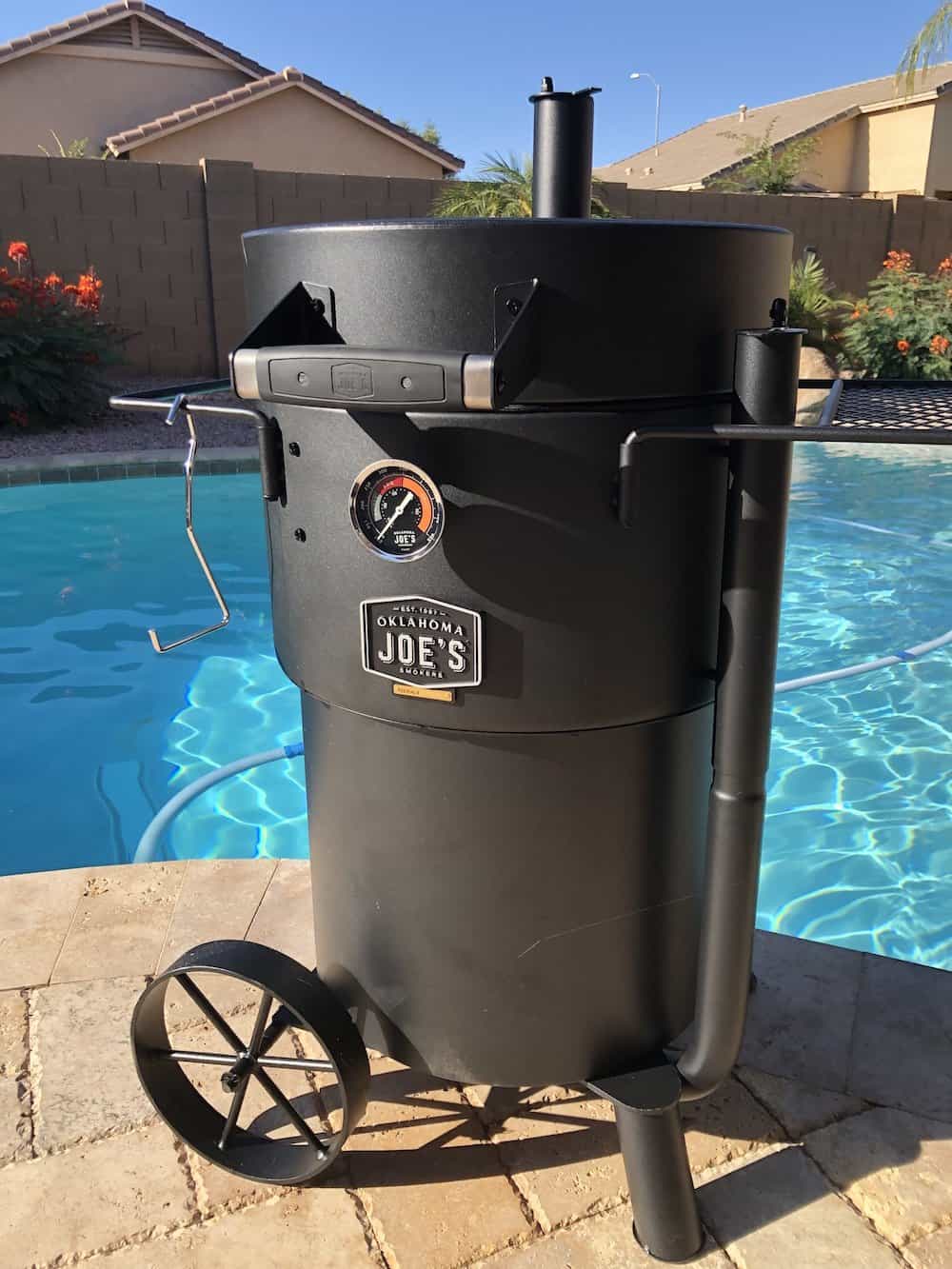 The Oklahoma Joe's Bronco Drum Smoker is a big step up from our Brinkmann smoker, but it's still an affordable smoker that can cook a ton of meat that will taste great.
The drum smoker design allows you to smoke on the 18-inch cooking grate or use the meat hangers and hooks. Smoking with charcoal takes a bit more work than a wood pellet smoker, but the results are amazing and once you get it dialed in the Bronco could be your go-to smoker for years.
The Bronco features ann eight-pound charcoal basket which is large enough to hold enough charcoal to smoke all day or night. The ash-pan is easy to remove which makes the tedious task of cleanup a cinch.
Other standout features include a side shelf, heavy-duty rubber gripped handles, and large wheels for easy transportation.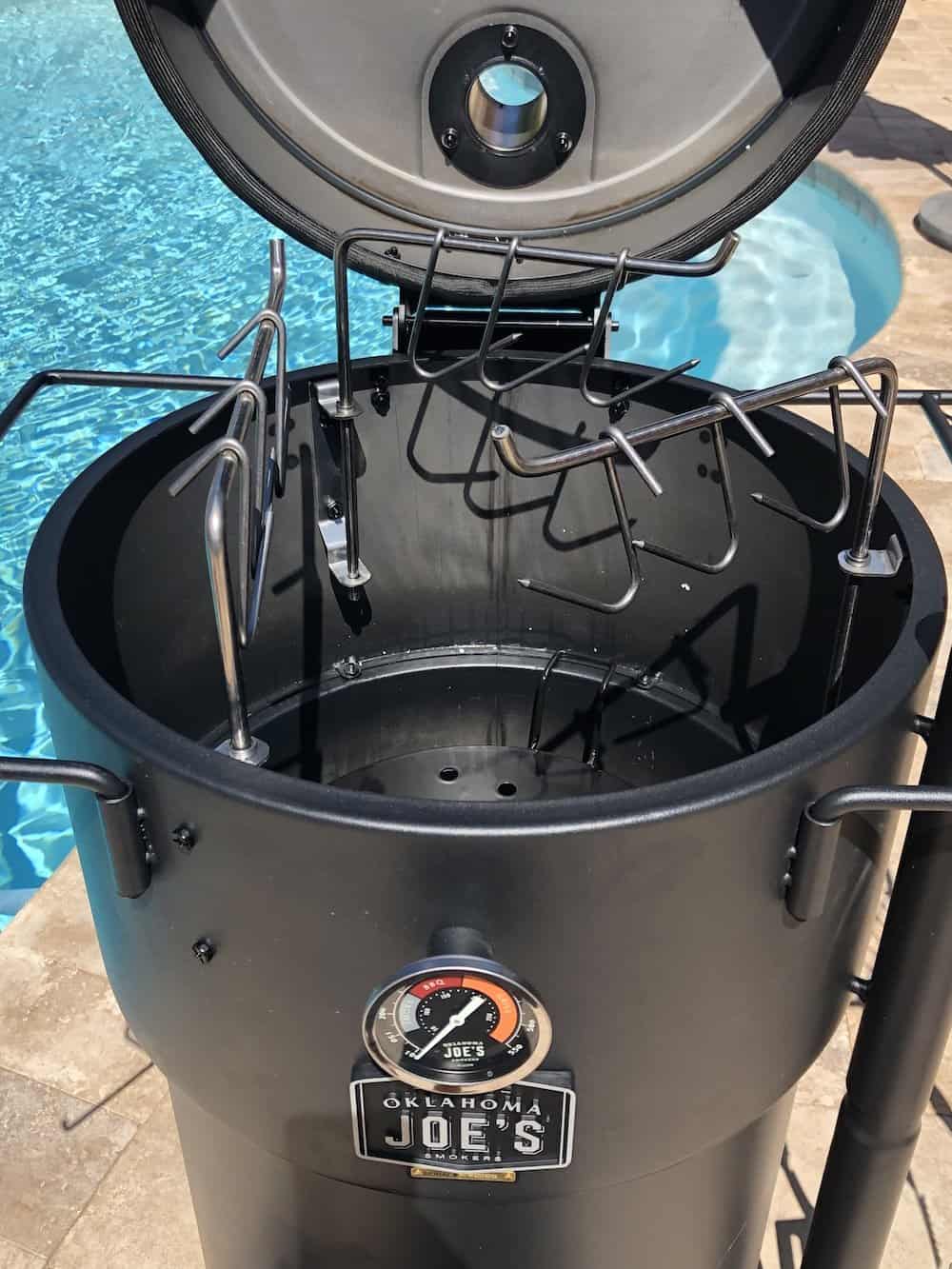 I smoked 3 racks of ribs for a family bbq and everyone loved it, which is the greatest testament to the abilities of this smoker. Tastebuds don't lie.
Smoker Review
Here is my in-depth review of the Oklahoma Joe's Bronco Drum Smoker.
Versatility
The Bronco can be used as a smoker or charcoal grill in addition to allowing you to either hang-up food (9 hooks included) or use the 18" diameter grill top, and include the deflector plate or not. You can really customize the Bronco to your exact cooking setup.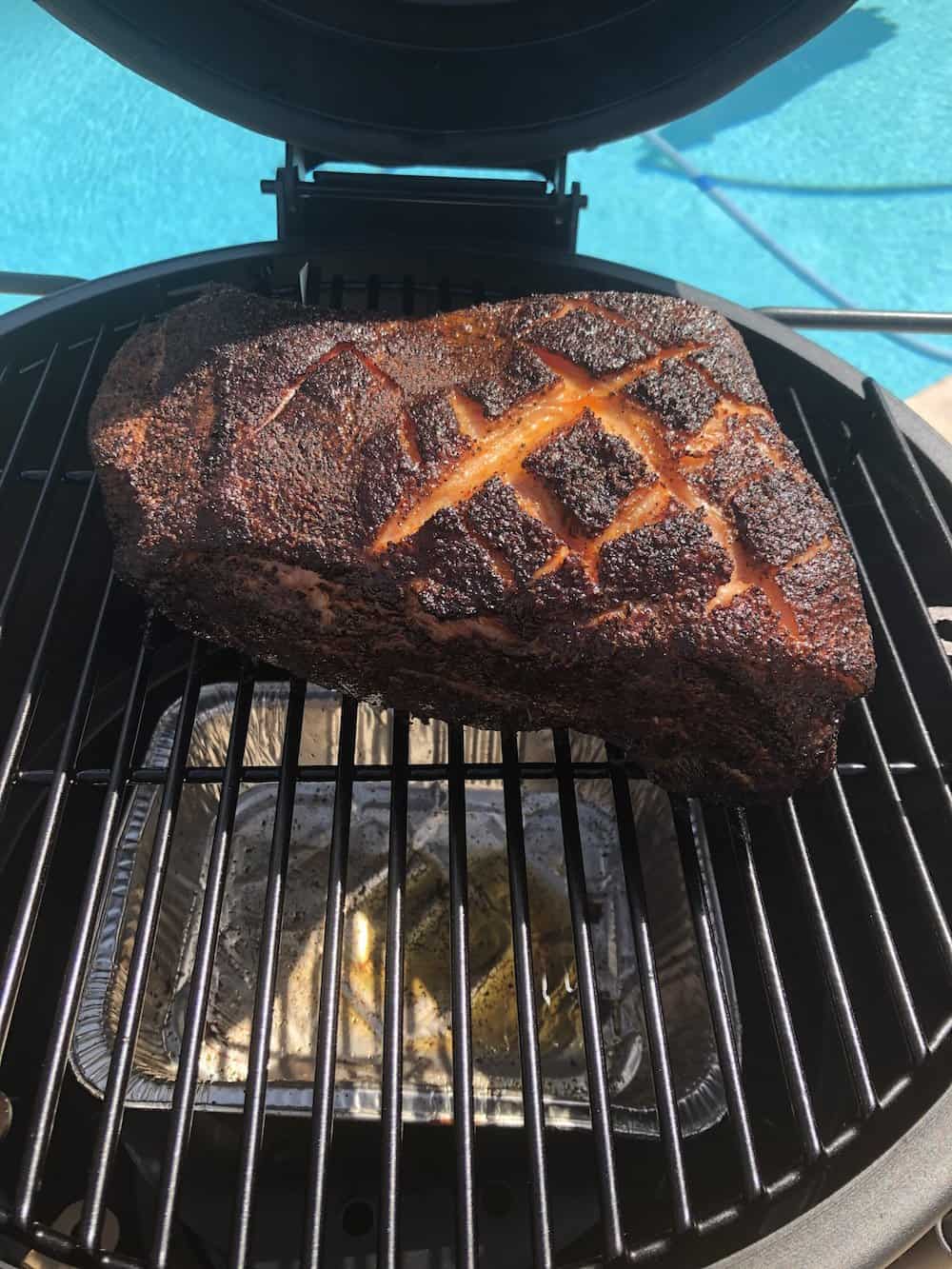 Steady Temperature
The Bronco did a great job of holding temperatures steady during extended cooks.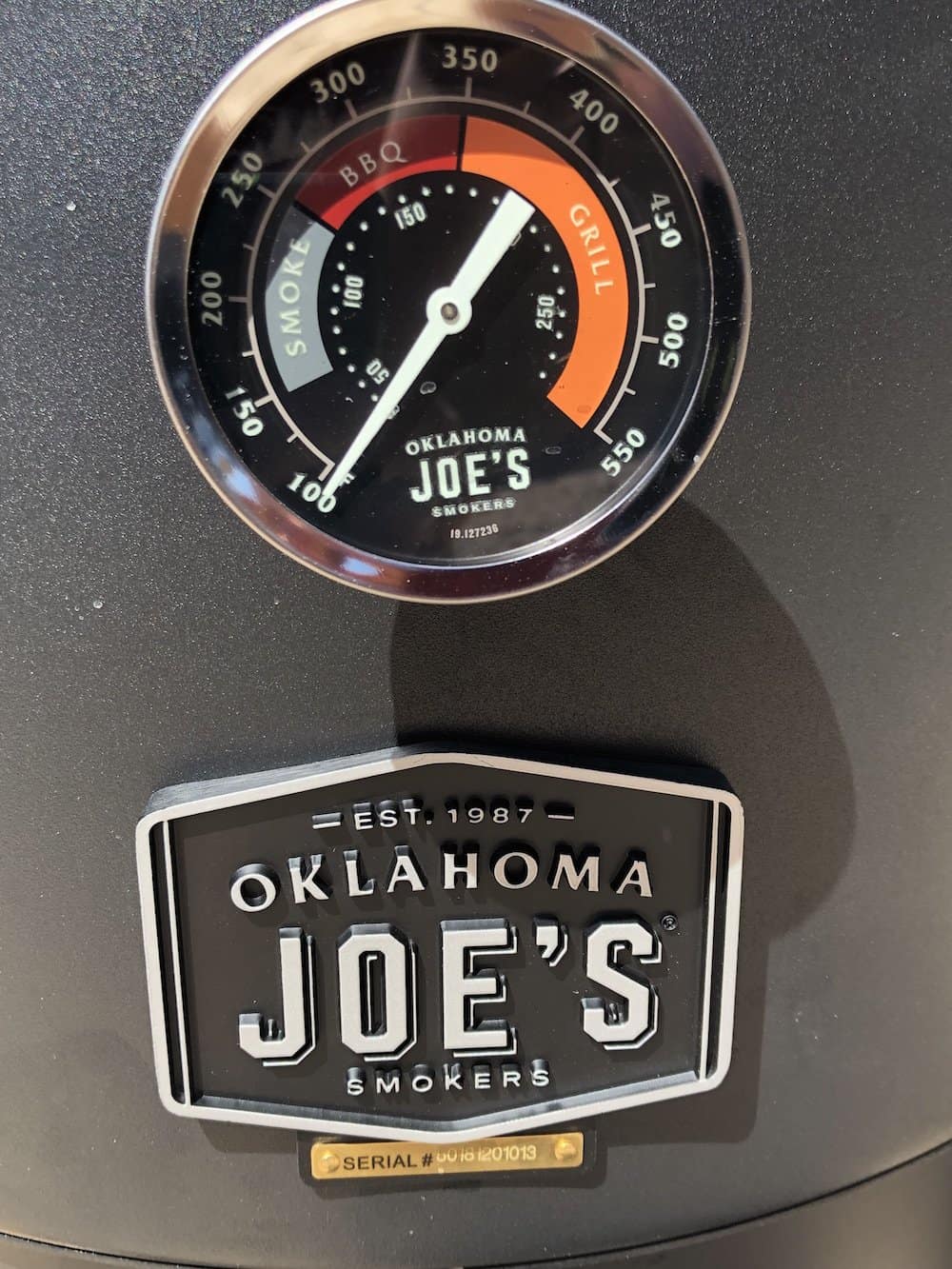 Great Taste
Food tasted AMAZING…my family gets their fair share of BBQ so I knew the Bronco was a winner when they enthusiastically mention during the meal and days later how great the food tasted. Upon unwrapping the pork shoulder to shred the smells reminded us of being at top-notch BBQ joints.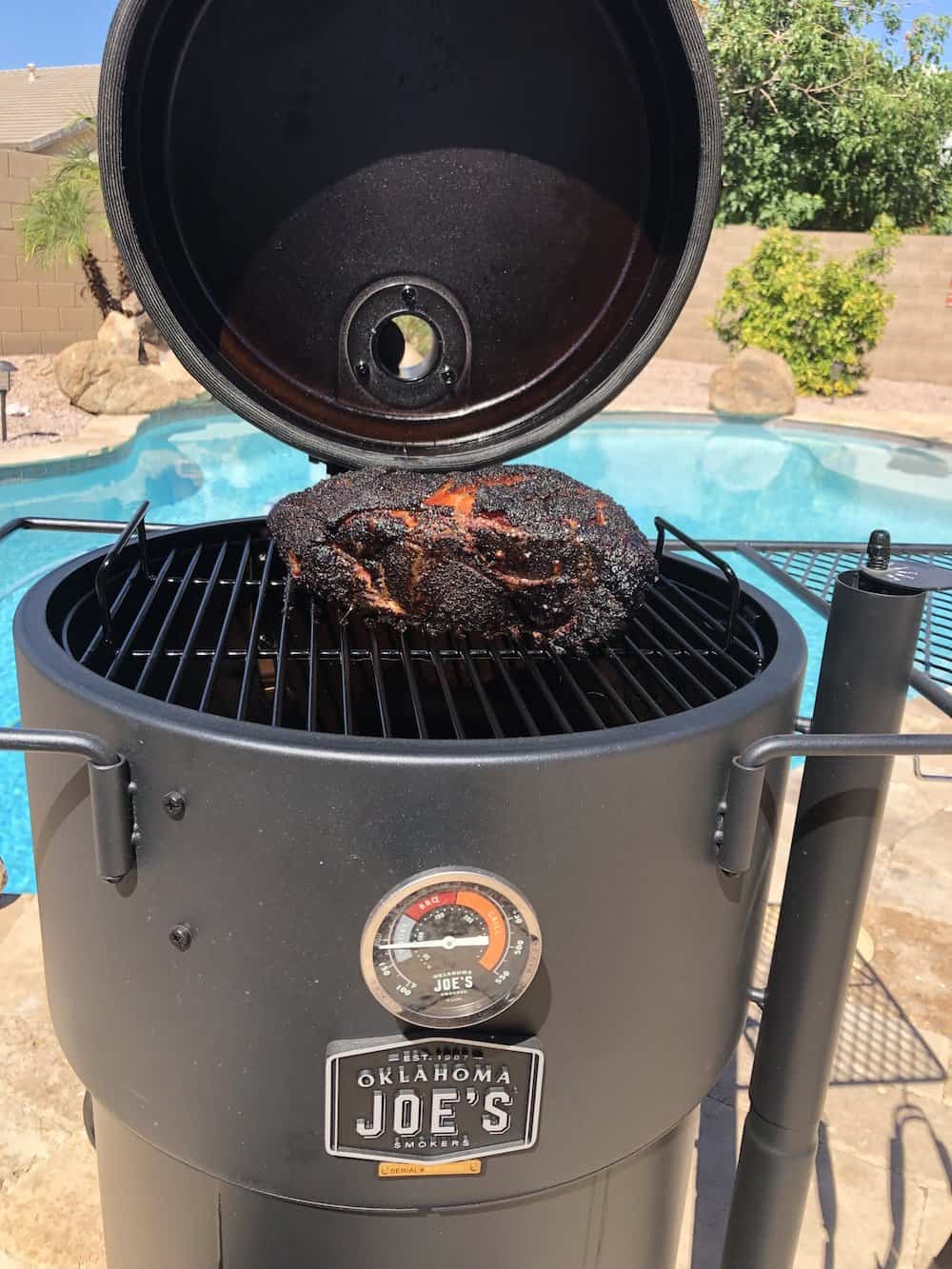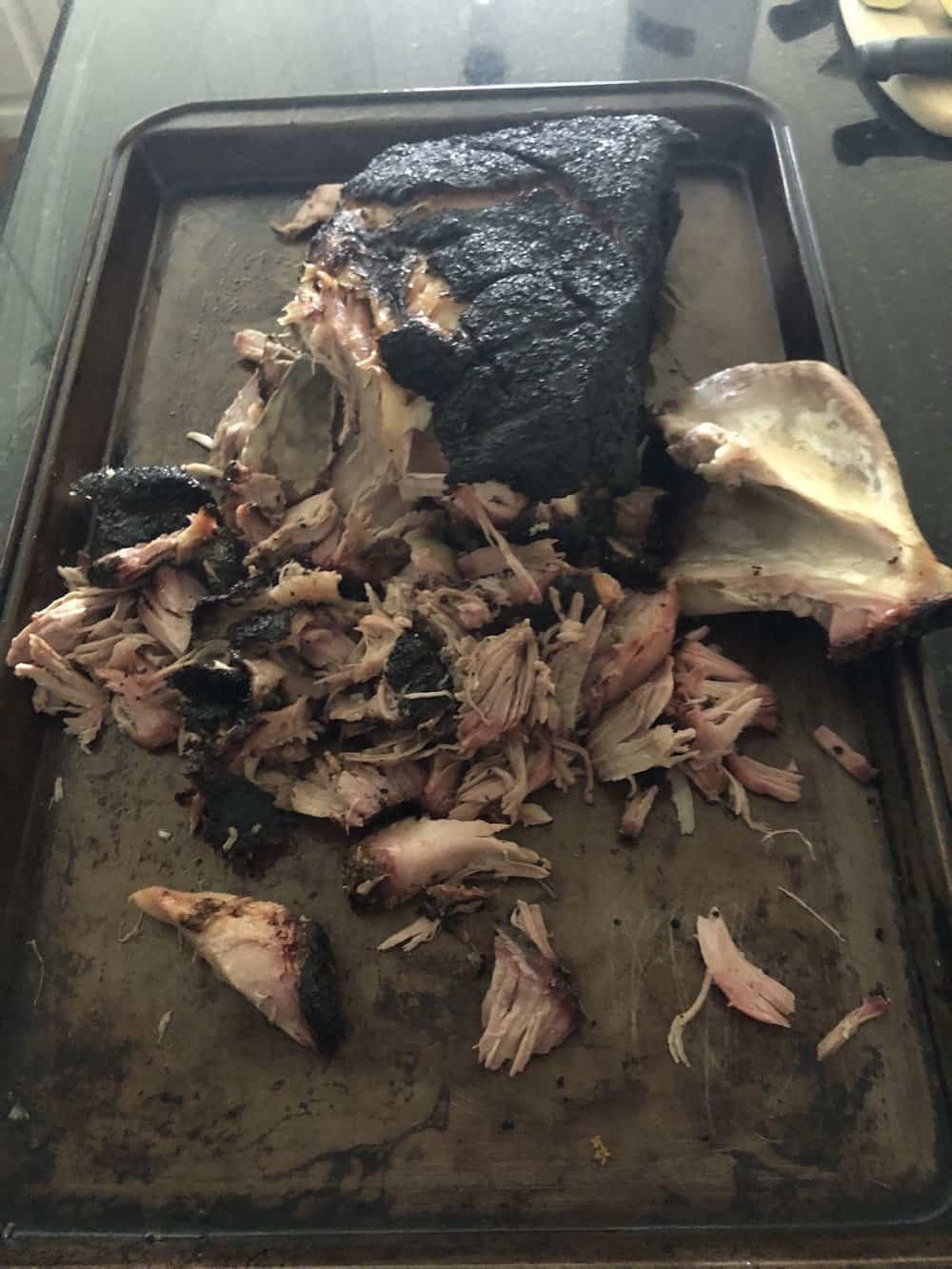 Great Design
The intake vents are easy to access and adjust, the unit is compact and easy to move around, the temp gauge is extremely easy to read (even from a distance you can see your heat zone based on color codes), and the handle is heat resistant. The gasket sealing the hinged lid is soft enough to not pinch any temperature probe cords but still seals tight enough to keep smoke and heat inside.
The lid has extra clearance so larger items like birds can fit on the grill with ease. Oklahoma Joe's nailed the details.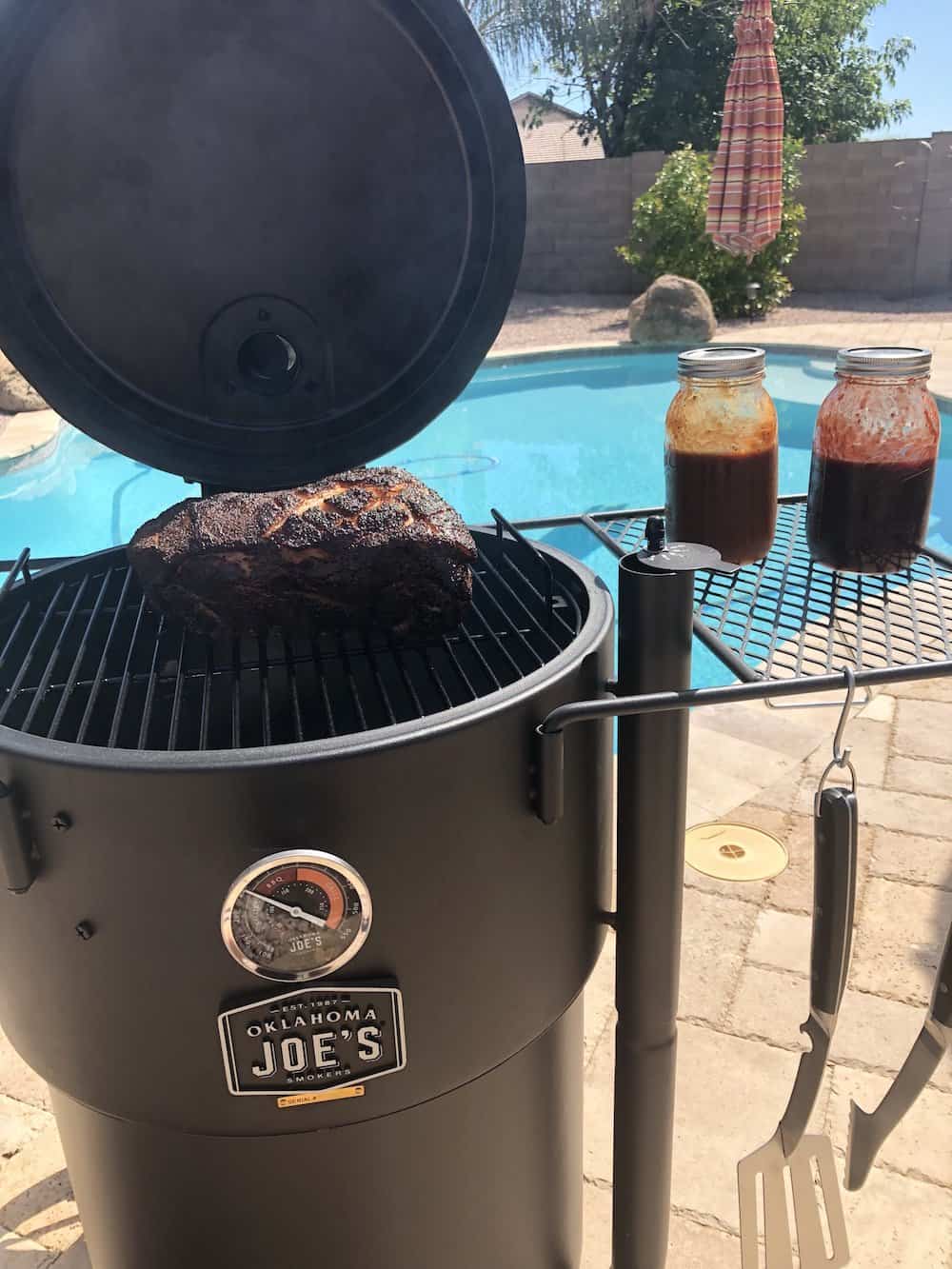 Assembly
Assembling the Bronco took about 30 minutes, which isn't long compared to the assembly of most other grills.
Clean Up
Emptying the ashtray is really convenient; the tray can be easily removed and dumped after each cook.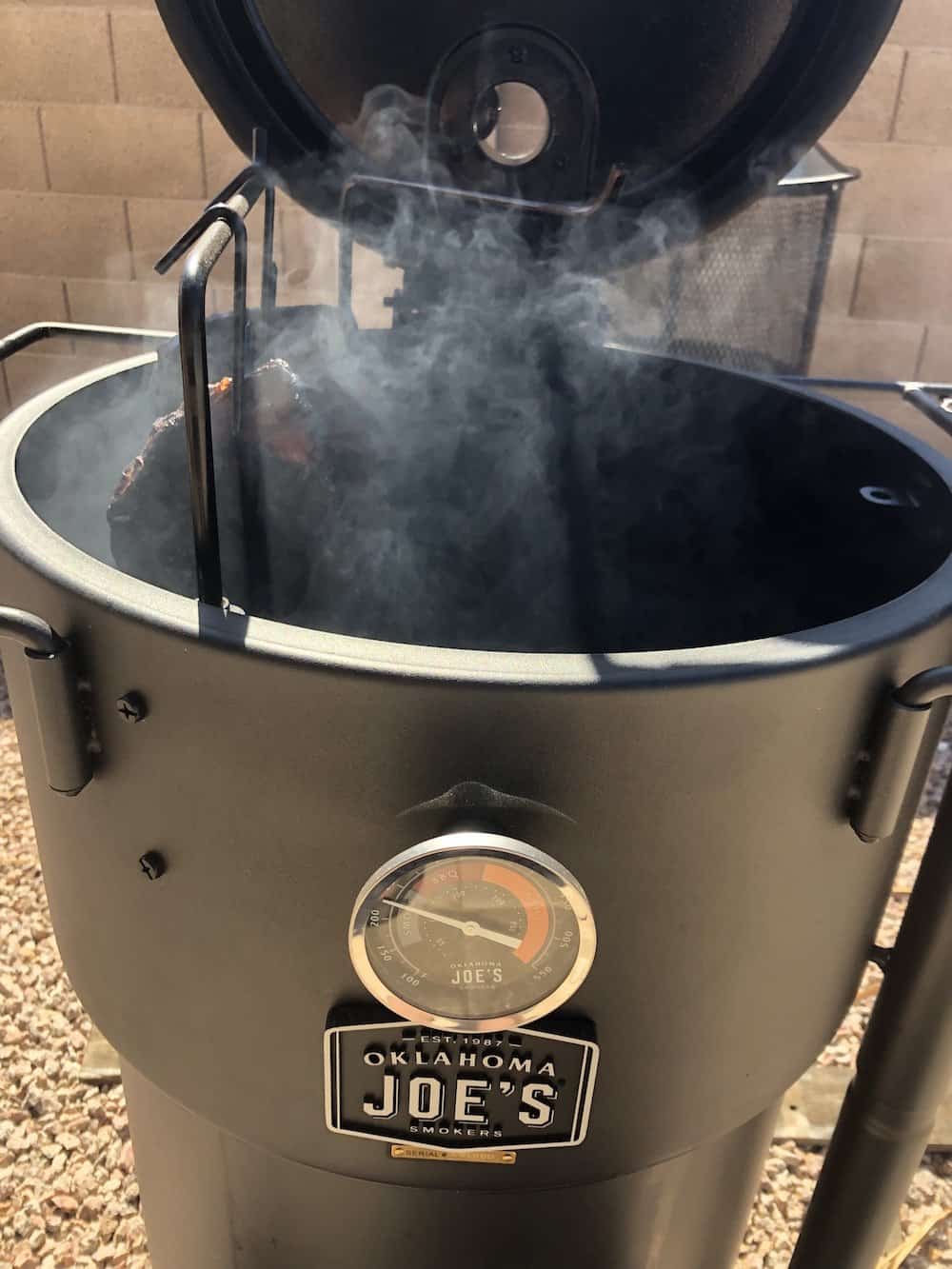 Charcoal Capacity
The basket can accommodate up to 8 pounds of briquets, the longest cook I was able to maintain was 11.5 hours at temps between 225-250. Plenty long for smaller cuts of meat but smoking larger briskets and pork shoulders may require adding charcoal.
A little tricky since the basket is at the bottom of the barrel and under the deflector plate. I'm a power user, so for most homeowners, I think the capacity would be good enough.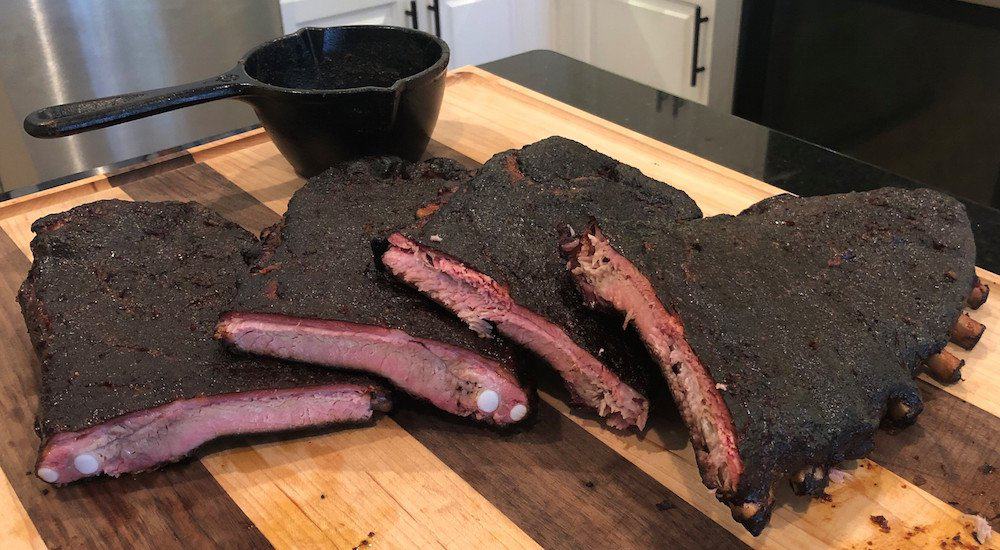 Better Guide
More of a suggestion than a con, but there could be additional usage tips and directions provided in the grilling guide. If you are an experienced BBQ pro then working the air dampers and charcoal pit may be easy but for a beginner, there will be some trial and error.
It would be great if they had a 'tips' section including where to set air dampers, what type of charcoal to use (lump vs. briquette), and how to set up the basket with fire starters for different types of cooks (low and slow vs. hot and fast).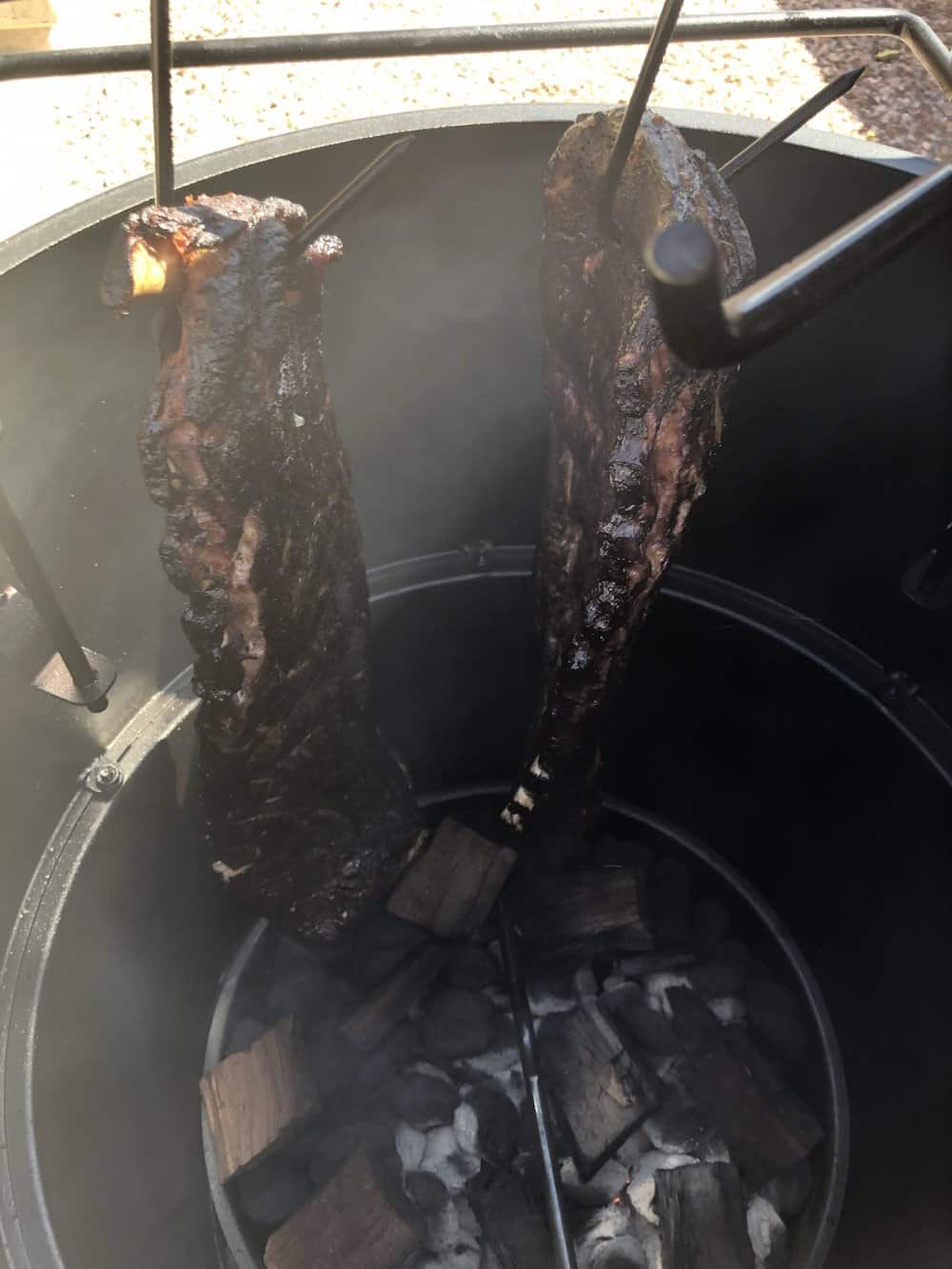 Oklahoma Joe's has a great YouTube channel to use a resource and they have a few videos on some of these topics so why not include it the grilling guide as well? Or at least direct customers to the channel to check it out.
Overall
The Bronco was a really fun test. The design is compact (43.3" high and 30.3" wide including side shelf) and aesthetics draw from classic Oklahoma Joe's smokers/grills while also providing extreme functionality and versatility.
The construction is solid; it is small and light enough to easily move around but is deceptively large on the inside when utilizing the meat hooks. The grill grate is 18" in diameter and 284 square inches; big enough for two pork shoulders, a couple of racks of ribs, or enough burgers for a small family.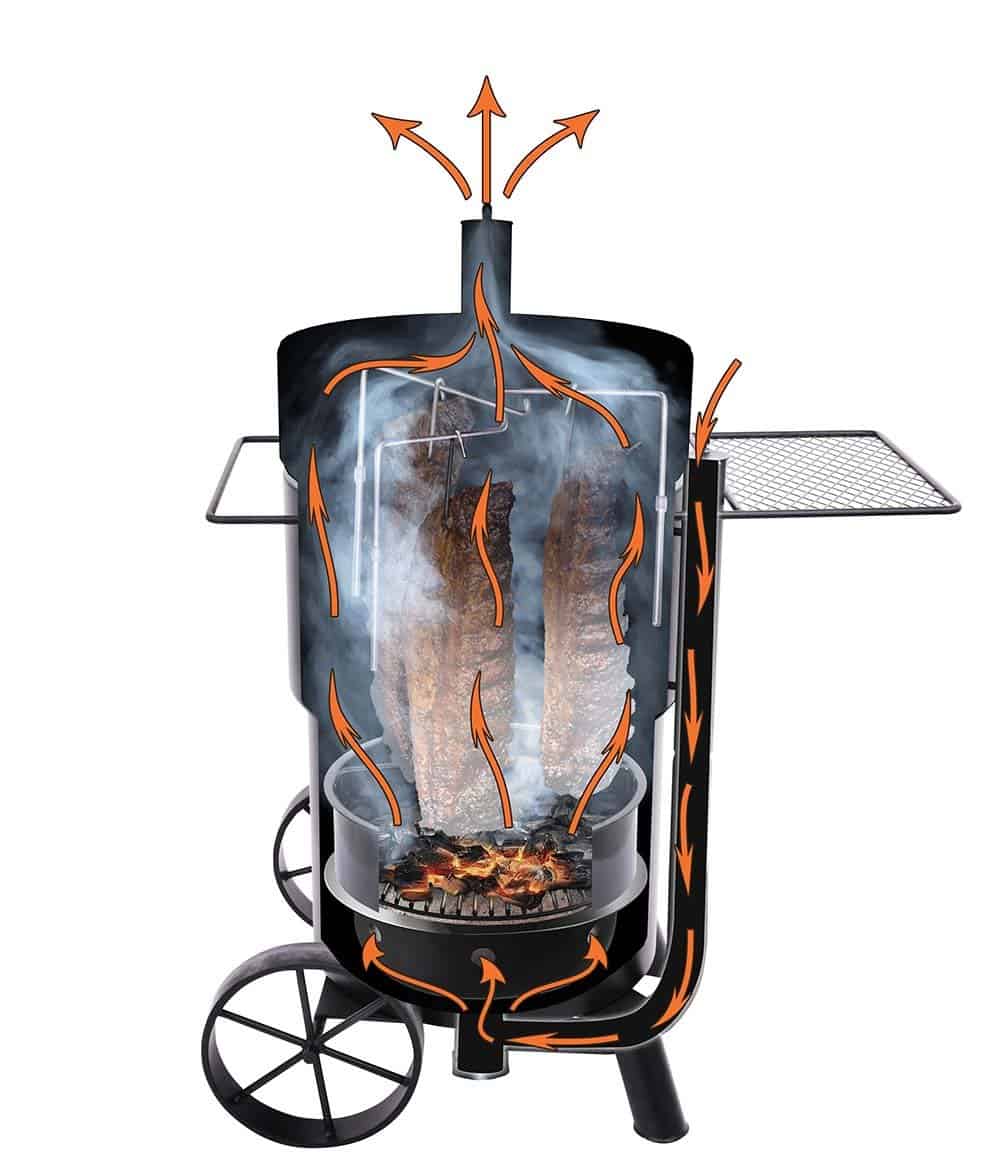 I was blown away by the smoke flavors achieved on the Bronco, according to the family the Oklahoma Joe's put out some of the best food I've ever made. This drum smoker is ideal for someone who wants all the features of a traditional offset smoker but in a more compact design.
With a price of $299, it would also be great for a beginner wanting to try a charcoal/wood smoker and learn how to control airflow and master the craft.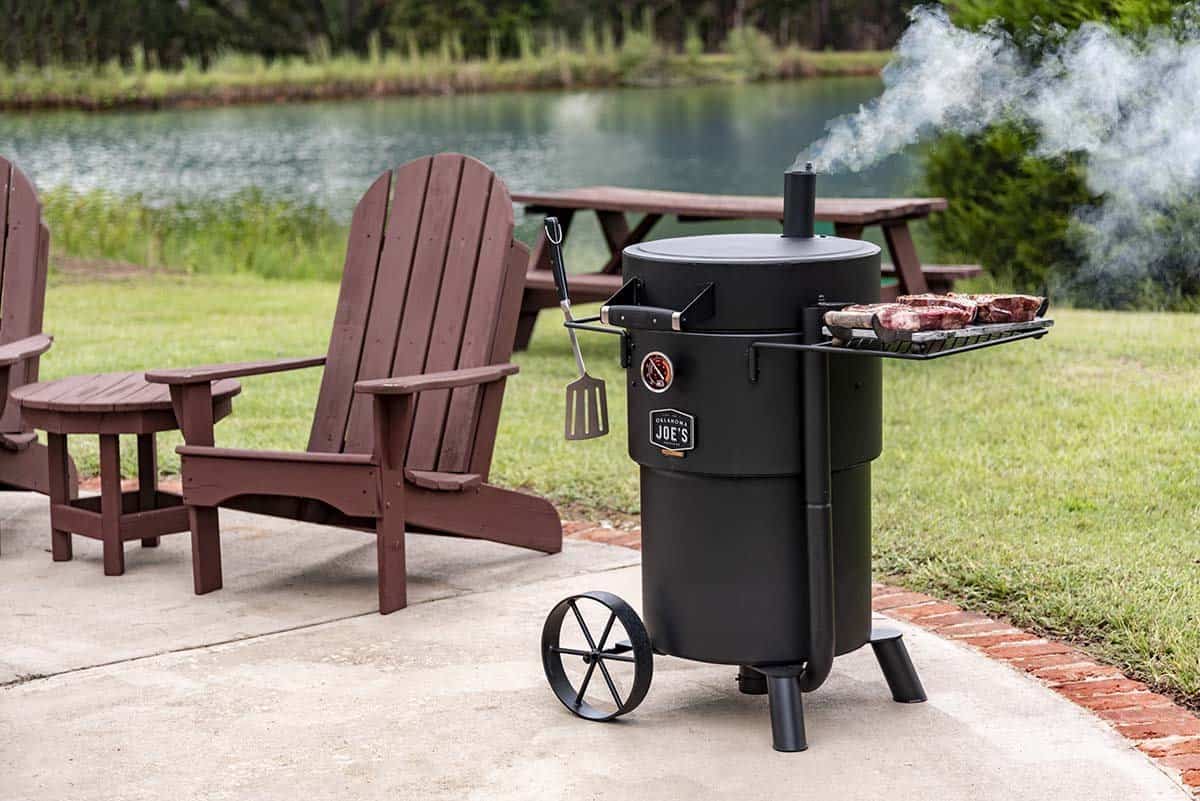 Rating
I give the Oklahoma Joe's Bronco drum smoker 4 out of 5 meat hooks.
The Oklahoma Joe's Bronco is now available on Amazon.