With late summer comes the heat and in many parts of the country, the humidity. We all know how unbearable the pressure of moisture in the air plus high temperatures can feel outside … and inside.
Many bathrooms become veritable saunas in the summer, creating the perfect breeding ground for mold, mildew, condensation, rot and other moisture problems. While building codes may vary on their requirements, the addition of a ventilation fan is usually a no-brainer to keep such home-damaging situations at bay.
There's a lot to like about Panasonic's new WhisperGreen Select bathroom ventilation fan — it's an all-in-one, completely customizable bathroom fan that is virtually silent.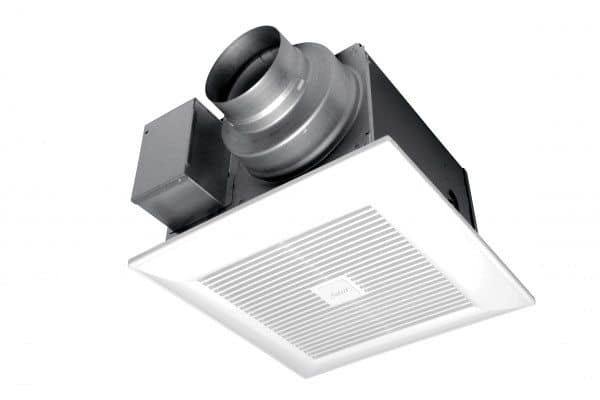 The 2016 Most Efficient Energy Star (for non-lighted models) rated fan runs at continuous low-level ventilation to improve indoor air quality with a boost to full speed to exhaust odors and moisture as needed. It comes with an optional motion sensor too, so it knows when someone uses the bathroom and runs the fan for you when you need it most.
Other perks of this newcomer:
Multi-speed operation

, which allows the proper setting to be selected to satisfy continuous ventilation requirements.
Motion sensor

, which activates the fan when it senses a person and automatically returns to the pre-set lower speed when the occupant leaves the room.

Once the module is inserted, the fan becomes truly automatic, making it the lowest installed cost solution for whole house continuous and spot ventilation. This sensor is also ideal for people with disabilities and assisted living environments such as nursing homes and retirement communities, making it a great universal design feature.
Condensation sensor

, which helps control bathroom condensation to prevent mold and mildew. The advanced sensor technology detects relative humidity and temperature to anticipate dew point, automatically turning the fan on to control humidity.  When the condensation sensor is used in conjunction with multi-speed functionality, the fan will kick up to high speed when the condensation sensor detects moisture in the room.
NiteGlo™ LED night light

, which utilizes a specialized photocell feature that automatically turns on the 1W LED night light when darkness is sensed in the room.  A Hi/Low brightness switch enables users to fine tune the photo cell to work in conjunction with the darkness level of the bathroom. This module also activates an automatic 20 minute delay off timer for the fan.
The WhisperGreen Select helps keep bathrooms cleaner, the air in homes safer, and the décor intact without thinking or hearing about it — giving you peace of mind, and definitely less moisture to mitigate.
If only we could get one of these installed outside, summer might be a whole lot more enjoyable.