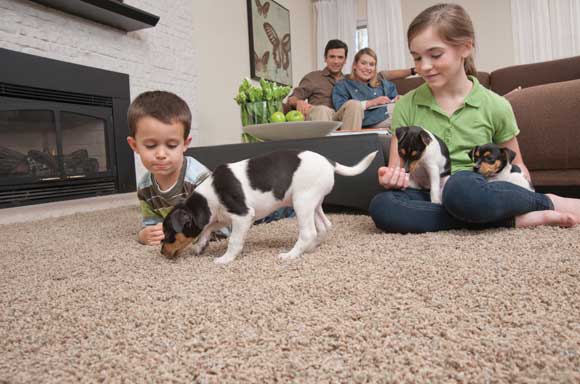 We've always had dogs and know that dirty rugs and carpets come with the territory. But there is relief from Mohawk Flooring which is introducing a new line of eco-friendly flooring that is also extremely stain-resistant which makes it great for families and homeowners with pets.
Mohawk shared some information with us on their latest line of pet-friendly carpet and flooring.
SmartStrand, an eco-friendly carpet from Mohawk, the world's largest manufacturer of flooring products, is an exceptionally stain-resistant, durable, and long lasting carpet made in part from corn sugar.
For especially cautious homeowners, the company recommends its SmartStrand Ultra. Unaffected by even the most miserable of stains presented by pets–tracked-in mud, urine and other waste–the eco-friendly floor covering shows no trace as these typical pet signatures are easily washed away with a wet sponge and mild detergent.
Mohawk recently SmartStrand Silk, which maintains the stain-resistant attributes of its siblings, but features an incredibly plush, sensuous texture.
"SmartStrand Silk is one of our most pet-friendly, as well as family-friendly flooring products," said Elise Demboski, vice president of creative services for Mohawk. "It's so easy to keep clean, whether you have dogs, cats, kids, or a menagerie of all the above. And, my favorite part: the carpet's ultra soft hand sets the stage for hours of playing, wrestling or cuddling with your beloved Fido or feline. It's such an inviting and comfortable carpet."
For hard surfaces, homeowners have turned to laminates–prized for their affordability as well as for their durability. Mohawk's laminates are distinguished by ScratchGuard Advanced Finish Protection, a built-in feature that greatly increases resistance to abrasion by infusing aluminum crystals into the top layer of the laminate. It ensures the flooring will hold up against pet nails and scratches, and keeps the surface looking newer for longer.
In addition, Mohawk's laminate collection feature a variety of deep-grained, embossed and hand-scraped textures that strikingly resemble real wood. Acoustically the installed laminate sounds like wood, too. Whether it's scampering kitty claws, frisky puppy paws or clomping hard sole shoes, steps across these high-tech laminates of today don't sound hollow or faux–convincing wood "copycats" for any pet-occupied household.
While Mohawk's SmartStrand and laminate options are available at several stores nationwide, SmartStrand Ultra and SmartStrand Silk are available only through the company's network of independent retailers. To find a store near you, visit www.mohawkflooring.com.