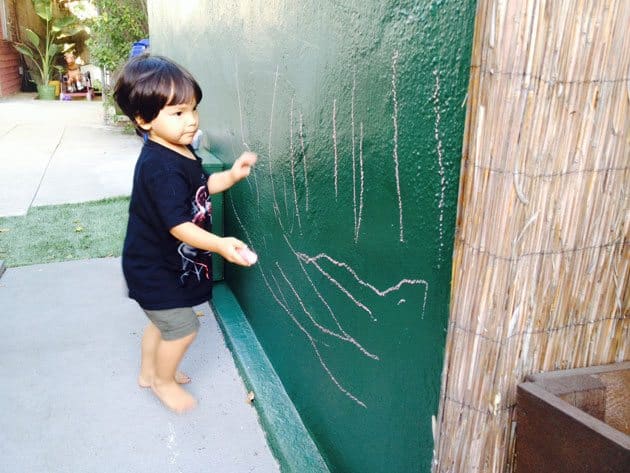 We live an indoor/outdoor lifestyle, here in Southern California. We consider the backyard an extension of our living space and treat it as such with our furnishings, cooking and entertaining areas as well as our son's play area.
Because we spend so much time outdoors, we've taken the time to design our space and a big element of that is considering the color of our walls.
We have lived with a white wall that our son has turned into her personal outdoor chalkboard and it's neutral and OK, but we've got the itch to add some color to give some depth and richness to our space.
We found a great Hunter Green from the Olympic ICON exterior line. It's a satin sheen and what we love about it is it's mildew resistant properties as well as self-primer and low-VOC features.
We made a quick video highlighting this paint as well as the application process. Because the wall gets a lot of afternoon sun we needed it to also be UV resistant and not fade, which is another benefit of going with Olympic.
An unintended but still beneficial use is the new paint color makes a great canvas for our son who absolutely loves his outdoor chalkboard. The white wall we previously had up just didn't have enough contrast but this darker color makes his drawings really pop and he loves it. The chalk just rinses off with a spray of water and it doesn't harm the paint whatsoever.
I have been sponsored by PPG to create this video but the thoughts and opinions expressed are my own.