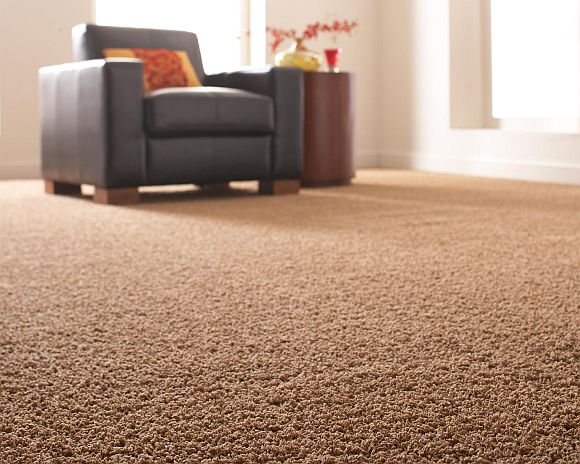 We recently discovered that there are few things more fun that getting to purposefully dump a bunch of liquids on an unsuspecting carpet sample. Home Depot sent us a couple of carpet swatches, each of which boasts stain-fighting technology, along with commonly spilled liquids.
Platinum Plus carpet is coated with "revolutionary Scotchguard technology that creates an invisible shield against liquid, dirt and soil–perfect for high-traffic family rooms."
After a spill, you should be able to soak up the excess moisture and then clean the rest of the stain by blotting with a damp towel. Our experience?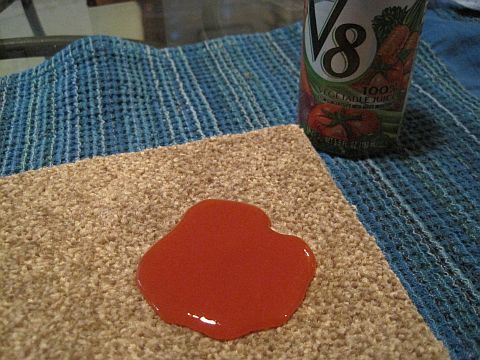 Armed with a tantalizing cocktail of V8 juice, chocolate milk and Juicy Juice grape juice, we first opted to taint the light brown carpet with V8.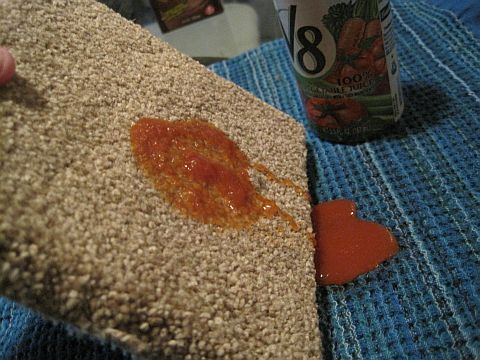 Thanks to the Scotchguard technology, the liquid stayed pooled at the top of the fibers. We tipped the carpet swatch and the liquid rolled right off, leaving a manageable residue behind. Of course, you can't just pick up a room's carpet and tip it to the side, but this technique does demonstrate the power of the Scotchguard seal.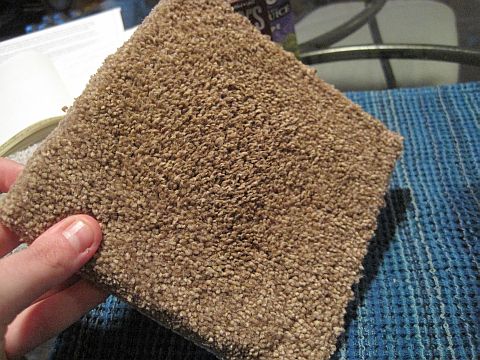 After blotting with a towel, the stain seemed to disappear. The color of this Platinum Plus swatch is certainly forgiving and would be a good choice for high-traffic areas, family rooms and the like.
Later on, we applied a mixture of the three liquids. It took a little more elbow grease to blot, and because of that, the carpet stayed damp overnight–be aware that you'll need to allow sufficient drying time. All in all, the Platinum Plus meets its stain-fighting claims. And at $1.95/square foot, it's an affordable and attractive way to cover your floors.
Stay tuned: Up next, we'll share our experience with Martha Stewart Living carpet!
Lead photo courtesy of The Home Depot