A fireplace is the focal point of a living room, so it's important to have something that doesn't make you recoil every time it catches your eye. My friends Heather and Neil had this unfortunate reaction when they moved into their 1940s traditional house in Santa Monica.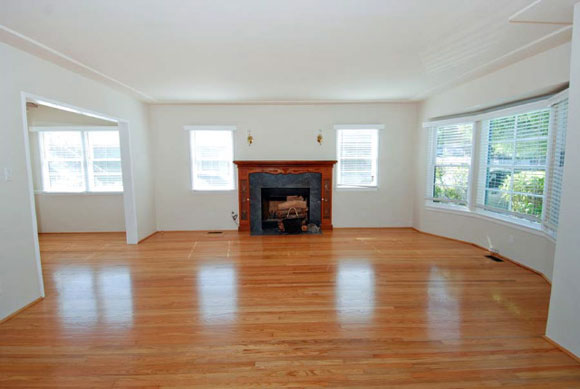 The living room was drowning in wood. The floors, the banister, and the fireplace were all made of oak in medium-dark shades. Typically, this is not a problem (better than carpet, right?). But for this couple, the sheer amount of wood proved a bit oppressive. They wanted a focal piece that would complement the natural light. "While it's great to have a fireplace, and one flanked by windows, it was dated and terrible and not our taste at all," Heather says.
Heather and Neil embarked upon a plan to modernize the fireplace and make it their own. Seeking a bright and airy look, they applied two coats of adhesion primer (eliminating the need to sand it) followed by two coats of white paint. The boards on the front and top of the fireplace were changed to accommodate the television. And finally, they transformed the sconces flanking the fireplace with RustOleum hammered finish grey and new shades from Pottery Barn.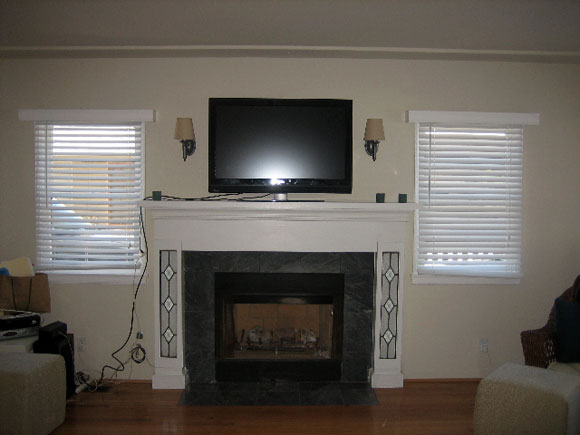 The couple completed the project over the course of a weekend, investing less than $200. Here's the breakdown: wood, $120; primer, $12; paint, $14; spray paint, $8; and shades, $20. At one point, they considered changing the greenish tile as well, but as this was their first DIY project, they kept it simple.
I think Heather and Neil met their goals with great success, completely changing the look of the room with minimal money, effort, and time. What do you think?