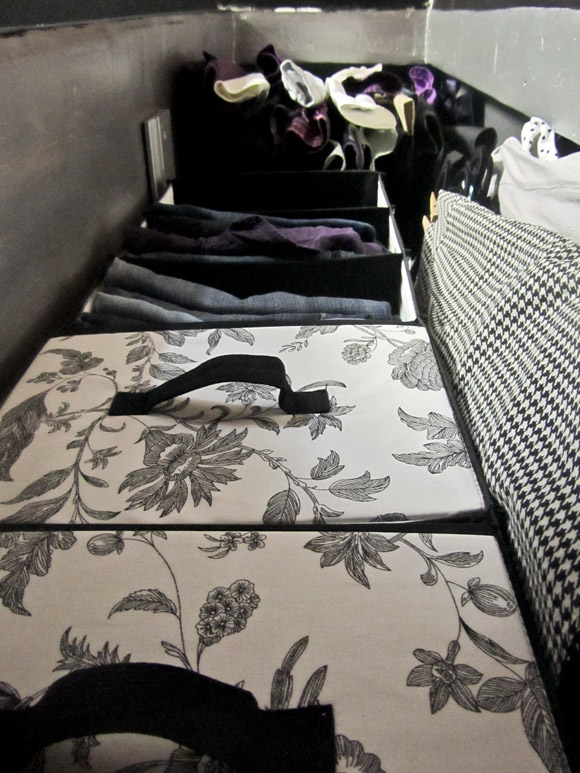 If you're in the process of a renovation, something that's likely to come up numerous times is the concept of storage. Namely, creating more. Whether you live in a 200-year-old house or a 20-year-old house, more storage always seems to be on the docket for just about every kind of dwelling.
But what do you do when you don't have the square footage for a fabulous walk-in or the "correct" measurements for flat-packed stand alone units?
Why, you get out your thinking cap — and your measuring tape and level — and you build them yourself!

The issue in our renovation was taking a roughly 13'x10′ room (once an office with two entryways, not counting the half-bath you had to pass through to get to the office) and creating a small, yet luxurious master suite. However, a major obstacle in this process was creating adequate closet space.
After ruling out pre-fab built-in wardrobe units because the measurements weren't quite right, we decided to build them ourselves — all the way up to our 9-foot ceilings. What we weren't able to sacrifice in floor square footage we would be able to recoup in wall space. And building our own meant no inch would go wasted, even if it meant climbing on a stool to reach the very top.
Because we built the closets to fit out space instead of configuring our space around bulky pieces of furniture, we were able to create what worked best for our space, right down to customizing the height of double-hang-bar installations to accommodate the types of clothing they'd hold. Our tiny yet tall closets flank each side of our bed elegantly, and we couldn't be happier with our slightly unconventional storage solution.
Tell us your creative storage solutions in the comments below!