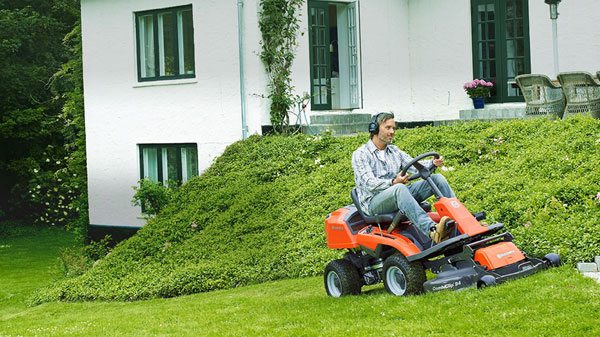 The heat is on, and hopefully your lawn is thriving. What worked in Spring doesn't always work in Summer, so lawn equipment experts at Husqvarna shared some tips and best practices for peak summer season lawn maintenance. Keep it green my friends.
1. Read up: Every mower is different, so it's important to check the owner's manual for a list of regular maintenance tasks and keep on tip of them throughout the season.
2. Tune up: Handy homeowners may decide to tune up their mowers themselves, but many people choose to visit an authorized dealer for a tune-up. If you go the DIY route, remember to follow all safety messages and instructions in the owner's manual. In addition, use factory-recommended parts and oil, and always inspect filters and spark plugs. The star of the season is a great time to sharpen the blade, and for peak performance again mid to late season.
3. Gas up: Keep only enough to last 30 days in an airtight container, stored properly. Make sure to use 89-octane gas with an ethanol content no higher than 10 (E10). Gas with a higher level of ethanol can damage power-tool engines.
4. Get a grip: Advances in lawn mower technology have made it easier than ever to efficiently cut and maintain your lawn, even if you have a challenging yard. All-Wheel Drive (AWD) mowers are gaining popularity, and Husqvarna now offers three new AWD mowers. For example, the HU675AWD is powered by a 675 Kohler engine, features a heavy-duty steel 2-in-1 cutting deck, a straight over-mold bail system, a full auto-choke and a mulch and rear bagging system. We've also reviewed the Craftsman Quiet All-Wheel Drive Mower.
5. Cut one third: It's important to cut no more than one third of the grass blade. This keeps the root system strong and will help minimize weed growth.
6. Water works: High heat is tough on grass and its root system. Refresh and replenish it by making sure your lawn is well watered regularly. Lawns need 1 to 1.5 inches of water weekly to look their lush best. If Mother Nature isn't cooperating, set your sprinkler system for an early morning water, the best time for maximum benefits and lawn health.
7. Safety first: Lawn mower safety is all important and should be emphasized to every member of the home. For riding lawn mowers, never give children rides or allow them to play on the mower, even when it is not running. Children must be at least 16 years of age to operating a riding mower, always monitor your speed and use extreme caution when going in reverse. Look behind and around the mower before proceeding. For walk-behinds, always push the mower away from your body, never mow wet grass and do not mow in the dark.
8. Use interactive controls: Many riding lawn mowers will stop the engine and cutting deck when the driver leaves the seat or put the transmission in reverse giving owners' peace of mind. Additionally, Husqvarna's SmartSwitch ignition – a new operator interface – lets users enter a keyless code for safe and simple engine activation. Furthermore, lighted icons indicate the status of the parking brake, battery, headlights and ROS (Reverse Operating System).