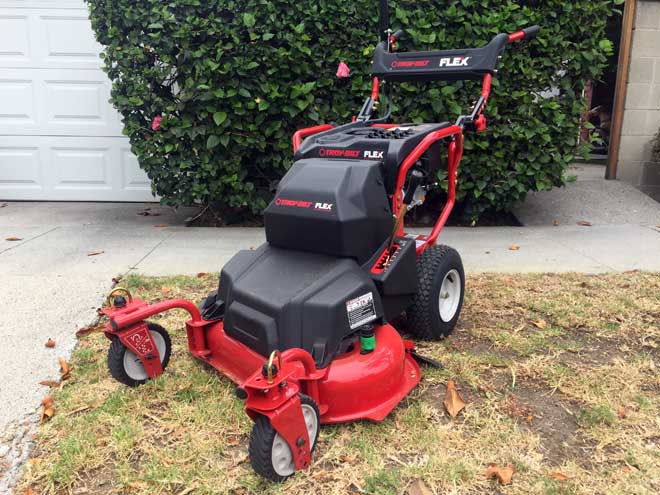 We love all of our yard tools and outdoor power equipment and never considered how much space would be saved if we actually had a 2 in 1 or even a 4 in 1 modular system. Imagine one engine to maintain and store, to power multiple attachments. The future has arrived in the form of the Troy-Bilt FLEX yard care system.
Troy-Bilt has been standing behind their products since 1937, so you know any new equipment will have the same reliability and performance that you've come to expect from Troy-Bilt.
Power Base
The new Troy-Bilt FLEX features a power base 208CC, 4-cycle, all-weather engine. It's got a self-propelled transmission to easily maneuver a mower or snow thrower attachment. The front of the system features a PTO (power take-off) that joins seamlessly into the back of any attachment. The latch and lock system makes connecting and removing attachments incredibly easy.
The handle height on the power base is fully adjustable so regardless of personal height you'll be able to operate the FLEX system. The handle also folds for easy storage.
All it takes is a flip of the kickstand to engage or disengage the system so your hands remain comfortably in control on the unit. An easy pull-start gets you going and the throttle control is smooth and adjustable.
Yard Attachments
What makes the FLEX system unique are the attachments. They've launched the product with four attachments that they feel hits the sweet spot with homeowners everywhere. They include: 28″ wide area mower, 26″ two stage snow thrower, 1,000 CFMm leaf blower, and a 3,000 PSI pressure washer.
These units are sold separately and all require the power base to operate. You can invest now in the mower and then when winter rolls around buy the snow thrower. Just get what you need and enjoy the benefits of having a system that can expand with your needs.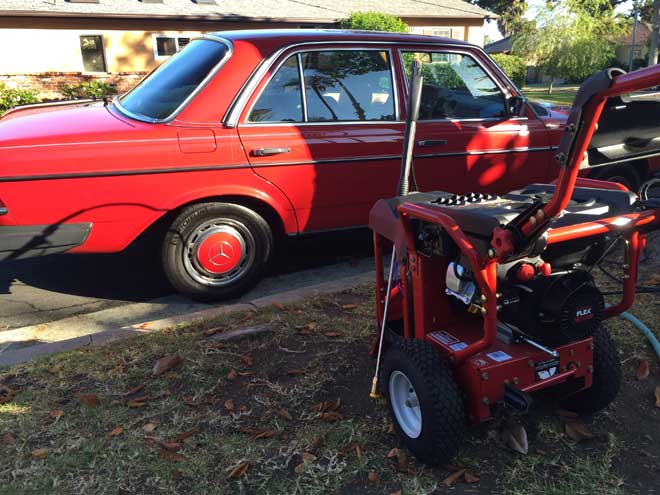 We've got our hands on the mower and pressure washer since living in SoCal we've got no need for the snow thrower and no yard big enough for the leaf blower. The mower is probably best suited for medium to large yards and the powered drive will make mowing on hills and getting around corners much easier. The large pneumatic tires on the base can handle any terrain and provide a solid push for the mower. The mower has two heavy-duty casters that look as if they could handle any type of lawn terrain you can throw at it.
We love a good pressure washer, but the good ones are very expensive and take up a lot of room for a device we don't use much. When not in use the FLEX pressure washer can fit neatly under a work table or in a closet. It comes with a variety of nozzle attachments and the spray gun feels solid.
We envision even more attachments being introduced sometime this year. A natural attachment would be an auger, tiller, trencher, even a wood chipper.
Here's a quick tip for adjusting the throttle control when you first use it.
The Troy-Bilt FLEX is available exclusively at Lowe's. Visit their website for more details about the system.
This is a paid endorsement. The author has been compensated and provided with the product free of charge in return for their honest opinion.