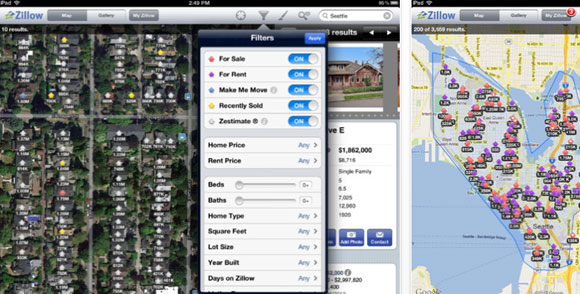 iPads are a great for many reasons but one of them is for exploring real estate. The iPad has a lot of great real estate apps available in their store that can help you search for listings while driving around in the car and being on the go.
Here the best real estate iPad apps that we've found.
Zillow
A great stand alone website that has very comprehensive real estate listings but also lets you take photos and notes of homes as you tour them and you can upload them to a photo library.
Realtor.com
Maybe the most listings of any iPad app and the maps and detailed info are unmatched.
Homes.com
A once popular app but many are complaining about crashes in the latest version. The photos and layout are worth giving it a try.
Redfin
Our favorite website for searching for properties and now they have an iPad app to go with it. It's plugged into realtors MLS listings so you see what they see.
Trulia
This app is made just for the iPad and the high-res photo galleries and filters make searching for homes really enjoyable.
Did you find your home using an iPad app? Are we missing your favorite app? Tell us in the comments.