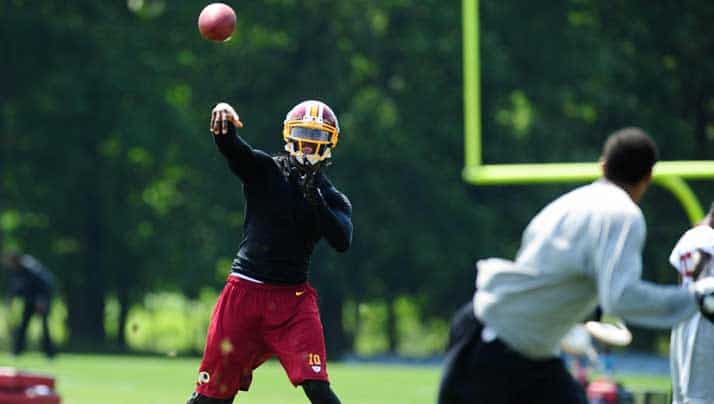 Football season kicked off this weekend with a slew of college games and on Thursday, Sept 5th the NFL gets back on the field with the Broncos and Ravens. It goes without saying we're football fans and earlier this year we showed you how to prep for a Superbowl party. We've got our fantasy drafts wrapped up and we're ready to see if our picks will win a championship. We're hoping RGIII comes back better than ever!
Here are some tips for holding an NFL tip-off party! Here's to another amazing season!
Audio and Video – It's all about the game. Maybe the season opener is an excuse to throw a party but the game still needs to be on and the audio in working order. If you're on a 13″ tube you should not be throwing a tip-ff party as your guests will be solely disappointed.
Now's the time to invite friends over to show off your 60″ plasma and 7.1 home theater system. Watching football in high-definition changes the game and even casual fans will be entranced by the action on the field.

Keep other audio distractions such as music off during the game.
Seating – Your ratty couch might suit you and your roommate but if you expect people to spend 3+ hours in front of your TV you should make it comfortable for them. You don't have to have a chair for everyone but at least 70% of your attendees should have proper seating. Adjust that percentage up or down based on how the fan fervor of your guests.
If you find yourself low on seating consider borrowing furniture from neighbors or at the least bring in some chairs from other rooms. Don't expect your guests to do this for you.
Food & Drink – Every party is unique but over the course of a game everyone will want food and drink. Plan accordingly. Rest assured your non-frat buddy guests will be nonplussed if you only offer PBR and Doritos.
Ask a friend whose parties you always enjoy to help you out in this area. There is probably a reason why they throw great parties and it's usually the food/drink/atmosphere.
Decor – We stress keeping the focus on the game but if you're a fan boy or girl the Super Bowl is probably the only appropriate time to display your team colors.
Keep it festive and pull out your box of team gear and hang your team flag and display all the chochkes you want. If you've got a Fathead then it's game on!
Lighting – You may love your Coors Light neon sign that's displayed proudly above your TV but for guests this may be a huge distraction from the game. Either turn off bar room light displays or move them elsewhere.
All other lighting in the TV room should be down which keeps the focus on the game.
Half-time – Now's your chance to show your Madden skills. Break out Madden 2011 on your favorite platform (XBOX360, PS3 or Wii) and setup a mini-tournament with 5-minute games. Get everyone involved even if they've never played. If you don't have a gaming system or Madden ask a friend to bring it over (if you don't have a friend who has Madden then you probably aren't the type to be throwing a kick-off party).
If gaming isn't your thing then have an episode of Curb Your Enthusiasm or your favorite 1/2 hour show to keep everyone entertained.
Half-time is also a chance to get away from the TV so have music ready and maybe some beer pong or other game type activity setup (drinking or not).
Have fun, be safe and enjoy the season!