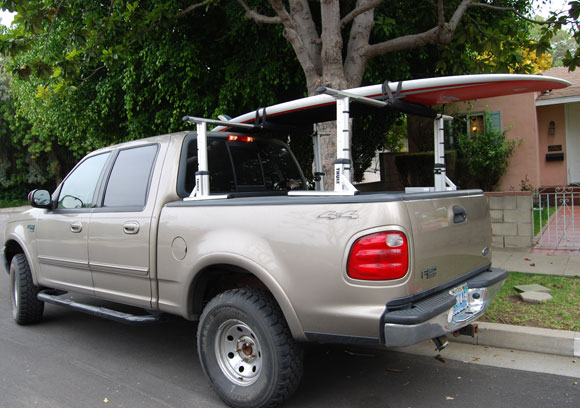 My truck has handled transporting surfboards with just a simple tailgate pad, but when I picked up an 11′ Laird standup paddle board I knew my bed was too short and I need to get a truck rack.
The best looking one I saw also offered a lot of flexibility so I went with the Thule 422XT Xsporter Multi-Height Aluminum Truck Rack. This is a medium-duty rack system designed to maximize the load capacity of any pickup truck. You can raise the load bars to carry long loads like my SUP board or lower them for bed level loading. You can also attach a cargo box to them for more protection.


There was no drilling required to install the rack but I did need to cut out holes in the factory bed liner so I could attach the footings directly to the underside of the bed rail.
It's performed flawlessly and even with 5 boards strapped to the top it feels totally secure.