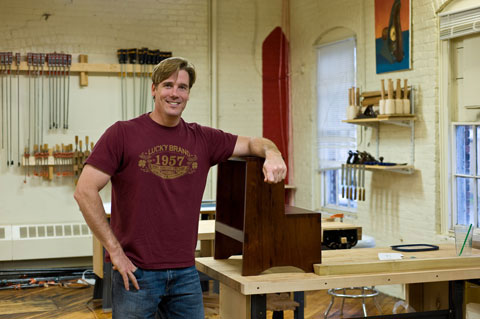 Last month we got word that WGBH will be producing a new show focused on woodworking called Rough Cut with Tommy Mac.
We're fortunate to score an interview with Tommy Mac and had an opportunity to ask him some questions about his new show as well as his woodworking background and any tips he has for amateur woodworkers.
CH: Congratulations on your new show Rough Cut on Public Television! Can you share with us how this program came to be?

Tommy: Well I started a podcast on bobvila.com in 2006 when I had the opportunity to build a bombe secretary. And I had some friends at WGBH who were interested in what I was doing. After two years or so – those friends of mine who had connections at WGBH told me to get serious and do a woodworking show for television. 

After a while, my friend introduced me to the Executive Producer of Lifestyle Programming and the Vice-President of National Programming at WGBH – we had a meeting and they said they were interested in developing a show together. I really always believed it was the right idea at the right time – so I just kept pushing. The rest, as they say, is history!
CH: What does Rough Cut bring to the table that viewers of DIY shows have never seen?
Tommy: Rough Cut is really an honest approach to woodworking – in a day when shows are produced quickly and cheaply – this series is about learning the techniques, the how-to, and really learning the process. We want to teach our viewers the fundamental skills of woodworking and we really want to take the time to do that.
We also concentrate on rough cut lumber – real wood that I am working with, not manufactured or pre-cut wood, or plywood. I think that really sets us apart.

And lastly, I'd say mistakes – we aren't afraid to show them. I make them, everyone does – and we don't want people to be frustrated by them. We show viewers how to fix mistakes and come up with a beautiful project – mistakes and all.
CH: What projects can we look forward to seeing this season? Any surprises?
Tommy: The projects we are focusing on with this series are approachable projects with some added flare. I really interpret my material. You will be surprised to see what comes out of these pieces of rough-cut lumber.
My Shaker Night Stand for example – it's not just any Shaker Night Stand. We will still explain how to make tapered legs and mortise and tenon joints – but when you see that night stand made from really highly figured curly maple – it really stands out – and doesn't look like anything you've ever seen on television before.
CH: Unlike other networks Public Television doesn't just throw out shows to see what sticks, it seems they take their time and swing for a pretty high average when it comes to shows based on home improvement. Have you put much thought into the future direction of the show and how you envision it developing?
Tommy: WGBH had an incredible history with how-to – Julia Child, This Old House, and The New Yankee Workshop. There is no one who does how-to as well as they do. I believe as long as I stay true to my core values – which means more information about the woodworking and less about the woodworker – I have a chance to be among that distinguished group.
Together WGBGH and I will continue to evolve the show – as long as we stay true to our core values and what we are trying to teach – I know we'll be successful together.
CH: Have you seen any new trends developing in the woodworking industry either in process or product?
Tommy: I think there are a lot of developments in the woodworking world – some good, some not so good.
Most recently I'm seeing a real trend toward getting back into the shop – with the tough economy – it's nice to see a resurgence of woodworking in our culture.
The more manageable the tools are and the wood is, and the projects are – the more guys we can get into the shop. It's a great hobby that isn't too expensive. I really want to redirect the light that is focused on me and shine it on all those smaller woodworkers in smaller shops – who are creating and building. That's the trend I am seeing.
CH: What's your woodworking background and where do you find inspiration to continually create new and interesting projects?
Tommy: I have been woodworking since the 6th grade. I came up through the ranks, went to Blue Hills Regional Vocational High School and then graduated from an apprenticeship program with the carpenter's union and continued that work for 15 years.
About 10 years ago I was introduced to the North Bennet Street School and got introduced to furniture making – and it really broadened my horizons for what was possible as a craftsman.
I get my inspiration from the architectural detail I see in buildings – all over the place – all you have to do is just look up. Whatever catches my attention – an exhibit at a museum, a really inspiring piece of furniture, or a rough cut piece of wood.
I have a lot of ideas – it just takes time to get all those ideas into the wood.
CH: As an amateur woodworker, where should I start? Can you recommend a challenging beginner project?
Tommy: As an amateur woodworker – I would think you would really enjoy the show – two projects I started on were the Shaker Step Stool which focuses on dovetails and the Shaker Night Stand which really focuses on mortise and tenon joints and tapered legs. All the projects on the show are good ones to start on – all using good basic techniques and skills.

CH: Beyond watching Rough Cut, what other resources should newbie woodworkers seek out to continue their education and learn as much as they can about the craft? Any favorite books or websites?

Tommy: There are woodworking sites all over the Internet – do a little research and you'll find a place where you can fit right in. There are hundreds of books written in hundreds of ways – just begin with something that really interests and inspires you – and start there. You should just immerse yourself in that world and develop your own sense of style.
If you haven't seen it – check out my 207 forum on the web – it doesn't get any better than that!

CH: What 3 tools could you not live without?
Tommy:
Hand plane
Chisel
Band saw
CH: If you weren't in the woodshop where else would you be? Fishing? Watching a game?

Tommy: HA – I never leave the woodshop! But if I did – I love to fish. And of course, I love the Boston Red Sox, the Pats, Celtics, and Bruins, so there's that.

CH: Share your favorite DIY or woodworking tip?
Tommy: Keep your edges sharp – hand planes and chisels.
And, don't get discouraged.
CH: Thanks for your time Tommy and best of luck with the new show.
If Tommy Mac has inspired you to give woodworking a try, there are many great resources online as well as a variety of books that can give you the basics. We recommend Woodworking Basics: Mastering the Essentials of Craftsmanship written by Peter Korn. It's based on a two-week course and focused on woodworking fundamentals offered at the Center for Furniture Craftsmanship in Camden, Maine. This book takes a traditional approach to teaching, with the idea that learning basic skills is essential to craftsmanship.
Rough Cut with Tommy Mac can be seen starting October 2010 on Public Television.