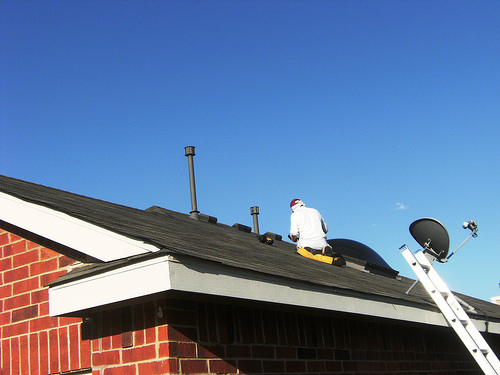 The dog days of summer are awesome. Warm weather and sunshine get you out into the yard and tackling those home projects. But there is a certain area of the house that needs your attention now, before the warm days fade into cooler fall nights.
Take a look at your roof. For easy and effective DIY roof repair, put these three projects on the top of that list.

1) Water Leaks in the Attic
Inspect the spots where installations go through the roof such as chimneys, vents and piping, to find the likely source of the leak. Look from the attic before you venture outside and don't forget to watch for the second must-do roof repair.
2) Attic Insulation
Assess how effective your current attic insulation is. With the right coverage you can reduce your heating bills up to 50% and enjoy a cozy warm winter. Whether you opt for fiberglass blanket insulation or the blown-in variety, it will go in quickly. Rent a special machine to install the blown-in style and don't forget to wear protective gloves and eye wear.
3) Shingle Repair
You can easily fix ripped and curled shingles with some roofing cement, as long as you can swallow your fear of heights. Always wear proper footwear and have a spotter to help with the ladder. Simply apply the cement to the shingles, press down and hold into place. That repair will hold and working with warm shingles is much easier than cold, brittle ones.
With these three DIY roof repairs all finished up you can rest easy, knowing the rainy fall days won't get past your solid roof.