I've often shared my love for my Ford F150 and apparently I'm not alone. I took a quick survey of fellow tool bloggers who were more than eager to share their trucks with me and how they felt about them. Despite higher mpgs, not one wished they had a sedan or mini-van.
Let's see the trucks!
Dan Maxey – Tools in Action
2011 Ford F-150 4×4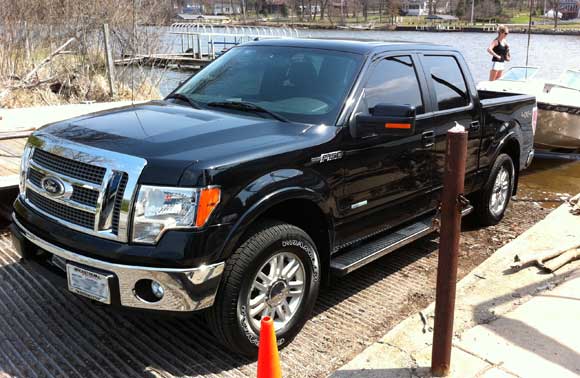 Dan Maxey of Tools in Action is the proud owner of a 2011 Ford F150 SuperCrew 4×4. He's got the Lariat package and opted for EcoBoost.
Dan says, "I like my truck because it has the power I need to tow heavy loads, its comfortable and the sound of the EcoBoost twin turbos is awesome! Its Ford Tough. The 4×4 gets me around any job site."
"I don't like the payment and the mpg isn't quite as advertised. But if I had to do it all over again it would be another F150 EcoBoost."
Sounds like a great endorsement! The EcoBoost in 4×4 is rated at 15 city/21 hwy which sure beats my 2001 5.7 Triton at the pump and at 365 HP and 420 torque it's got more power.

Eric Jopp – Tools in Action
2003 GMC Sierra 2500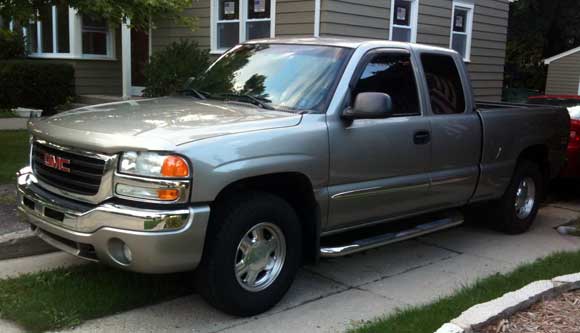 Dan's counterpart at Tools in Action, Eric Joop, is a GMC guy and has a 2003 Sierra. Eric says, "I pretty much love everything about this truck from how easy it is to change the oil to the quickness of the truck. Seats are very comfortable and has a lot of option luxury cars have, plus it just sounds tough. Two things I don't like about the truck are the extended cab and the Z71. Wish I would have bought a full size (4 door) truck. Also would pass on the Z71 since I don't off road."
Todd Fratzel – Toolbox Buzz
2009 GMC Sierra 2500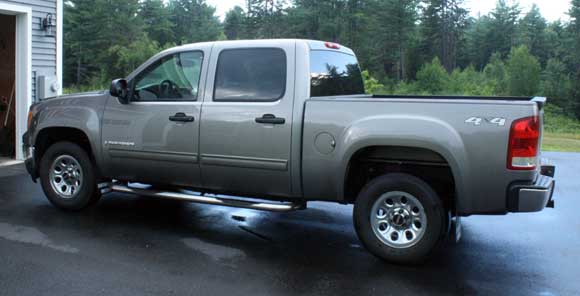 Todd of Home Construction Improvement and Tool Box Buzz is also in the GMC camp and has a 2009 GMC Sierra 1500 Crew Cab.
By day Todd is a principal engineer for a large design-build construction firm so he's constantly at the job site but his truck wears many hats, "My truck serves as a work truck and family vehicle on the weekends. I love the crew cab's ability to take along a crew with me or two eager little kids! My truck is also my mobile office. On larger projects I keep my laptop and blue prints for the job in the truck for easy access"
Rob Robillard – Concord Carpenter
2008 Chevy 2500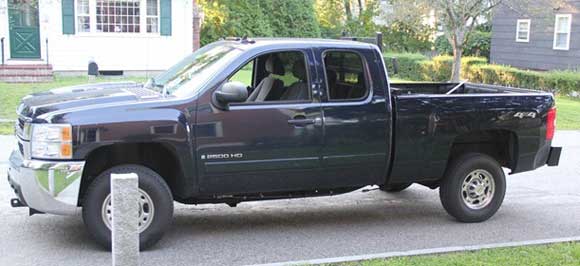 Rob Robillard of A Concord Carpenter is another GM guy who is a licensed contractor and police officer and runs a 2008 Chevy 2500. Rob has this to say about his Chevy, "I love the reliability and torque when plowing snow and overall toughness of the truck – been a Chevy guy for 10 plus years. Don't like the cheap bumpers that come with it"
Sounds like Rob definitely puts his truck to the test in those New England winters.
Jay Amstutz – Coptool
2005 GMC Sierra 2500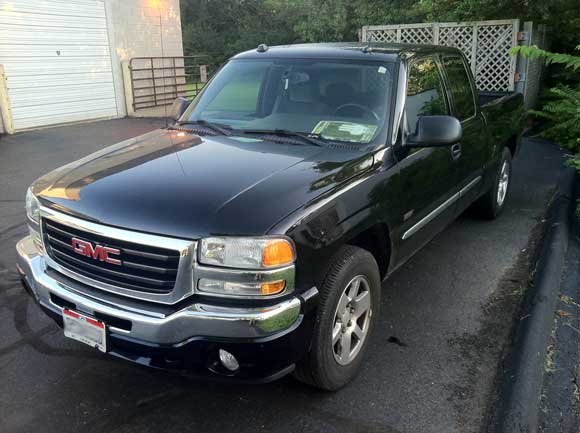 Yet another GMC guy is Jay Amstutz of Ohio Powertool and the blog Coptool. Jay drives a 2005 GMC Sierra with extended cab.
Jay says, "A good sized truck, not that great on gas mileage but like the ability to comfortably(ish) seat people in the back and still have the full size bed which is a need for work. Went with the 4×2 as they are better on gas and winters in Columbus are pretty mild. There have been a few times over the years it has gotten snowed in, which is kind of embarrassing for a near 7000 lb vehicle but all in all it has been a great truck."
Besides a bit of embarrassment I'm sure Jay is smiling all the way to the bank as 4×4's really do dig into the pocketbook. I love the height and flexibility it gives me but for the rare times I really need it here in Southern California and driving out to the ranch in Nevada, 4×4 is a bit of a waste.
One of my favorite trucks was my first truck, a 1991 Ford Ranger. I loved it. It was a 5-speed with the regular cab. The rear-end was really light so I had to put sand bags in the bed to keep traction while living in wet Seattle. It ran great and I'm surprised they don't seem as popular as they once were, in fact we hear that the 2012 Ranger won't be sold in the US which is a shame since it's such a solid platform.
Sean O'Hara – Toolmonger
2008 Ford Ranger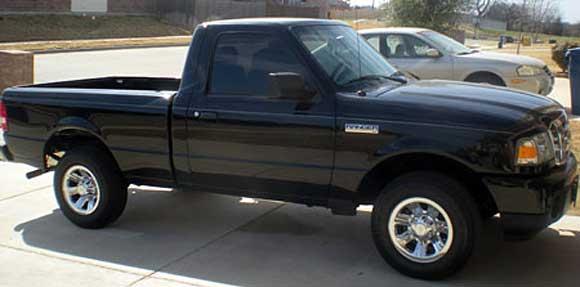 Sean O'Hara of Toolmonger seems to agree with me as he has a 2008 Ford Ranger and wrote up a great article citing why he's converted to a mid-size truck.
Sean says, "Love everything about it, small truck, decent power for a 2.3 liter and cheap to operate. The only hitch in the get-along would be it's a little on the bouncy side going over railroad tracks or big bumps. Other than that, does everything I used bigger trucks for at half the price.
Tom Gaige – ProToolReviews
2002 Ford F-150 FX4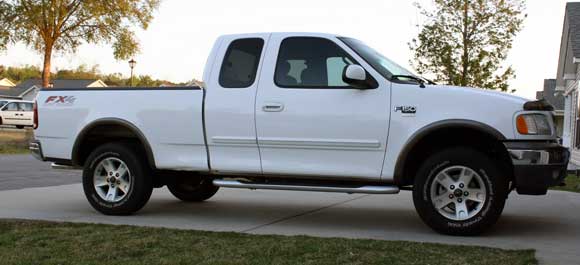 Tom Gaige of ProToolReviews went a bit bigger with his 2002 Ford F150 FX4 Super Cab pickup. Sounds like he really likes it since he re-invested by replacing the motor.
Here's what Tom says about his F-150, "There are many things I like about the truck like the tow/haul capacity, off-road abilities, space inside the cab and overall toughness. I do wish that the 4.6 V8 had a little more power and that it got better mileage. It has 230K on it now but I did replace the motor at 215k miles so I guess it means that I plan on keeping it for a while."
Hal Jones – Extreme How-To
1993 Ford F-250 XLT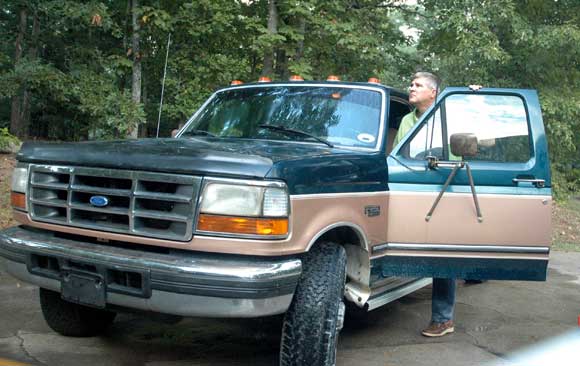 Stepping up in the Ford lineup is Hal Jones from Extreme How-To. He's got the "War Wagon" (as the kids call it) which is a 1993 F-250 extended cab XLT Limited. Hal put a Leer Cap on the back side and has been using it sparingly as it only has 88K miles. I'd bet there are plenty of Ford truck enthusiasts who would love to get their hands on that truck and with the turbo diesel it's got power to spare.
Tim Carter – Ask the Builder
2009 Ford F-250 Super Duty 4×4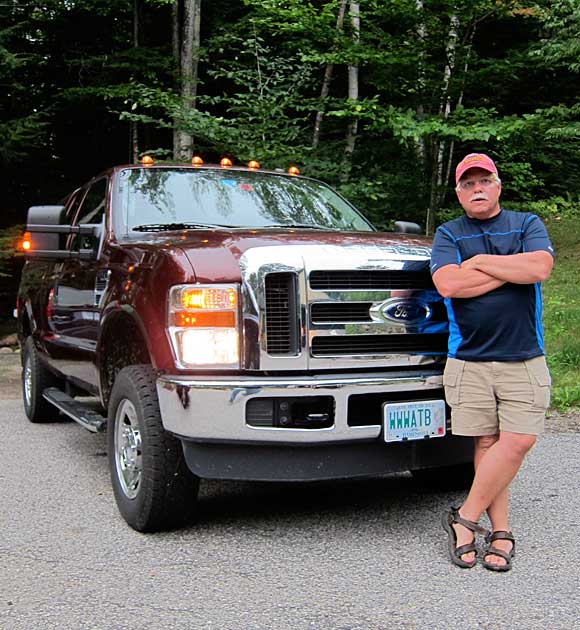 Talk about power, Tim Carter of Ask the Builder brings the most ponies to this party with his 2009 Ford F-250 Super Duty 4×4 with extended cab. I had the pleasure of riding in this beast at an event last year and beyond it's brutish appearance it has all the interior amenities one might need.
It's been a great commuter for Tim as it's made the drive roundtrip between Cincinnati and New Hampshire 12 times in the past three years. Tim said it also, "Charges through snow and mud just like in the TV commercials." And in his words, "Runs like a scalded ape when empty."
Side note – check out the custom license plate! That must be Tim's secret to building a big website.
Marc Lyman – Home Fixated
Burley Flatbed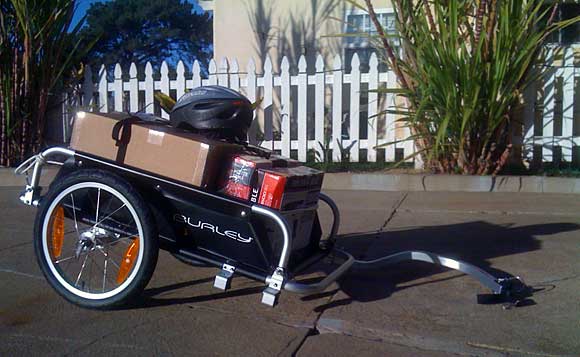 Although he doesn't drive a truck, Marc Lyman of HomeFixated submitted his 2011 Burley Flatbed for his mountain bike. He says, "It's light, versatile, uses zero gas and gets me more attention than driving a Ferrari (seriously). The downside is putting lumber longer than four feet on it is really awkward!"
Timothy Dahl
2001 Ford F-150 4×4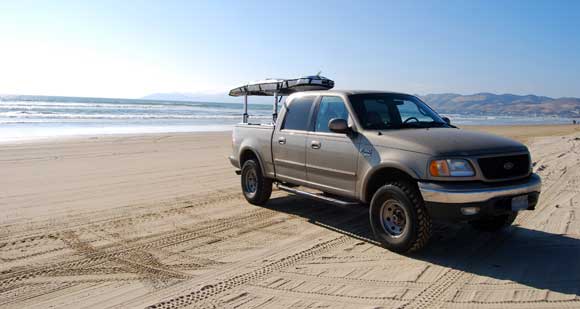 Finally I needed to include a photo of my 2001 Ford F-150 Lariat 4×4. It's been a great truck and carries my stand up paddle boards more than anything else. The Thule Xsporter rack allows me to haul at least 8 boards with no problem plus I could throw in some surfboards, coolers and chairs in the bed.
Two things stand out on this list. All American made and all Fords and GMC. No Dodges or Toyotas.
Name your favorite truck and toolblog in the comments and tell us what kind of truck you drive!