Beautiful pendant lights get all the glory, but under cabinet kitchen lighting is the most underrated light source in your kitchen. It helps to eliminate shadows and adds a great vibe to any space.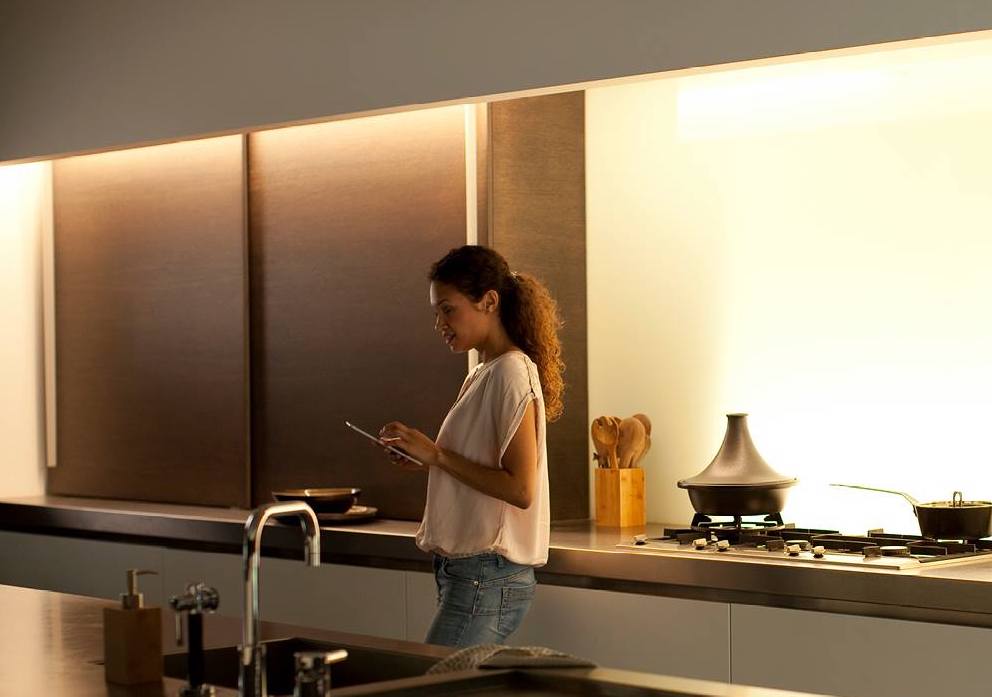 Photo: Philips
Proper kitchen lighting can elevate a great kitchen into a spectacular one. You can spend thousands of dollars on cabinets, countertops, and tile–but if your lighting isn't on point your kitchen can end up dark and dreary.
Here are some great ideas for kitchen lighting that include all types of options.
Kitchen Lighting Choices
Photo: LNC
A big part of designing a kitchen is sorting out your lighting solutions. Overhead lighting usually consists of a mix between recessed lighting, flush mount lights, and pendant lighting. All three options should be considered to provide the most coverage while complimenting the design of your kitchen.
Under cabinet lighting is often an afterthought, but if you design your kitchen with under cabinet lighting in mind, you'll end up with a system that's better integrated into your home. That means wiring your under cabinet lighting to wall switches and routing lights and mounts more discretely.
Light Power Options
Under cabinet lighting is available in a variety of power options. Some lights only have standard 110 plugs that are meant to be used with a wall outlet, while others can be hardwired into a wall switch. A few lights have both options which adds some flexibility.
If access to AC power is an issue, battery-powered LED under cabinet lights are a great option. LED lights draw very little power, so battery life can be stretched for hours. There are also no wires to be routed through cabinets or walls, so these types of lights are the least intrusive.
Photo: Nicor
Under Cabinet Lighting Installation
Under cabinet lighting can be installed in a new kitchen, a remodel, or as an add-on–the beauty of this type of lighting is the simplicity and low-cost of install.
Most under cabinet lighting comes with all of the necessary hardware to install it yourself. A screwdriver or drill/driver is usually the only tool needed to secure the mounts and lights.
Some lights include a self-adhesive so they simply stick to whatever surface they are mounted on. Just make sure the surface is very clean and all grease and dirt has been removed.
Under Cabinet Kitchen Lighting Recommendations
Lowe's offers hundreds of different under cabinet kitchen lighting options, that fit all styles and budgets. Here are some of our favorites.
Budget Under Cabinet Lights
These puck style under cabinet lights cost less than $10 for three and put out 35 lumens, which is more than enough light to brighten the dark corners of your shelves or countertops. They can even be set to dim and are ideal for any room, not just the kitchen.
Brightest Under Cabinet Lights
The AFX Noble Pro light bar puts out a whopping 1302 lumens. But it's dimmable so you can set your desired brightness as well as color with three different temperature settings to choose from. The sleek industrial design will go unnoticed in most under cabinet applications.
Most Customizable Under Cabinet Lights
These LED under cabinet light strips from Phillips can be installed almost anywhere and the color options and brightness are almost limitless. They are powered by a standard wall outlet and all features are controlled via the Phillips smartphone app. You can also extend the light strip as well as trim it to your desired length. 
Once you realize the beauty and effectiveness of under cabinet lighting in your kitchen, you'll want to install these lights throughout your home. Popular spaces include laundry rooms, home offices, and pantries.