Our good friend, Joe Kutchera (who was a former colleague at This Old House), recently moved to Richmond, VA with his lovely wife Lulu. They are recently married and like many young couples, starting a new life in a new city, but with an old home.
We asked Joe and Lulu to share some of their experiences as they upgrade their historic home and he kindly obliged. Thanks Joe!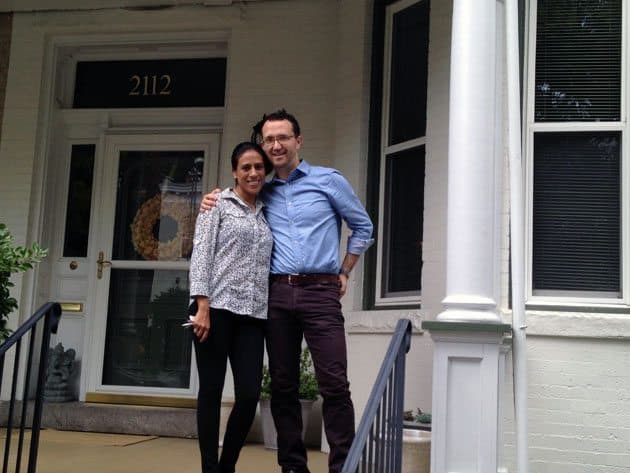 Hola! Nice to meet you. My name is Joe and this is my wife, Lulu, on our front porch of our home in Richmond's historic Victorian neighborhood known as "The Fan," which got its name because of the way that the streets "fan" out in the area just West of Virginia Commonwealth University (VCU).
Within the boundaries of the Fan Area Historic District lies a rich, cohesive collection of historic buildings in a variety of architectural styles including Italianate, Queen Anne, Colonial Revival, Bungalow, American Foursquare, Tudor Revival, and Spanish Colonial. The district developed largely between the years of 1890 and 1930, while the City of Richmond expanded economically and expanded westward from its commercial center.
About Us
Lulu and I, respectively, moved from Mexico City and Los Angeles to Richmond, VA in order for Lulu to work at Sabra Dipping Company, where the company has its Research & Development headquarters. Perhaps some of you know its many flavors of hummus with the red tops from your local supermarket.
Lulu and I met at LAX airport while waiting for a flight to Mexico City. She was on her way home from a business trip and I was on my way to a meeting with an advertising agency in the Mexico's capital. (I'm a digital marketing consultant, advising my clients on how to enter and communicate with the Latin America and the U.S. Hispanic market.) A fun conversation on the plane led to dinner in Mexico City, which led to a long-distance relationship and then…marriage!
Just after moving to Richmond, we started looking for a home. The home we purchased was actually the very first that we looked at that day, among 15 or so, during our first weekend of home shopping. We made our offer the following Monday. The very next day, the sellers accepted our offer. We were pleased, and surprised, with how quickly the process moved forward.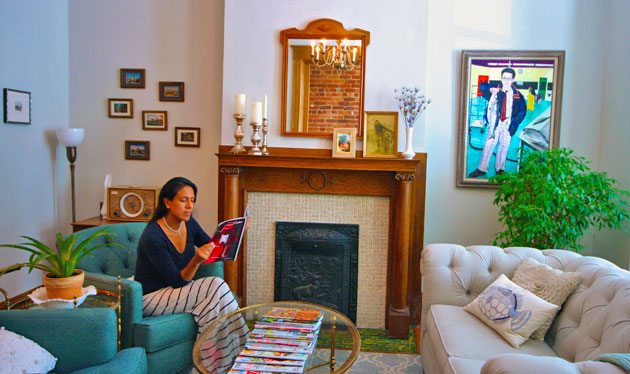 About Our House: Casa Kutchera
Our Queen Anne two-story, brick townhouse was built-in 1905. You can see a plaque alongside our front door in the photo here from the National Register of Historic Places that designates The Fan as a historic district. However fancy this may sound, it thankfully does not require us to renovate the house with any special materials or approvals from local bureaucrats. Historic buildings, not neighborhoods, typically require historic (i.e. more expensive) materials.
We finalized the purchase in October of 2013 and moved into our new home in November. We were thrilled. My things arrived in the moving truck from Los Angeles and we began buying some furniture we needed for our new house. (Lulu arrived with only a few suitcases from Mexico.) And thus, began our moving in and renovation process.
Getting to Know Our "New" Old House
Before we renovated, we wanted to live in the house a while to familiarize ourselves with it. And we're glad we did. When we moved in, we essentially replicated the way the previous owners used each room. But as we got to know the new Casa Kutchera, we discovered new ways of adapting each space so that the house became our own.
We love our neighborhood, The Fan, as we can walk to local restaurants like the ever-popular restaurant and tavern, Joe's Inn, and I can bike to my office at the co-working space Marvin Lang. As is typical of neighborhoods developed before the advent of the automobile, the houses are nestled closely together. To the left of our house, we share a common wall with a house that mirrors the façade of our house. And to the right, our house sits only two feet from our neighbors.
We love the front porch, the stained wooden floors, our front parlor, and the back deck. We especially like the exposed brick wall and the open wooden staircase in our front hallway, which leads up to the second floor. Just below that, there is a built-in bookcase that fits the contour of the staircase.
The Challenge: Lack of Light, Low Energy
Even with all of these incredible attributes, we quickly realized that our house lacked sufficient lighting. The living/TV room, front parlor, the middle/inner bedroom as well as the back deck, all desperately needed light to liven them up. At the time we moved in, you would have called our guest bedroom, the middle/interior room, a cave. It ranked as our least favorite room in the house. As a result, it became our storage area, where we kept boxes and unused furniture while we settled in due to the lack of light. (The previous owners had used floor lamps.)
In addition, the back deck, alongside the dining room and kitchen, appeared as a kind of black hole on the floor plan. We kept the recycling in this dark corner, which led to the back yard along side of the house and then to our backyard.
Unsurprisingly, the unlit areas of the house pulled down the energy of the house.
Feng Shui: Maximizing Positive Energy
As we adjusted to life in our "new" the house, we began evaluating ideas to renovate and decorate Casa Kutchera, especially the lighting since that effected the energy so noticeably. I encouraged Lulu to learn more about feng shui.
What is feng shui? The Merriam-Webster Dictionary describes it as, "a Chinese system for positioning a building and the objects within a building in a way that is thought to agree with spiritual forces and to bring health and happiness."
Even though Lulu didn't believe in it to begin with, we knew we wanted to maximize the positive energy in the house as we settled into our first year of marriage. And as we learned more about it, we adopted its recommendations for furniture placement and design.
We read the book "Feng Shui Step by Step: How to Arrange Your Home for Health and Happiness Paperback" by T. Raphael Simons and hired a local Feng Shui consultant, Bonnie Primm. We learned that feng shui is actually much more complicated than we originally imagined. We needed to provide Bonnie with our respective birth dates as well as the direction that the house faced and the floor plan, in advance of our session.
During Bonnie's visit, we utilized the "Bagua," or energy map seen here, to interpret the floor plan of the house. The wall that contains the main entrance, as you can see, is on the bottom of the diagram. In our house, the entrance lies on the left side of the front façade, which is the "wisdom, self-knowledge and rest" sector.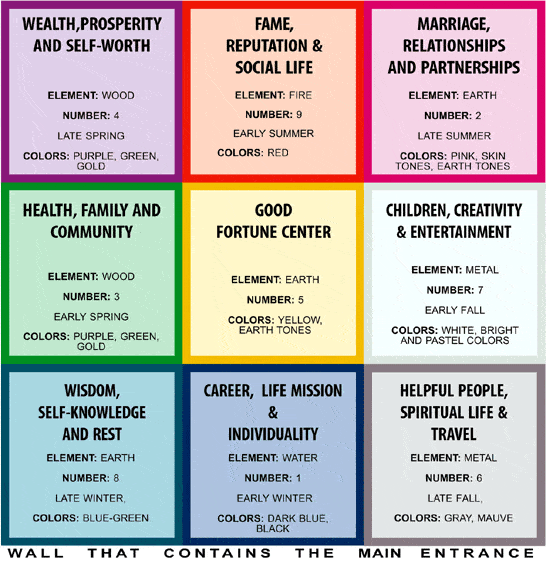 Bagua feng shui diagram used with permission from Dee S. Weir of Columbia Shiatsu.
Our "marriage, relationships and partnerships" area of the house lay in the "black hole" of the back right corner of the house, where the back deck was, without any lighting. Needless to say, we were concerned and wanted to light it up!
Many of Bonnie Primm's recommendations confirmed our design inclinations, like our desire to add more light in the interior rooms and along the back deck. But others did not. We originally wanted to knock down the walls between the living room, dining room and kitchen to make our house seem more expansive. But, she advised us not to. Since we nourish ourselves and gain energy from eating in the dining room, it needs to be enclosed, so that energy does not flow through excessively.
Bonnie suggested that we light up the corners of our interior rooms and outside deck, which would then lift up the energy and keep it within each room, thus making the corners less "scary." In addition, she suggested that we convert the middle/interior bedroom on the second floor, which was quiet and cave-like, into our master bedroom.
Check back next week as Joe and Lulu share their plan for renovating their Richmond Home.