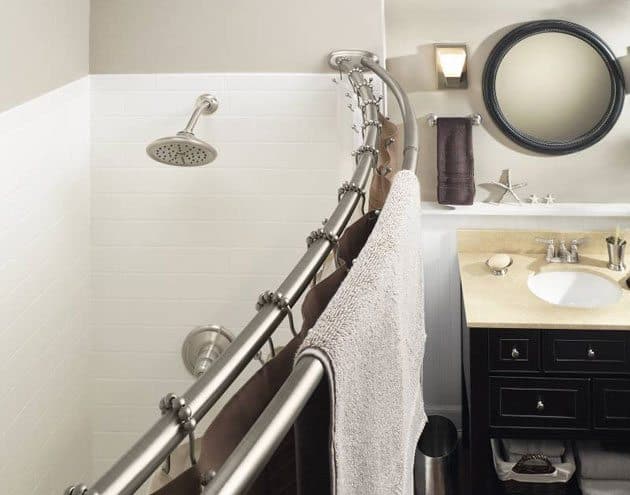 Instantly upgrade your bathroom with a curved shower rod. It's not only small bathrooms that benefit from having more space in the shower area. Curved shower rods provide more room to maneuver while taking a shower, without infringing on the bathroom space.
Many luxury hotels have already caught onto this minor detail and Moen now offers curved shower rods as a single or double rod. You can install them using permanent or tension mounts so they will work in any bathroom.
Single Curved Shower Rods
Provide up to 7½ inches of additional elbow room
Adjust to fit shower enclosures between 54 and 72 inches, with no cutting required
Double Curved Shower Rods
Add up to 5½ inches of additional elbow room
The double bar design can be used in two ways
Utilize separate bars for the shower liner and decorative curtain
When the two curtains are hung together on the interior bar, the outer bar can be used to hang towels or other essentials
Adjust to fit shower enclosures between 57 and 60 inches, with no cutting required
Tension-Mount — Homeowners and renters will love this hassle-free mounting style that installs and removes effortlessly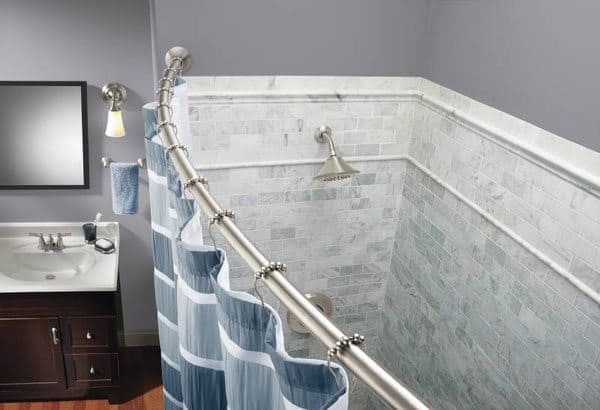 Single Tension Curved Shower Rods
Provide up to 5½ inches of additional shower space — without drilling holes
Easy-to-follow three-step installation system does not require any tools or assembly — simply expand the rod, add tension and snap on the decorative covers
Adjust from 57 to 60 inches to accommodate a variety of shower sizes
Benefits of Moen Curved Shower Rods
The curved design moves the shower curtain liner away from your body, creating a more comfortable experience
Decorative covers add style to the bath, while also concealing mounting hardware and drill holes from previous shower rods
Most feature pivoting flanges which provide an easy, secure installation on inconsistent or uneven wall surfaces
Available in a variety of finishes: Chrome, Brushed Nickel and Old World Bronze to complement a variety of bath fixtures and décor
Made from corrosion-resistant stainless steel for reliable durability
Fit standard shower curtains, liners and rings
For a finishing touch, double shower curtain rings are available in popular finishes to match any style
The offset hook design separates the decorative curtain from the liner, while hiding the liner from view
The open ring design makes it easy to switch out the shower curtain and liner
Smooth-rolling ball bearings eliminate snagging, tugging and pulling of the curtain
Limited Lifetime Warranty*
Visit Moen.com for more details.