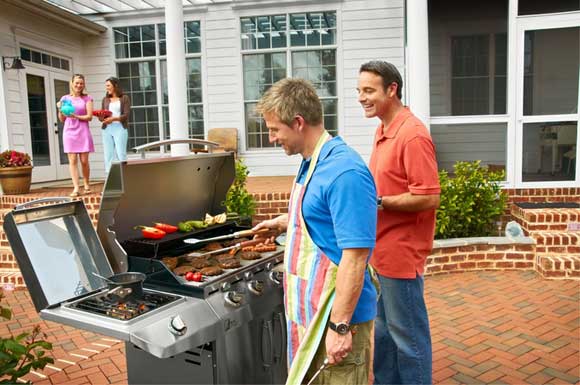 Peak backyard grilling season is coming up and in honor of the great American tradition of celebrating the 4th of July while cooking outdoors, Char-Broil surveyed 3,000 Americans from across the country to see what they were eating and how they plan on celebrating.
The results are:
While burgers and dogs remain an overall favorite, almost half (46%) of backyard chefs in the Midwest will be grilling brats and sausages this year. And, 53% of households in the Northeast will be having chicken.
A barbecue in the Southeast is more likely to include ribs on the menu than in any other region.
Family first! Surprisingly, this year's cook-out will be limited primarily to family members, with 69.5% of Americans planning a backyard bbq with only family. One third (33.2%) of folks on the west coast, however, are preparing for a cook-out with family AND friends.
Northeasterners will spend the most time cooking this holiday, with almost a quarter (23%) planning to be on the grill all day.
Most survey respondents (51.7%) cite grilling as their top recreational activity during the cook-out. On average only 21% of the nation is planning to watch fireworks; that number skews highest in the Midwest at 25.3%.
While 23% of the country (heaviest concentration in the Southwest) will be listening to rock music while they grill, the preferred soundtrack of the cook-out is the sound of the great outdoors only.
When asked who they would invite to join them for a grill-side chat this Fourth of July (dead or alive), Americans overwhelmingly responded they would like to have one more meal with their mother or father. Also cited as welcome company were (in order) President Obama, Jesus, Bobby Flay, Ronald Reagan and John Wayne. (Mitt Romney also made the list, alongside JFK and Toby Keith).
When asked which historical figure they'd invite to their cook-out, Americans chose Abraham Lincoln over Ben Franklin by a slim margin, followed closely by George Washington. (Options offered were Ben Franklin, George Washington, Thomas Jefferson, Abraham Lincoln, Susan B. Anthony and Martin Luther King, Jr.) Americans in the West deviated slightly, choosing Thomas Jefferson instead of George Washington as a top three choice.
The Char-Broil Sizzle Study was conducted online in June 2012. More than 3,000 Americans were surveyed in the Northeast, South, Southwest, Midwest, and West Coast regions of the United States.