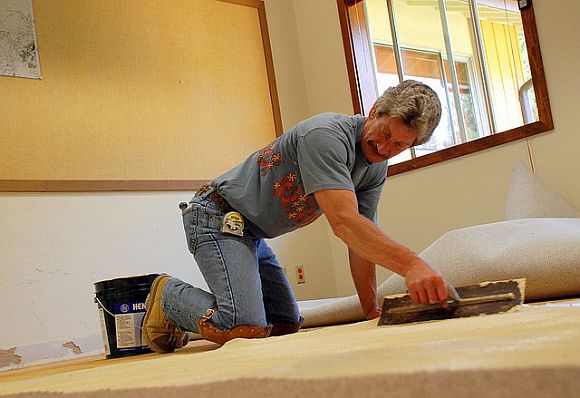 Most flooring projects can be filed under the DIY category. But what about installing carpet? (And we're not talking FLOR tiles, although they're certainly an attractive flooring option–and can be quickly installed.)
Over at the Your Fifth Wall blog (such a great way to think of the floor, isn't it?), the general consensus is that installing carpet is best left to a professional. Why? The list of tools is daunting, the process itself is complicated, and dealing with entire rolls of carpet can be a laborious, cumbersome chore.
But we'll indulge you, oh brave DIY-er. Here's a list of what you'd need to install carpet, per DoItYourself.com via www.YourFifthWall.com.

Supplies
* Tackless strips
* Stapler
* Hammer
* Utility knife
* Chalk line
* Measuring tape
* Rolling pin (or rental seam roller)
* Work gloves
* Safety glasses
* Knee pads
Two of the most difficult parts of carpet installation are the cuts made to fit the carpet, and hiding the seams created by joining two pieces together. If you're at all hesitant about the job, it's probably a good idea to call in a professional.
Here's where we open up the floor (ha, ha!) to a debate. Would you tackle carpet installation, or do you think this one's for the pros? If you have installed carpet, we'd love to hear any helpful advice you might have!
Photo: Flickr.com/photos/olympicnf