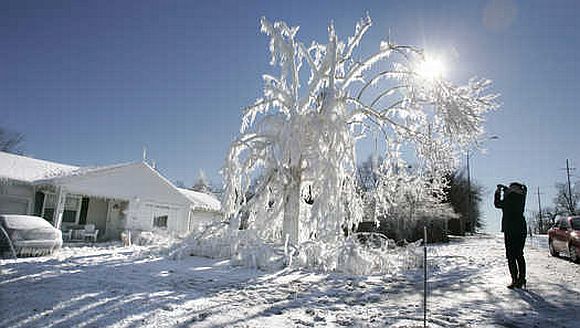 Although we discussed how to prepare for an ice storm at the end of last week, an event in Kansas City this weekend reminded us that you simply can't plan for freak accidents. After surpassing the 50-degree mark on Friday, temperatures Saturday plunged into the teens and, that night, just above 0. The frigid temps caused a pipe to burst on a residential street, and the resulting spray coated a home in a thick layer of ice.
The Kansas City Star reported that the tree in the front yard was heavily damaged, but no other information is available on the condition of the home. The spray reached the backyard, meaning most of the property is ice-covered.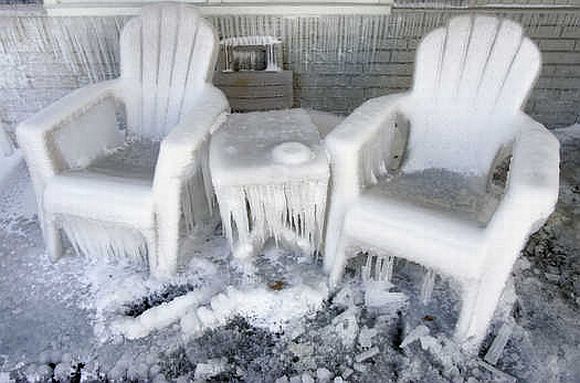 Temperatures are expected to be in the low to mid-20s the next couple of days, so we're not sure how much of the ice will melt. A quick Google search confirms that, although this is a rare occurrence, it has happened in other cities.
We're sending positive thoughts to the homeowners that they don't incur any permanent damage–except the poor tree, of course. If you've seen any crazy winter weather-related mishaps in your community, send photos to editor@charlesandhudson.com. And stay safe!
Photos by Keith Myers/The Kansas City Star
The following two tabs change content below.

Katy Schamberger is a Kansas City-based freelance writer, editor, blogger and author who weaves experience as a journalist, magazine editor and Chief Content Officer to create compelling, engaging copy that informs, entertains and inspires action. Oh, and she likes to take photos, too, especially of architecture, food and cocktails. Welcome!

Latest posts by Katy Schamberger (see all)