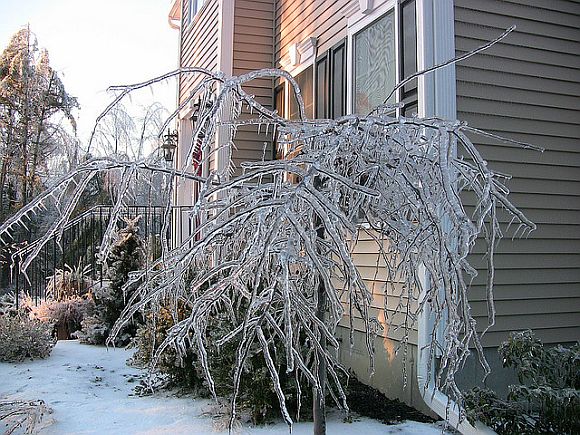 Now that winter weather is here, you may find yourself in the midst of an ice storm. Besides creating incredibly hazardous driving conditions, ice storms are also dangerous because it doesn't take much ice accumulation to bring down tree branches, power lines and cause other damage to property.
Although you can't completely safeguard your home from an ice storm, there are several steps you can take to minimize damage, most of which call for adequate, properly installed insulation.
+ Protect against frozen pipes by ensuring that pipes are insulated and all holes and cracks are sealed. Experts also recommend leaving cabinet doors open, which will allow your home's heat to warm the pipes, and also leaving your faucets at a slow drip.
+ Properly insulate and vent your attic, which won't only help with your home's energy consumption–you'll also prevent ice dams, which can cause roof damage during and after a winter storm, as well as water leaks inside your home.
+ Stock a few supplies in the event of a power outage, which can frequently occur during an ice storm. Bottled water, blankets, non-perishable snacks and candles/matches are great to have on hand, and can get you through a few days without electricity.
+ As a back-up, make sure your homeowner's insurance includes coverage for this type of scenario. Even though you can't completely protect your property, you'll have peace of mind knowing that if damage does occur, your insurance plan can provide for coverage of repairs.
Do you have additional tips for protecting your property during winter weather? Let us know!
Photo: Flickr.com/mccready
The following two tabs change content below.

Katy Schamberger is a Kansas City-based freelance writer, editor, blogger and author who weaves experience as a journalist, magazine editor and Chief Content Officer to create compelling, engaging copy that informs, entertains and inspires action. Oh, and she likes to take photos, too, especially of architecture, food and cocktails. Welcome!

Latest posts by Katy Schamberger (see all)