Before the temperatures start to dip too low, you may want to consider sealing your driveway. Periodically applying a sealant will help protect your driveway's condition, and is an especially good idea if you live somewhere with hot summers and frigid winters. Extreme temperature fluctuations can cause cracks in your concrete driveway to expand and worsen, and, over time, your driveway can be seriously damaged.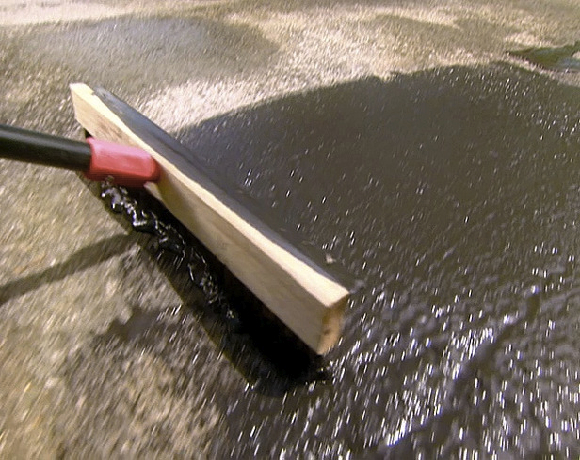 Before you apply sealant, check the weather forecast. Temperatures need to be above 60 degrees for 24 hours, and there shouldn't be any rain in the forecast for at least 36 hours, according to This Old House.
Put up a barricade at the end of your driveway to block traffic. This Old House also recommends power washing your driveway to remove any dust and debris. You'll also want to patch any existing cracks – once you apply the sealant, you'll add another protective layer to keep the patch in place.

You'll likely need about two gallons of sealant. Pour it directly onto the driveway and, using a large broom or squeegee, spread the sealant into a thin layer. This Old House advises working in small areas so that the sealant doesn't dry before you're able to spread it.
Pull the sealant to the edges, and once you have the driveway covered, avoid walking on it for several hours and let it dry overnight before you drive on it.
Have you sealed your driveway? How did it work out?
Photo courtesy of This Old House
The following two tabs change content below.

Katy Schamberger is a Kansas City-based freelance writer, editor, blogger and author who weaves experience as a journalist, magazine editor and Chief Content Officer to create compelling, engaging copy that informs, entertains and inspires action. Oh, and she likes to take photos, too, especially of architecture, food and cocktails. Welcome!

Latest posts by Katy Schamberger (see all)