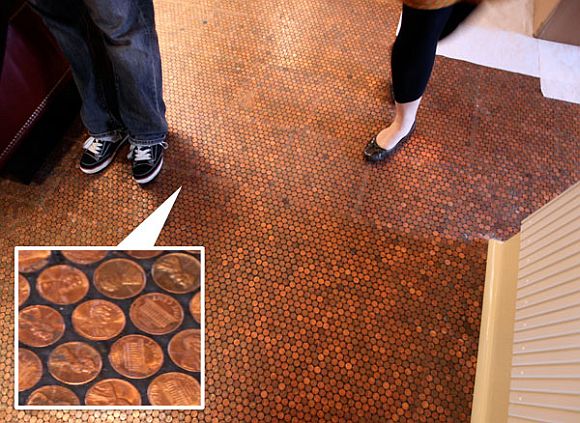 I can't get enough of unconventional materials used in a DIY project, or even ordinary objects used in extraordinary ways. My latest inspiration? Flooring created from pennies.
What a brilliant way to use something that is really kinda worthless. Sure, you can collect jars of pennies and eventually cash them in for some bucks. But otherwise, pennies are pretty yet overlooked items with the tendency to collect in drawers, cup holders, bowls and pockets.

MAKE magazine profiled a real-life penny floor found at Manhattan eatery The Standard Grill. Writer Sean Michael Ragan estimates that the floor's cost would be comparable to ceramic tile, but as he puts it, "a whole lot more interesting."
I don't know that this would be the best option for a large area, like a living room, but it could add a striking aesthetic to a small room like a bathroom or study.
Would you tile a floor with pennies? Or maybe another surface, such as a wall or countertops? A penny for your thoughts — pun definitely intended!
Photo courtesy of MAKE magazine
The following two tabs change content below.

Katy Schamberger is a Kansas City-based freelance writer, editor, blogger and author who weaves experience as a journalist, magazine editor and Chief Content Officer to create compelling, engaging copy that informs, entertains and inspires action. Oh, and she likes to take photos, too, especially of architecture, food and cocktails. Welcome!

Latest posts by Katy Schamberger (see all)