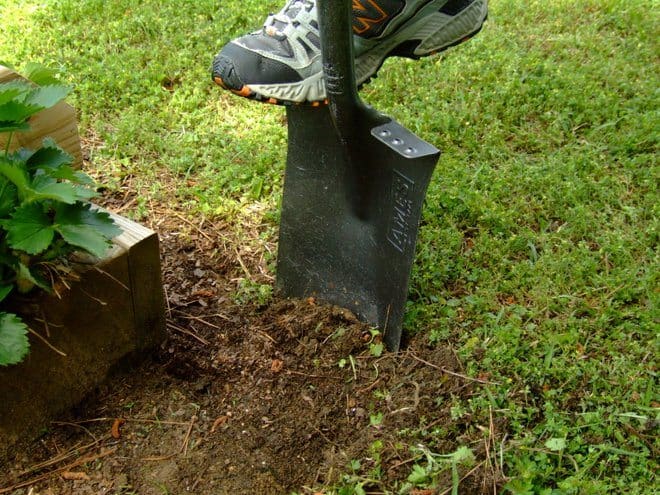 Last week our friend Chris Hill who runs the amazing woodworking site, Chiefs Shop, attended Tool School with The AMES Companies in Camp Hill, PA.
The AMES Companies wanted share their latest landscape, construction and lawn tools from the place where they are built, and thanks to Chris we've got the full story that covers the history of AMES, the manufacturing plant and the newest innovation in tools. Thanks Chris!
A comeback is happening in American manufacturing and one of the best visible examples is in the modest suburbs surrounding Harrisburg, Pennsylvania.
In the unassuming towns of Camp Hill and Carlisle, AMES® is pounding away at some of the hardest working hand tools in the land. If you work in landscaping, construction, or are just an avid gardener, you're familiar with brand names such as RAZOR-BACK®, JACKSON®, TRUE TEMPER®, and of course AMES. But you probably didn't realize just how much of  that equipment is made right here in the U.S.
Ames History
AMES was established in 1774 and is one of the oldest continually operating companies started in the U.S. Shovels crafted by blacksmith Captain John Ames were reportedly used at the Battle of Bunker Hill. By the 1870's, Ames was producing more than 5,000 shovels per day, which equated to approximately 60 percent of the metal shovels produced in the world at that time. Ames tools also were involved in the creation, building and or installation of the Transcontinental Railroad, Mount Rushmore, Statue of Liberty, the Hoover Dam, and the Panama Canal.
Ames Factory
Fast forward to 2014 and the company is undergoing a rebranding effort. Previously known as AMES TRUE TEMPER, the company will go solely by The AMES Companies, yet retain the individual brands of AMES, TRUE TEMPER , RAZOR-BACK, JACKSON, as well as the new TRUE AMERICAN by TRUE TEMPER. The TRUE AMERICAN brand's tools, will be available in smaller retail outlets such as independent garden centers and hardware stores, are 100 percent U.S.-made – every single component.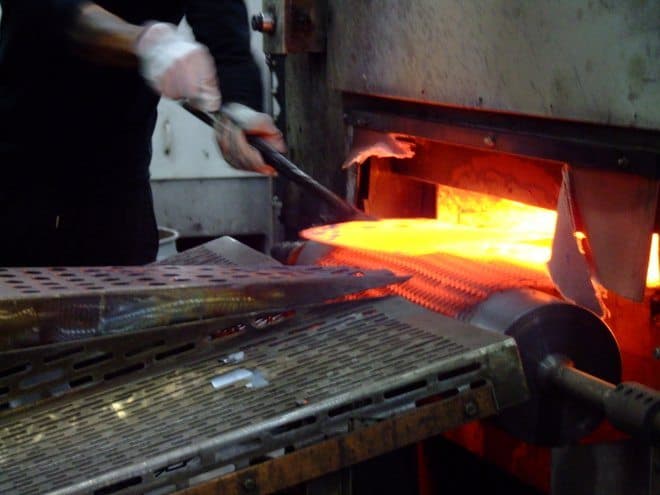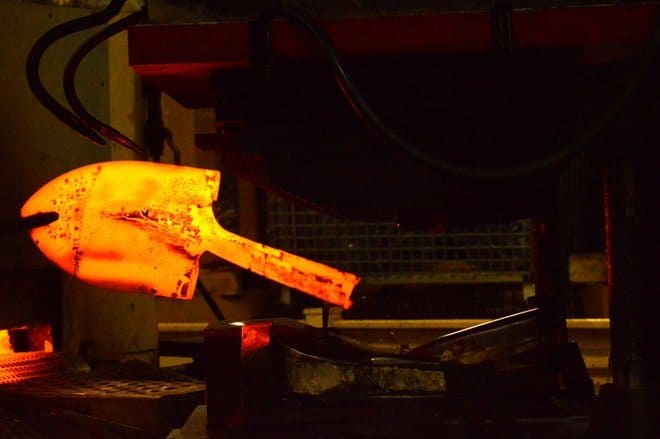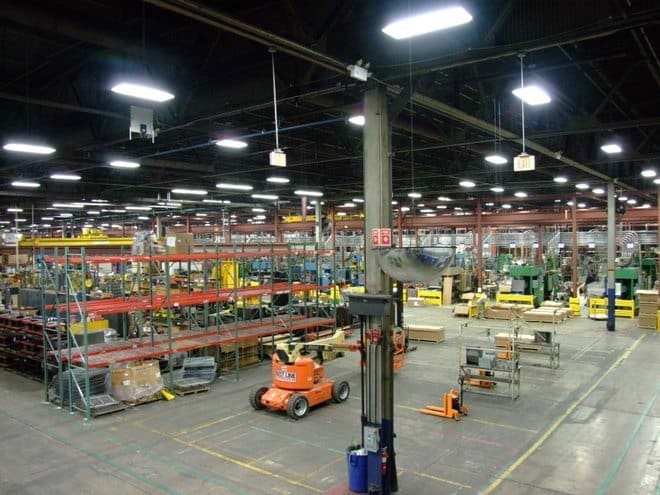 In the Camp Hill facility, which churns out 16 million units per year, you'll find the hardened steel heads of shovels being fired, stamped, and coated. Under the same roof are ash wood dowels being turned and shaped into handles, plastics becoming planters, and pultrusion machines turning out long-lasting fiberglass handles.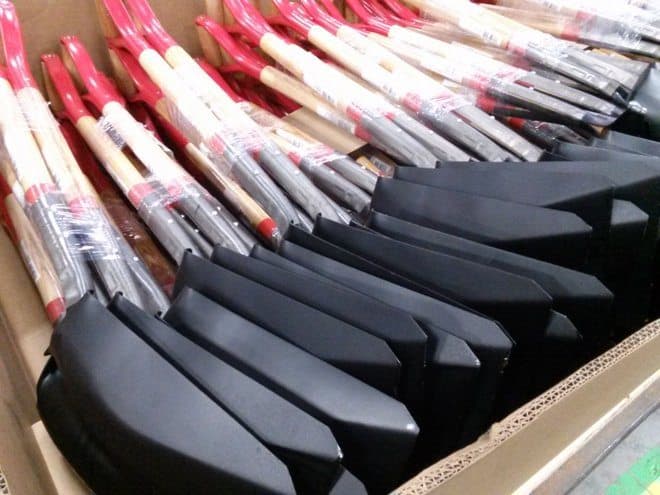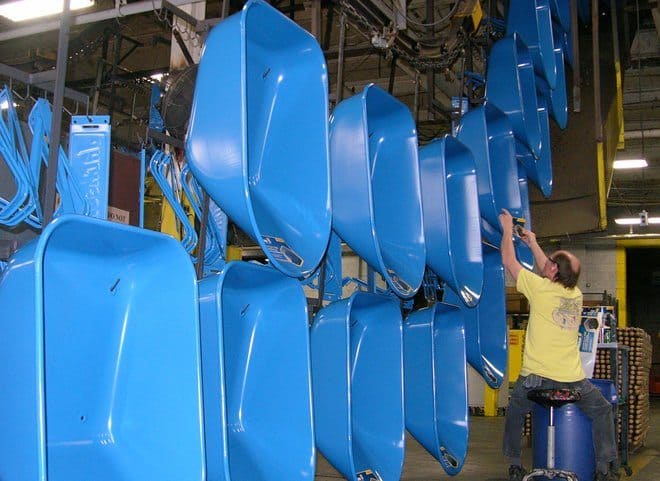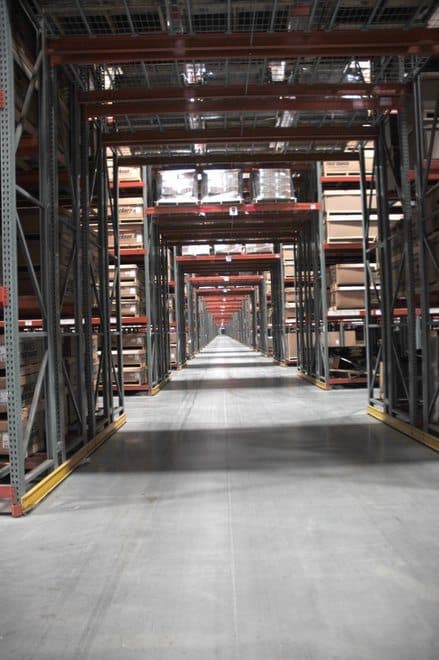 In the 2.5 million square foot juggernaut Carlisle facility, 19 million units are produced per year. That square footage is mostly made up of storage space and fill dock bays waiting for trucks. And because of the facilities logistical prowess, those trucks can drop an empty trailer and load up with a full one in mere minutes.
New Ames Tools
The biggest transformation you'll see are the AMES-branded tools. There are new bright green grips, known as D-grips, long handle caps/grips, as well as a new rugged finish on the shovels. Shovels also feature the new Ames logo (including the Est. 1774 moniker), stamped into the heads. These tools have an updated 15-year warranty.
One feature that stands out on the AMES shovels is the new Comfort StepTM footstep. It's deeper than the footstep you'll find on an average shovel, and features raised perforations that help in footwear grip.
Other new products:
AMES
AMES Ergo Gel Grip tool line
Three new additions are released to Ames line of Ergo Gel Grip hand tools, including a Multi-Tool Hoe/Cultivator, a Multi-Tool Weeder/Transplanter and Hand Rake. The full line of Ergo Gel Grip tools offers year-round garden solutions from spring cultivating and summer planting, to fall harvesting and winter pruning. Each features an ergonomic handle design with a soft gel-grip insert that cushions the hand and provides maximum comfort.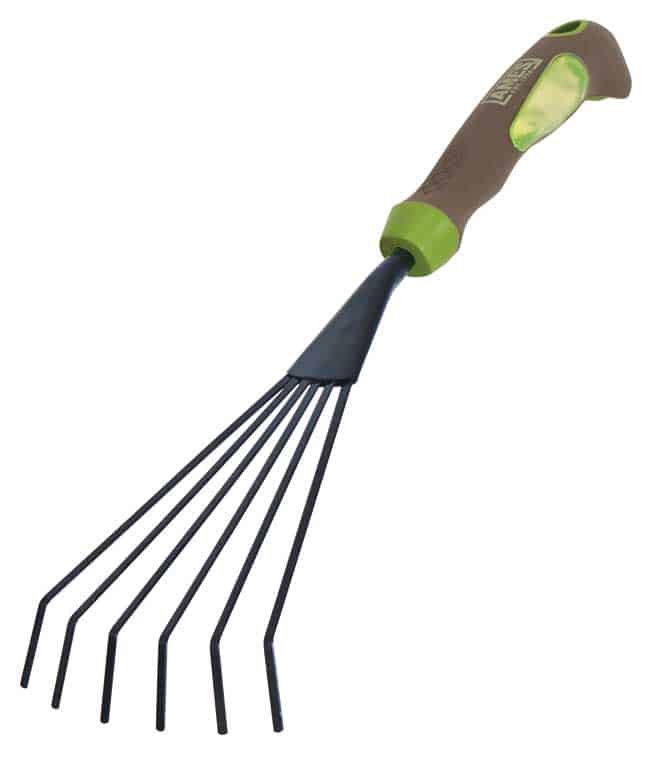 "The gel grip handle has proven to be an extremely popular style since the introduction of the line, and end-user testing confirms comfort is a priority for consumers," said Jim Maffei, Director of Marketing, New Products. "The three new Ergo Gel Grip hand tools round out a line that allows our customers to accomplish garden tasks in comfort."
Beyond the gel grip feature on the handles, the 2-in-1 cultivator/hoe features a stainless steel, dual-purpose head with a cultivator for tilling and a hoe for light digging. The 2-in-1 weeder/root cutter features a stainless steel head and serrated edge for cutting roots. The hand rake features wide tines for gathering leaves and other materials. Individual tools range in price from .98 to .98.
AMES  NeverLeak® Aluminum Water System
Ames announces 14 new storage options for its patented NeverLeak® Aluminum Water System. The expanded product line gives customers options to fit their personal needs and outdoor aesthetics, all while providing the proven durability of an aluminum water system.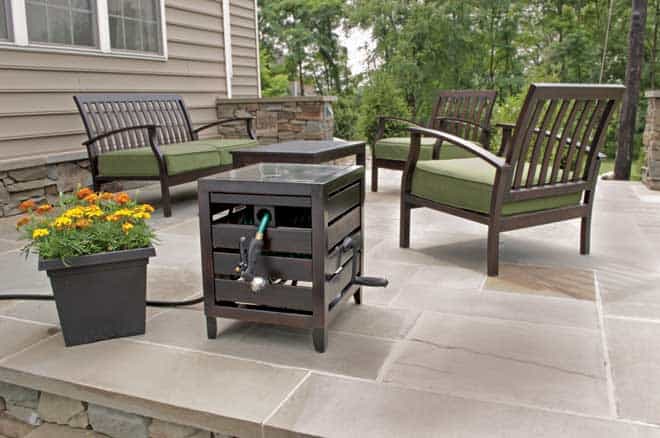 "The number one complaint homeowners have with the typical plastic hose reel is that it can leak," said Erin Kelly, Sr. Product Manager. "The NeverLeak Aluminum Water System relieves that worry with eight times more strength and durability than traditional plastic, and resistance to cross-threading at connection points due to wear and tear from use or weathering. AMES NeverLeak Hose Reels are designed to meet best-in-class durability standards to increase product life from season to season."
The new storage options for the system include wall-mountable units, cabinets and swivel carts available in several styles and finishes. Easy-spin crank handles and manual hose guides make extending and retracting a hose less labor intensive. The wall mount units come fully assembled and feature an accessory tray for nozzles and attachments. The cabinets feature sturdy bases keeping the units in place on decks or patios when the hose is in use.
These 14 new storage options for the NeverLeak Aluminum Water System range in price from .99 – 9.99.

TRU TEMPER
TRUE TEMPER Scratch Free Snow Brushes
The scratch-free brush features EVA foam, a material commonly used for car wash brushes rather than bristles, which can break down during winter, or worse, cause unsightly damage.
The wrap-around head design makes removing snow in smaller and tough-to-reach areas, especially around mirrors and wipers, simple.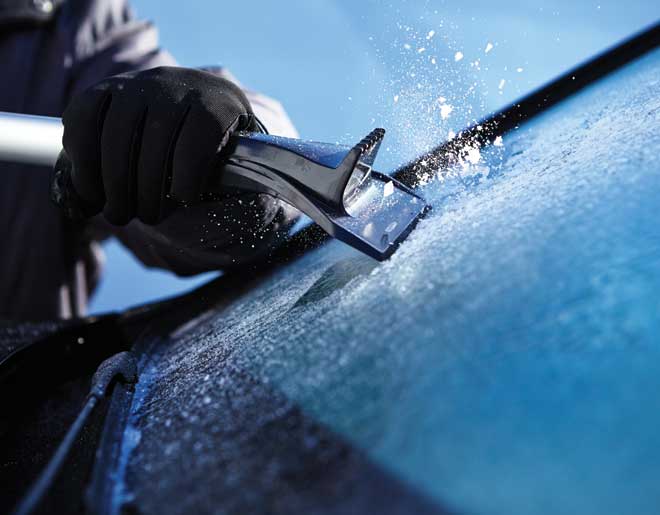 "Through our extensive end-user research we learned that consumers are most concerned about traditional bristle snow brushes wearing out, scratching cars, clogging with snow or freezing," said Jim Maffei, Director of Marketing, New Products. "The new EVA material we chose for the TRUE TEMPER snow brush is soft, sturdy, durable and effective, great for long winters or whenever the snow hits."
The brush and scraper is available in three convenient sizes – 28-inch, 32-inch and 36-inch lengths, offering multiple sizes to fit the user and the use case.
The TRUE TEMPER Scratch Free Snow Brushes are available at Lowe's and other retailers and range in price from .99 to .99.

TRUE TEMPER Aluminum Combo Snow Shovel
The industry's first aluminum snow shovel that can handle 30 percent larger loads than a traditional poly shovel. Designed for more efficient snow removal, the innovative design also offers comfort to the operator.
"Consumers tell us they are discouraged by traditional small, metal snow shovels that are off-balance and hard to lift when fully loaded," said Jim Maffei, Director of Marketing, New Products. "The new 20-inch Aluminum Combo Shovel solves these frustrations and more, adding another first of-its-kind snow shovel to an impressive lineup of TRUE TEMPER snow removal products."

The patented aluminum blade design has unique side supports to keep snow from falling of during transfer, a common problem with flat blades.
A curved ergonomic handle decreases the need for bending and stooping, promoting better posture while shoveling and an oversized, D-handle grip assists in balancing larger loads. Durability and strength are enforced by a wearstrip on the blade that makes it easier to break through packed snow and ice to get that final clean scrape against concrete or pavement.
The TRUE TEMPER Aluminum Combo Snow Shovel is available at Ace, True Value, Do It Best, and other retail stores. The new 20-inch Aluminum Combo Shovel retails for $34.99.
RAZOR-BACK
RAZOR-BACK Professional Roofer's Spade
RAZOR-BACK introduces a new model of professional roofer's spade designed for ease of use, durability and ergonomic compatibility.
Typically, spades with multiple weld points at the head experience wear and tear and can get caught easily on shingles. The innovative, one-piece steel head of the RAZOR-BACK Professional Roofer's Spade solves this problem by providing unprecedented durability and smooth operation.

The D-handle on the larger model provides comfort and control. Coupled with the improved pitch of the spade, the operator can be more efficient and comfortable on the job.
The RAZOR-BACK Professional Roofer's Spade comes in a long-handled version with a 7-inch head width and D-handle, and a short-handled version with a 5-inch head. Prices start at $29.99 and $19.99 respectively.
RAZOR-BACK SuperSocket shovels
RAZOR-BACK introduces the round point SuperSocket® shovel, with Power-Step® feature. The SuperSocket shovel is a durable option that can dig in the hardest, rockiest soil, and is made for tackling the toughest jobs.

Perfect for jobsite digging tasks such as breaking sedimentary rock or solid clay, this new offering features a socket five inches longer than standard industrial-grade sockets, providing more steel reinforcement to provide a strong socket connection. The industrial-gauge steel blade reinforces the strength of the shovel for added durability. This combines with the new Power-Step feature, an over-sized and cleated step for secure foot placement and improved leverage while digging.
The SuperSocket shovel has a number of features that make it the best tool for your tough job:
Heavy duty, industrial gauge, open-back steel blade
Cleated Power-Step® feature, for maximum digging power
Available in premium 48-inch white ash handle or fiberglass handles with steel reinforced socket
Wood handles feature a 10" cushioned end grip
 Fiberglass handles feature 9" cushion end grip with rubber liner and a 12" mid-handle grip
The RAZOR-BACK SuperSocket shovels with Power-Step feature retails for $24.99 to $29.99
View more photos from Ames Tool School
Ames manufacturing facts:
Sourcing of North American hardwoods from wood mills up and down the Appalachian Trail.
100 percent of shovel heads made in the USA are made with 100 percent USA sourced steel.
The manufacturing process is vertically integrated in the U.S. including woodturning, steel forming, steel forging, metal stamping, tempering, welding, injection molding and assembly.
Harrisburg, PA facility is home to the largest wheelbarrow factory in the world, which produces one wheelbarrow every six seconds.
Camp Hill, PA facility is home to long handle tools, striking tools and hose reel manufacturing and produces 16 million units annually.
Carlisle, PA facility is the company's largest assembly and distribution location and produces over 19 million units annually.