One of the disadvantages to living in a loft, apartment or condo is the lack of outdoor space. As a Kansas City loft dweller, I find myself lamenting my lack of balcony or patio on a daily basis, especially now that gardening season is in full swing and I crave fresh herbs on a daily basis.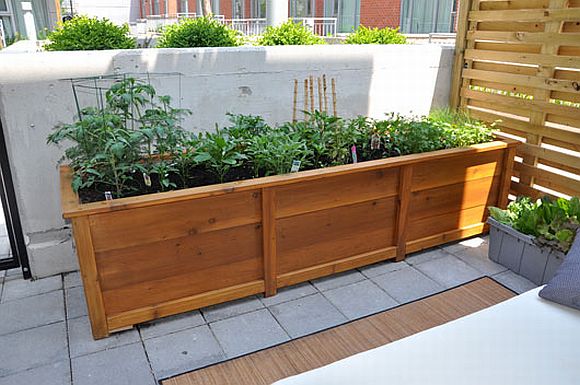 If you're lucky enough to have even a small porch or patio at your building, you can garden on a smaller scale by creating your own container garden. Condo resident Jennifer Myers wrote a fantastic guest post for HGTV Canada that includes step-by-step instructions for her DIY container garden.
She also mentioned several key factors to consider before you create your own container. The most important? The size of your container garden. Her planter is large and heavy (800+ pounds), but it's ideal for her ground-floor condo and 500-square-foot patio. If you find yourself with less space or are higher up and don't want to build something as heavy, consider scaling down your container and using a lightweight wood.
And once your container is finished, you'll want to study your outdoor area in order to decide which plants are ideal for your surroundings. Maybe your patio doesn't receive a lot of direct sunlight, or, on the flip side, it's exposed to the sun for much of the day. Plus, if you're high up, wind may be a factor, so you'd want to select hardy plants that can better withstand the elements.

Ready to build your own container garden? You'll need wood (Jennifer used cedar, but this is up to you), a nail gun, a staple gun, construction adhesive, waterproof decking screws, plastic lining, weed barrier lining, soil and deck stain.
You'll build the sides, bottom and top, and then attach them together. If you're building a smaller container garden, you can likely do this all at once. For Jennifer's larger container, she opted to build it in pieces and then assemble it on-site.
Then line the box with plastic lining and weed barrier lining. If you like, you can stain your container garden before filling it with soil and plants. Or you can let the wood weather for a more natural look.
What are your thoughts on building a container garden? Or have you devised another small-space gardening solution?
Photo courtesy of HGTV Canada