Moab, Utah is the undisputed capital for off-road driving, and there is no better vehicle to explore the slick rock than in a side by side. Last week our family-of-four joined Can-Am on a dream trip to experience Rally on the Rocks and hit the trails in new 2021 Can-Am Maverick X3 side by sides.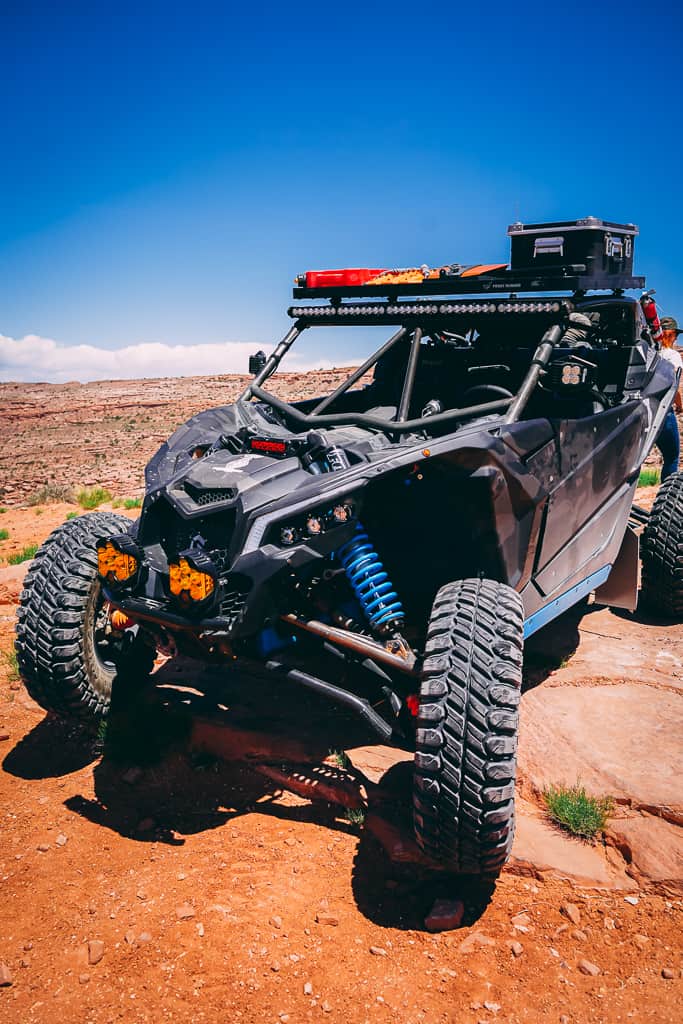 Moab has been on our bucket list for years. The slick red rock and breathtaking scenery, make it unique to any other location we've ever explored.
In addition to the off-roading, Moab has a ton of hiking, mountain biking, water sports, camping, and exploring nearby Arches and Canyonlands National Parks.
But, we came to Moab to go fast and get dirty, and Can-Am delivered!
What are Side by Sides?
Side by sides, also known as UTVs, are purpose built off-road vehicles that resemble a cross between a golf cart and a dune buggy. They are configured as two or four-seaters and consist of a chassis, roll cage, oversized off-road tires, and beefy suspension. They are truly off-road RC cars come to life.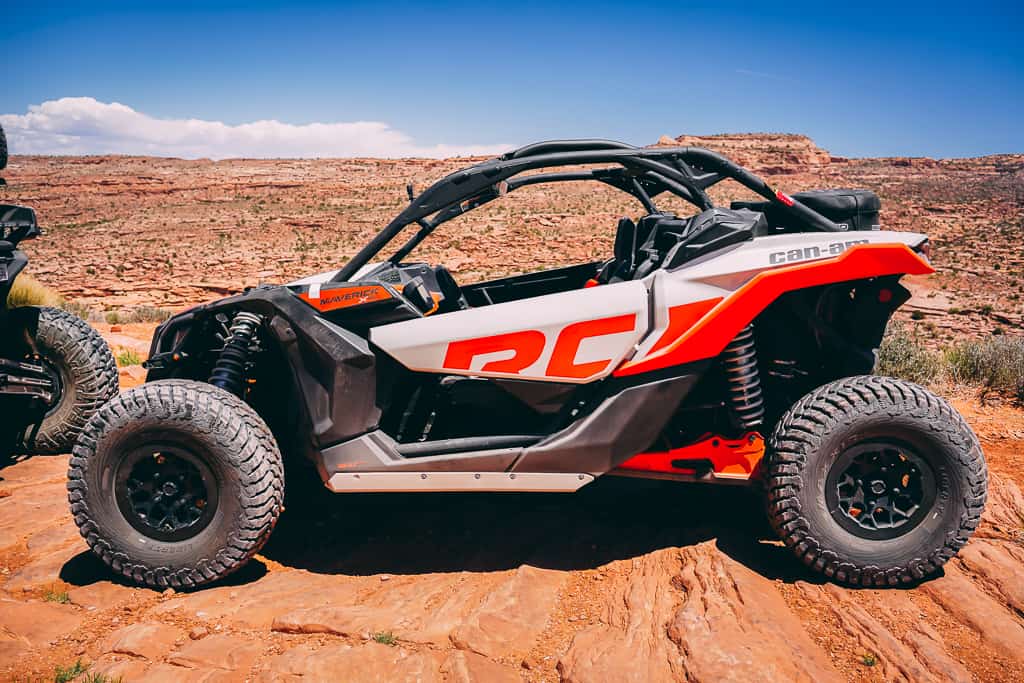 The high ground clearance and generous approach and departure angles, make side by sides ideal for traversing narrow steep trails and climbing over objects that would stop a lifted truck in it's tracks.
Side by sides fall into three general classes, those that are designed for work on a ranch or farm, those that are built for off-road speed and performance, and those that fall somewhere in between. We've got a Honda Pioneer 1000 for work and we had a Can-Am Commander XT for work/play, but to tackle the trails of Moab, the high-performance Can-Am Maverick X3 should be your number one choice to maximize fun.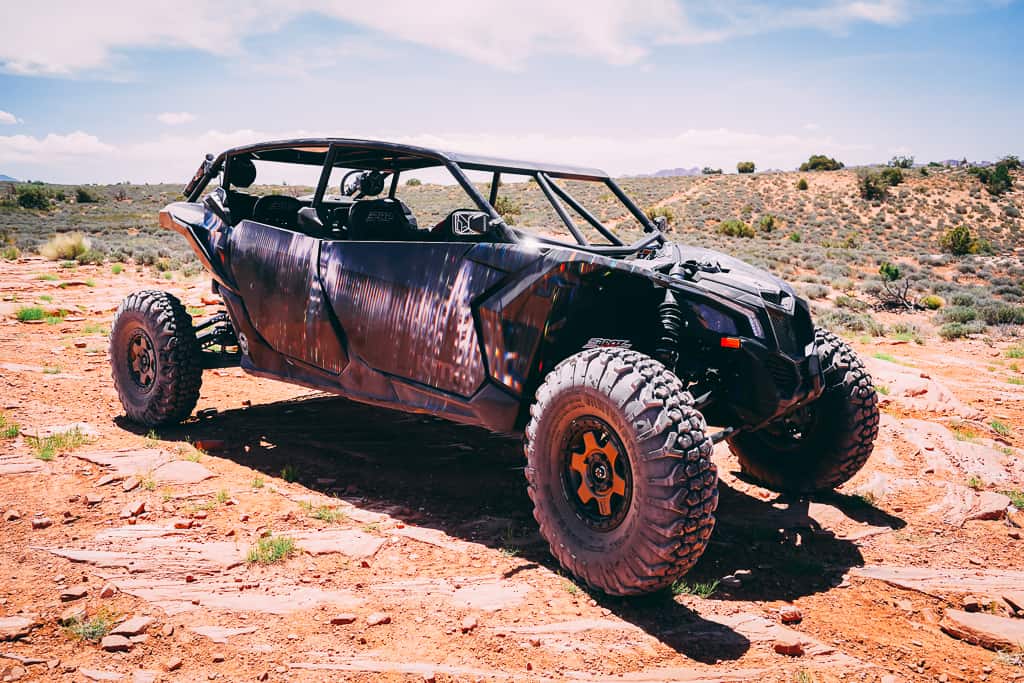 Can-Am Maverick X3 Performance SXS
The Can-Am Maverick X3 is available in a few different flavors. My son and I spent the day in a Can-Am Maverick X3 RS Turbo R. We had a blast in this thing!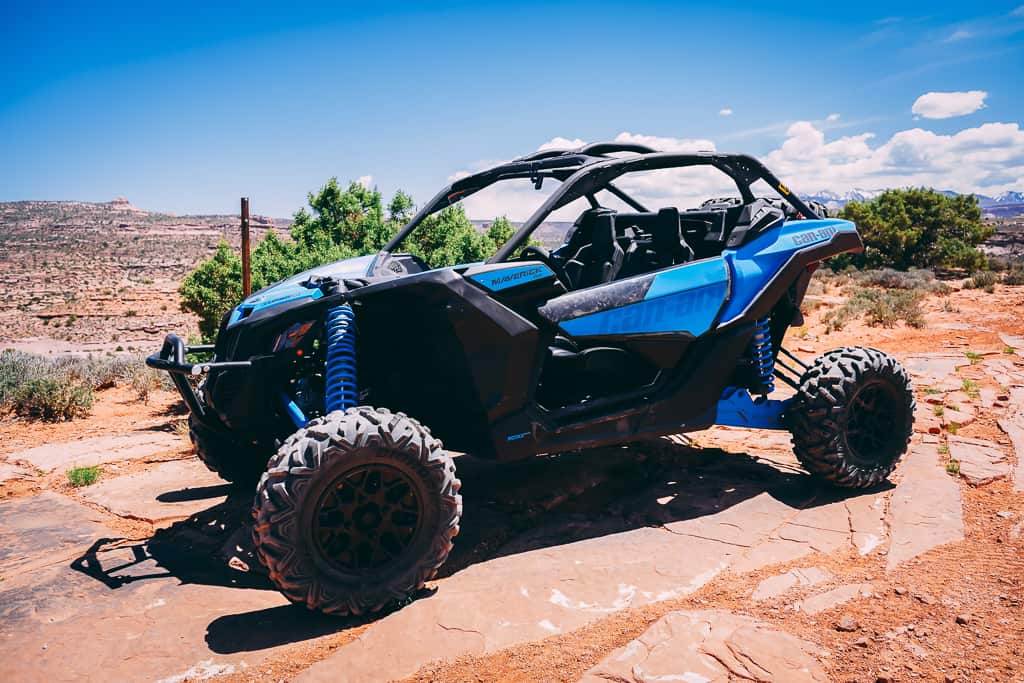 Our day started at Fins and Things, which is a great introduction to Moab off-roading. This trail had a bit of everything, from slick rock crawling and ledges to high speed bumps and berms.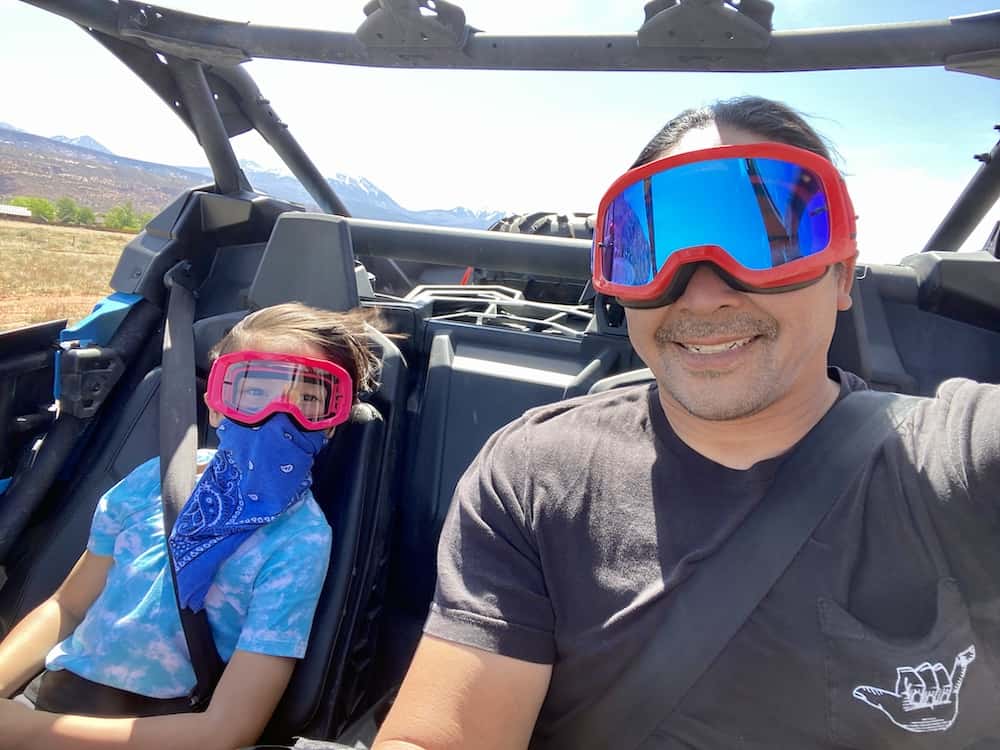 We then connected to Porcupine Rim trail which consisted of large rocks and steep ledges along a narrow trail along a steep canyon. The trail had some technical spots that required some careful thought as to line and throttle, but there were also some breaks that let us take in our gorgeous surroundings.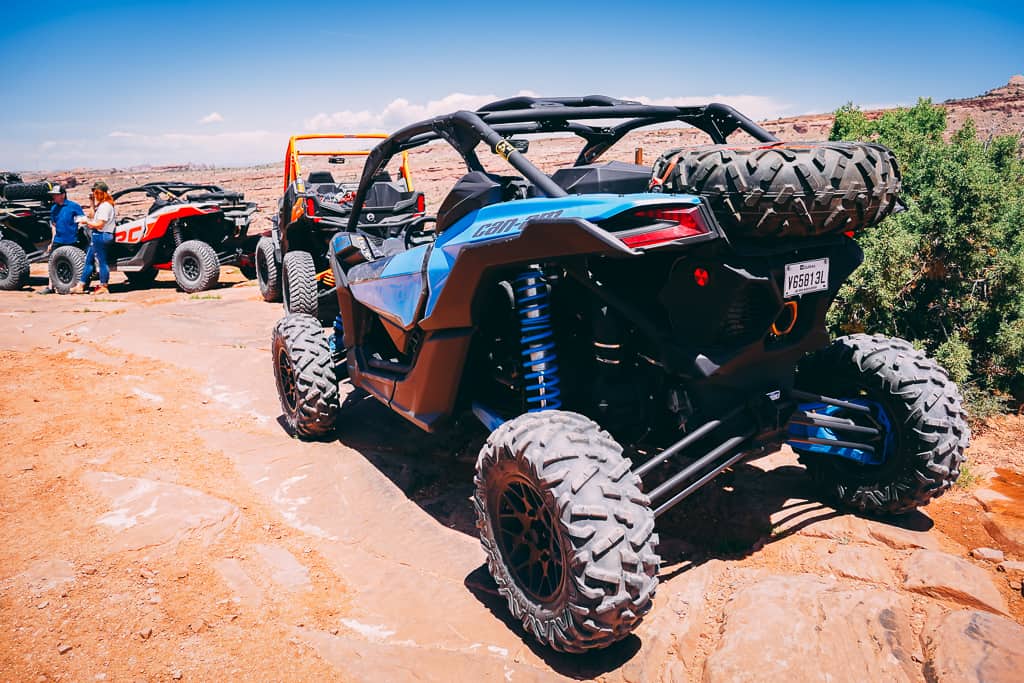 The biggest difference between driving the Maverick X3 RS Turbo R and the Commander XT, was the turbo. When we felt the turbo kick-in we were flying. The two-seater was lighter and more maneuverable than the Commander four-seater, and the comfort at high-speed due to the increased travel and larger tires, made the Maverick a true performance UTV.
The Commander XT did have a locking rear differential which made it ideal for work situations, and the Maverick X3 RS Turbo R only had an auto-locking front diff. We switched between 2WD and 4WD, and never felt a need to engage lockers.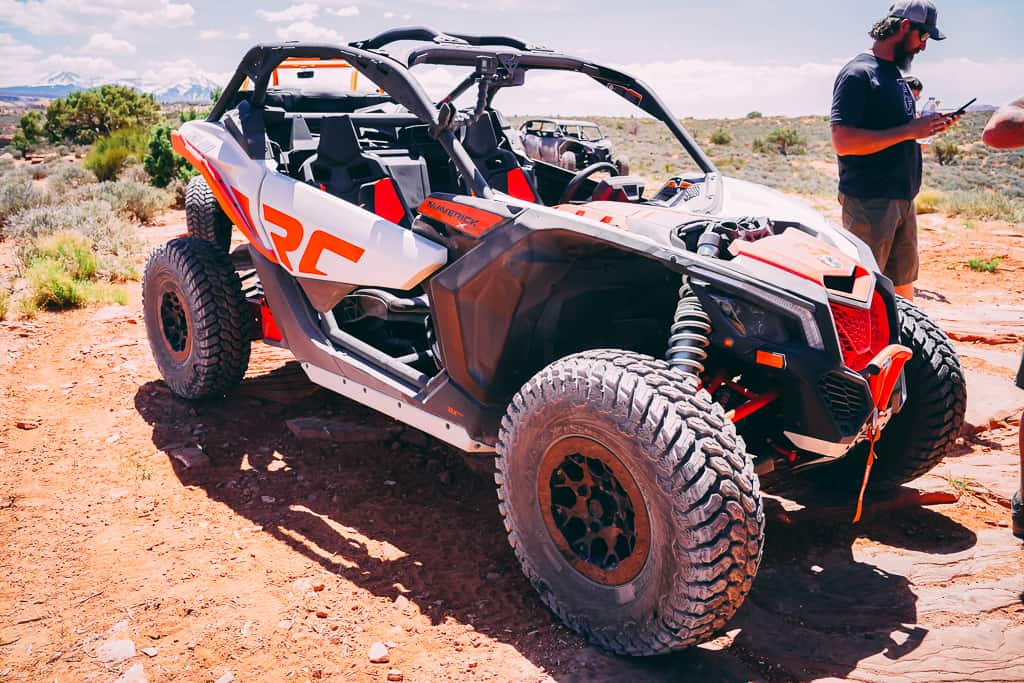 You can get a fully-locking on-the-fly front diff by bumping up to the Maverick X3 X models, including the Maverick X3 Max X RS Turbo RR, which my wife and toddler son had the pleasure of riding in.
Custom Built TAV Can-Am Maverick X3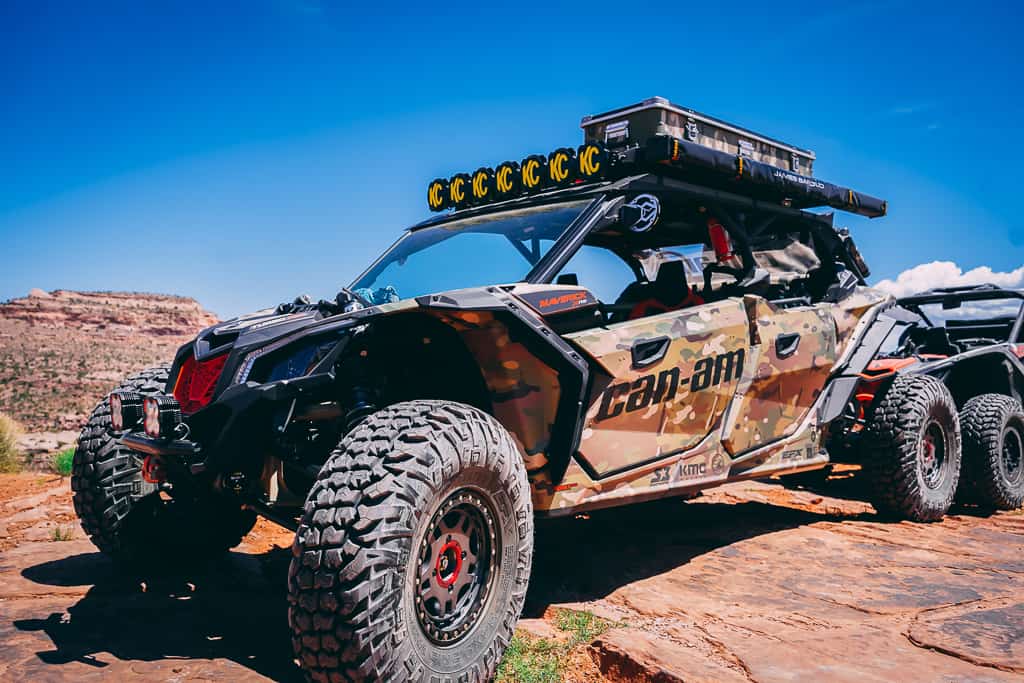 Imagine taking the high-performance Can-Am Maverick X3 and making it even better! Well, that's just what TAV did. TAV is one of the premier adventure vehicle builders in the country. They're based in Albuquerque and are known for their custom Toyota expedition builds. They'll transform your Land Cruiser, 4Runner, Tundra, or Tacoma, into an overlanding beast that can tackle anything.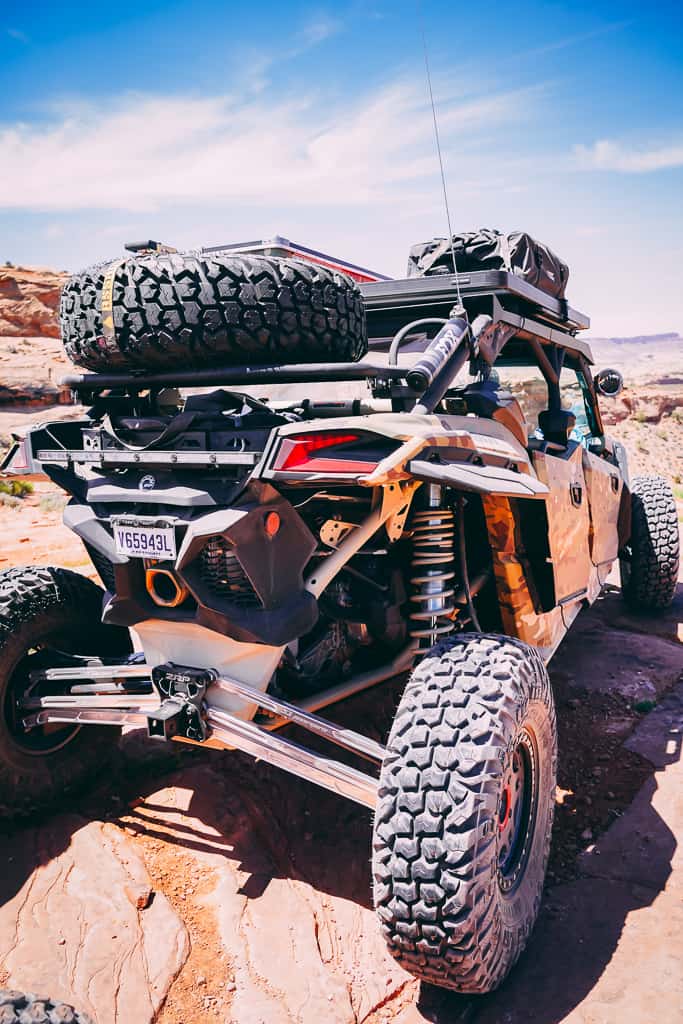 TAV has applied their experience and knowledge modding trucks into building the ultimate Can-Am Maverick X3. From overhauling the suspension and electrical, upgrading the wheels and tires, bolting on adventure hardware, and finishing with a Multicam wrap, TAV successfully built a side by side that would rival any rig seen at Moab or across the country.
I'll dive into the build in a follow-up article, but the partners include a blue chip lineup of off-roading royalty.
Can-Am
Front Runner Outfitters
KMC Wheels
Dometic
KC Hilites
James Baroud
EFX Tires
Multicam
DMOS Collective
I never got a chance to ride in the TAV build, but I did trail it a few times and was impressed by the articulation and overall agility it displayed on the trail.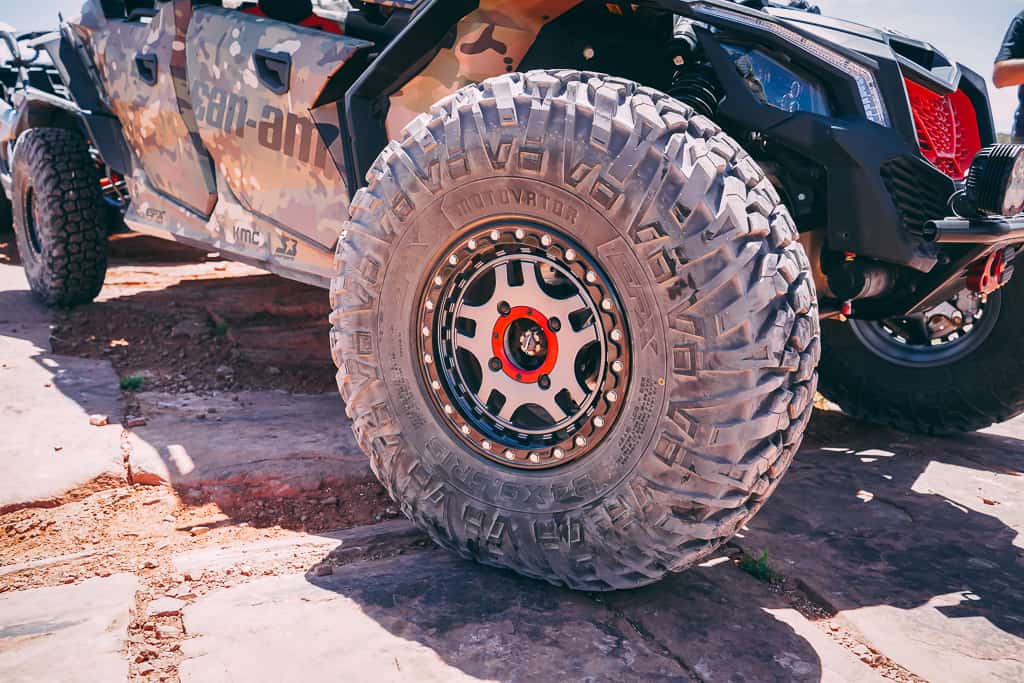 But the biggest endorsement of the ride and comfort in the modded Maverick, came from my wife and son. Laura's not a big of rock crawling, but she has a new found appreciation for what the Can-Am can accomplish, and my 3-year-old son enjoyed the ride so much that he napped through some of the most technical parts of the trail.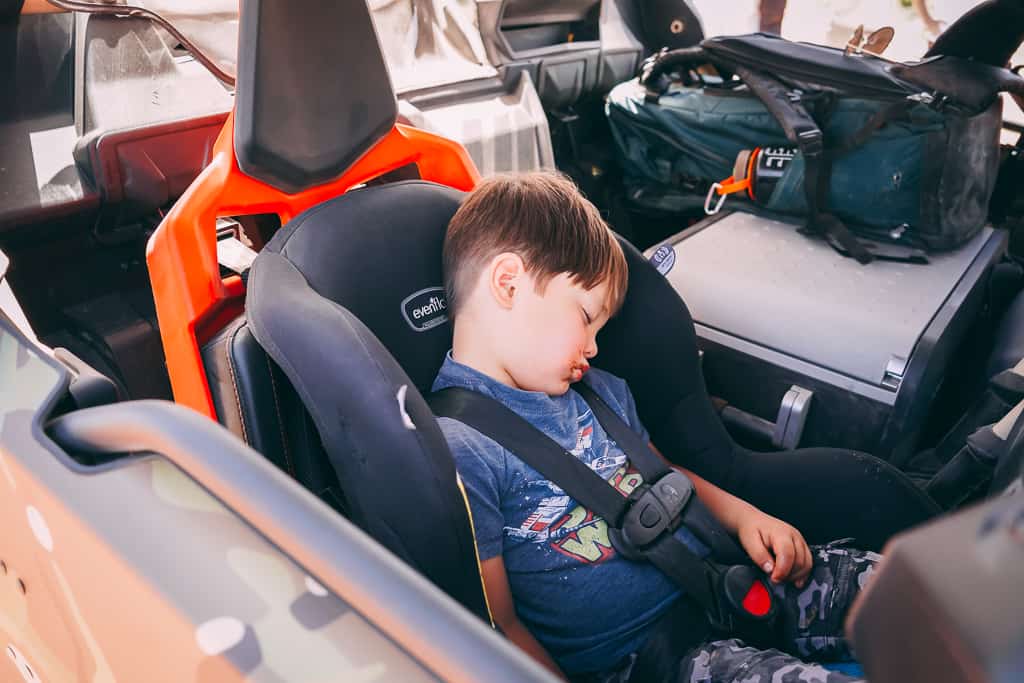 Shout out to Josh Wagner of TAV for his excellent driving and taking cues from our backseat driver who would ask to "slow it down". His brother Walt Wagner is the founder of TAV and led the way in another custom built Maverick X3.
Stock Setup is More Than Enough
As awesome as the TAV built Maverick X3 is, most off-road enthusiasts won't have the budget to build a side by side of that caliber. But not to worry.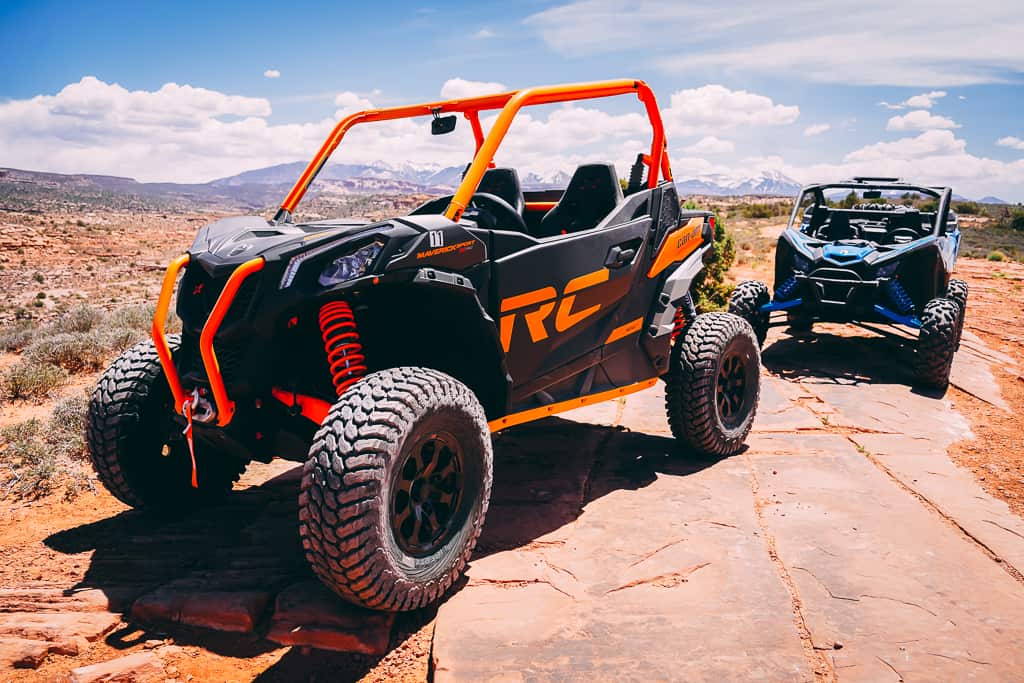 The Can-Am Maverick X3 is factory built to provide enough power and performance for 99% of drivers. With three turbo engines to choose from, Fox shocks, and trophy truck inspired double-A arms, the Maverick X3 comes Baja ready.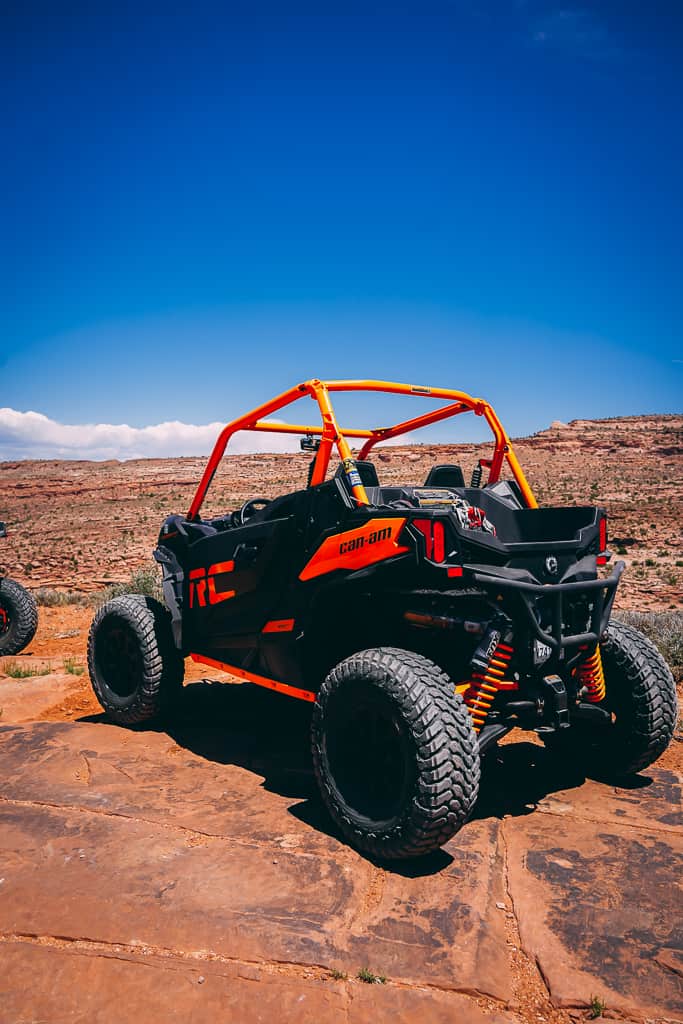 Can-Am also offers more than 300 bolt-on accessories so you can customize your Maverick X3 to your liking. Add storage, windshields, winches, and lights, to suit your exact riding style.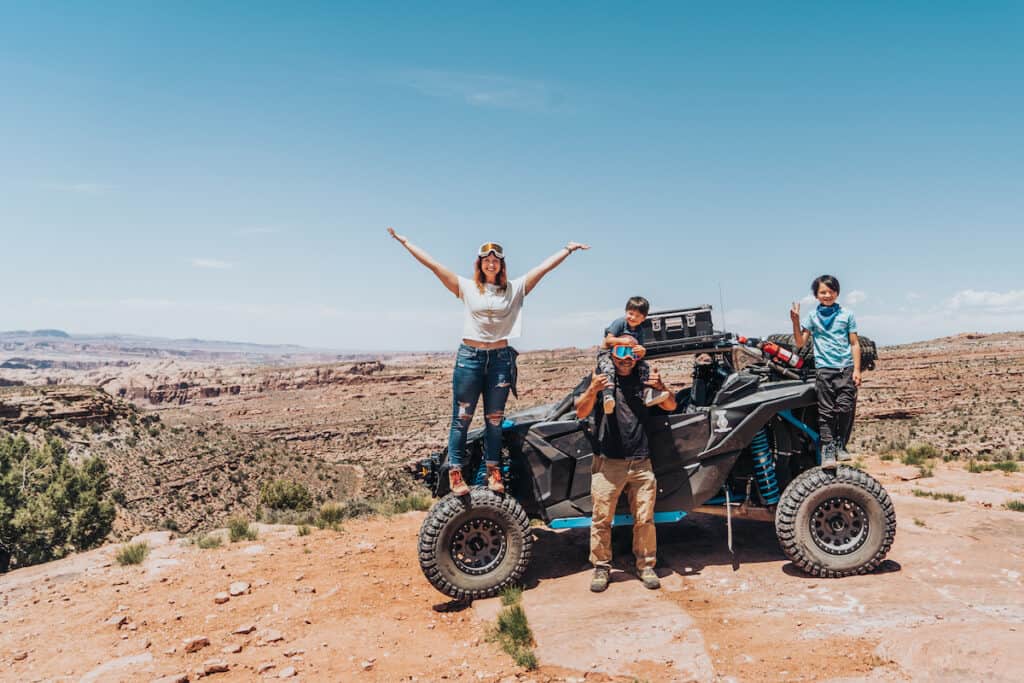 Thanks to the folks at Can-Am for setting up this trip. In addition to off-roading we spent 3 nights camping in a Taxa Mantis at the base of Lion's Back and had time to explore Arches National Park. More to report on this trip coming soon.