We're kicking off our summer paint series with an introduction to zero VOC paint. For us, zero VOC paint is the only choice when it comes to selecting an interior paint product. We want to do everything we can to improve our indoor air quality and starting with the paint we put on the walls is the best place.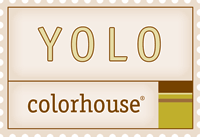 We are pleased to announce YOLO Colorhouse as our sponsor for this paint series. YOLO Colorhouse has been producing zero VOC paints since 2005 and their mission is simple, create premium, environmentally responsible paint products with beautiful, simplified color palettes.
Why choose a zero VOC paint?
It's better for people and the environment! If everyone in the United States used zero VOC paint instead of a 'low VOC' or traditional paints, we would eliminate between 150 million to 1 billion pounds of chemical solvent from being released into the atmosphere.
What is VOC?
VOC is short for volatile organic compound. In plain terms, these are chemical liquids that evaporate at room temperature. Examples of VOCs used in low VOC or traditional paints come in the form of chemical solvents like ethylene glycol and paint thinner or turpentine.
The EPA (Environmental Protection Agency) has identified paints to be a major contributor to VOCs inside our homes and in the environment. Paint is a significant contributor to indoor air quality because walls and ceilings are roughly 70% of our interiors surface. VOCs have measurable negative effects on human health. Short term effects include eye and respiratory tract irritation, headaches, dizziness, and memory impairment. Damage to liver, kidneys, and the central nervous system can occur after long-term exposure. Children are especially susceptible to the harmful effects of VOCs because their bodies are still developing. For more information on indoor air quality visit the EPA.
YOLO Colorhouse paint is Green Seal certified. Green Seal is the most comprehensive third-party certification that prohibits 1000+ chemical compounds.
In addition to NO VOCs, YOLO Colorhouse is proud of what is not in our paint:
No carcinogens
No reproductive toxins
No mutagens
No hazardous air pollutants
No ozone depleting compounds
No formaldehyde
No phthalates
Now is your chance to go no VOC and save. This weekend, July 20-22, you can buy 3 gallons of YOLO Colorhouse paint and get 1 gallon FREE with mail-in rebate!