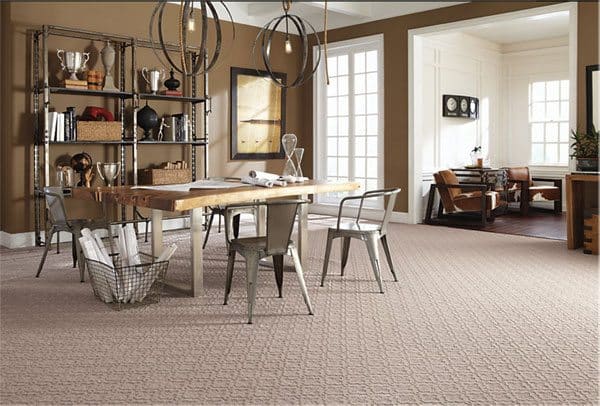 Fiber, pattern, pile, oh my! Yes, there are many details to consider when choosing carpet that best complements your décor and lifestyle while feeling good underfoot. But, fear not. Whether you're a first timer in shopping for flooring or consider yourself a sage, some basic knowledge can help make selecting a style that will stand the test of time as easy (and as stress free) as A, B, C.
The following are a few broadloom fundamentals from Mohawk, the world's largest producer of floor coverings, to help get you up to snuff on carpet lingo and have you stepping in the right direction.
Material Matters
Similar to shopping for furniture, finding flooring that's a fit for your lifestyle is all about the material construction. Whether you're buying carpet for a bedroom, a living room or a hallway, it's essential to evaluate how the space will be used and, in turn, how the surface can enhance the experience.
Seth Arnold, residential brand director for Mohawk, advised that performance is paramount when it comes to choosing carpet. "The first question consumers should ask themselves before stepping into a showroom is, 'What are the everyday lifestyle demands this surface will see?' The daily routine in a room, such as a playroom that endures a lot of action or a great room that gets a fair amount of foot traffic, should be the deciding factor as to what type of carpet is best," said Arnold. "Today, flooring is available in a variety of fibers, including PET, nylon and triexta, that offer consumers the type of wear that will work well for their needs."
Here, notes on the top three performing fibers according to Arnold:
PET: PET (polyethylene terephthalate), also known as polyester, is a prime pick for consumers looking to add comfort to rooms with an easy-to-clean carpet. This fiber features a plush appearance, super stain and static resistance, and is best for the budget- conscious shopper. One caveat: the fiber tends to develop visible traffic patterns over time.
"If you've been struggling to keep floors in accident-prone areas looking beautiful and clean then this type of carpet is spot on since stains don't seep in, but rather stay on the surface until wiped off. It's a good bang for the buck, too, and if manufactured of recycled content, it's one of the most eco-friendly flooring options on the market," said Arnold. "Mohawk, for example, offers a carpet in this class called EverStand™ that is made from reclaimed plastic bottles, and it results in carpet that makes a positive global and aesthetic impact."
In fact, Mohawk leads the way in generating such sustainable surfaces. Since 1999, the brand has diverted over 30 million bottles from landfills by converting them into premium EverStrand carpet.
Nylon: Commonly called the "wear-free fiber," nylon is historically the most popular carpet choice—durable enough to stand up to crushing and matting while offering good soil and stain resistance. Additionally, this mid-priced option is available in an astounding array of colors and patterns that makes it a match for any décor scheme. One disadvantage: it can stain over time.
"Nylon has a history in the home of withstanding tons of traffic; it's a smart selection for hallways, living rooms, bedrooms and beyond," said Arnold. "While it takes to dyeing so well to yield a vast color range, nylon needs to be treated with a topical stain repellent and requires a little more TLC than other carpets to keep it looking fresh and clean. Mohawk helps ward off the worry of staining with its exclusive Scotchgard™ protector technology that's applied to all nylon carpet. This premium protection keeps floors looking newer longer, and makes them easy to clean because stains stay on the surface. It makes nylon a nice choice for active households."
Triexta/SmartStrand: Exclusive to Mohawk, this Cadillac of carpet fibers provides supreme durability and built-in stain and soil resistance that will never wash out or wear away with time. Adding to its appeal is the fact that it's made from rapidly renewable plant-based material such as corn, thus making it a sustainably smart selection.
"When you ask consumers what they want out of a carpet, the qualifiers 'long lasting' and 'easy to maintain' tend to top their wish list. With the triexta/SmartStrand fiber their dream can come true," said Arnold. "I call it the stress-free flooring because it combines all of the excellent qualities that PET and nylon have to offer, yet has additional perks like colorfast properties that prevent sunlight fading and a superior softness that delivers a sense of comfort no other carpet can boast about."
Mohawk SmartStrand carpet has been rated #1 in customer satisfaction three years in a row with its outstanding ability to outperform the rigors of the busiest households. "This stuff is tough, proving time and time again that it can withstand the messiest kids, pets and even adults."
Next Lesson: Get Looped In On Carpet Construction Choices
Carpet comes in several styles. And, like selecting a haircut, it's important to consider what design flatters your lifestyle. So before you go picking a pile—the density and length of the carpet fiber—make sure to brush up on the following common construction types.
Texture Plush: If consumers are looking for a 'classic' carpet then this is it. Texture types are less likely to show traffic patterns, and with its soft, simple, solid color style, it is one of the most universally appealing in the spectrum
of carpets.
Frieze (Shag): This is not your grandparent's shag carpet. Pronounced "free-zay," this super stylish carpet is all about casual comfort. With its fiber's
soft and bouncy twist and durable quality, the fashion-forward frieze can handle high traffic.
Berber: A fit for all décors—from contemporary to country—this broadloom boasts great versatility with its natural, unassuming appearance. Its low-profile loop can be a solid color or a solid with flecks for extra personality and sense of warmth. Since it is a loop pile, however, homeowners with playful pets should make sure to manicure their paws so their nails don't tug at the fibers.
Pattern: For those desiring a little art underfoot, pattern style carpets are an ideal choice. Patterns play well in formal and casual settings, and are available in tonal texture-on-texture designs or soft-to-bold color combinations. It traditionally has a short pile so it hides traffic patterns well.
"Aside from carpet color, pile is the place where consumers can really portray their personality and have fun with flooring," said Arnold. "Today, casual textures are trending as the go-to flooring for households because they're versatile and wear well, but when it comes to constructions types there aren't any tradeoffs."
Taking Cues From Hues
It may come as no surprise that neutral colors reign supreme in the surface sphere. From beige to gold to gray, subtle shades score well because they create a cohesive yet elegant look. However, for those with four-legged friends, neutral may not be the right selection.
"For the majority of consumers light flooring is best, or so they think. Yes, it's safe, sophisticated and can make spaces seem brighter, but for those with dark-haired pets, picking this particular color can be a no-no," said Arnold. "Consumers should always keep their four-legged family members in mind when selecting a shade of carpet if they want their flooring, not fur balls, to be the talk of the room. The school of thought: match the carpet to the color of your furry friend's 'fiber.' Or, choose tonal flecks that give the appearance of great depth and visual interest to help mask the mess."
Keep It Clean
So you've selected your carpet. Now what? To help prolong your broadloom's beauty, comfort and durability, be sure to follow these tops tips from the Carpet and Rug Institute:
• Vacuum on a weekly basis. Doing so will stop soil from setting into the carpet fibers. Additionally, depending on the pile, you will need to make sure you have a vacuum that's in sync with your style. Visit the following link to learn what type of vacuum is best for your carpet: http://www.carpet-rug.org
• Professional cleaning can be a lifesaver. Consider having your carpet maintained by a pro every 18 months, depending on the amount of action it gets.
• Stop stains in their tracks as quickly as possible by blotting and neutralizing the spot.
• Seeing snags? Simply snip them with scissors rather than pulling to avoid unraveling.
To learn more about Mohawk carpet and care, and to find a retailer near you please visit www.MohawkFlooring.com or www.facebook.com/mohawkflooring.