Harsh weather conditions, wear and tear — it's likely that your deck will need to be refinished every few years to keep it in prime condition. This is generally a project you can tackle over the weekend, provided you've gathered up the right supplies.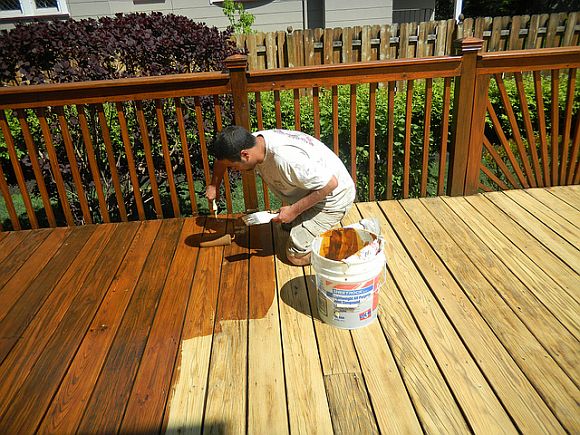 At the project's outset, refinishing a deck is a lot like stripping and repainting cabinets or furniture. You'll want to start with a clean, stripped surface. It's up to you to decide how to clean your deck. You can use a power-washer, or use a stiff-bristle brush and a cleaner like OxiClean outdoor to scrub the deck's surface.
Once the deck is clean and dry, use a chemical stripper to remove any remaining wood stain. After that, you're ready to apply a finish. You'll have lots of options to choose from at your local hardware store, including formulas that are colored, tinted, semi-transparent and even clear.

The stain you pick is up to your personal preference and how you want your deck to look when it's applied. If you opt for a clear or semi-transparent product, keep in mind that you'll likely need to reapply more often — every 1-2 years — than if you choose a more opaque stain, which can last up to four years depending on your area's weather conditions.
Your best bets for finish application are a sprayer or a paint roller with an extended handle. Both will ensure an even coat, and a sprayer is a great way to cover railings or other hard-to-reach spots. Feel free to use a brush for more detailed application.
Is refinishing your deck on your summer project list? Let us know how it goes!
Photo: Flickr.com/OlgerFallasPainting