If you've got a large lawn that needs taming and are in need of comfortable riding mower to accomplish the task, look no further than the Cub Cadet XT Enduro Series. This line up of lawn and garden tractors is fully-equipped to tackle lawns of any size and terrain and has been redesigned from the ground up this year. We spent an afternoon on the XT1 model and have plenty to report.
We met up with Rich and Vince who are long-time employees of Cub Cadet. They took us through all of the features on the XT1 which is the base model of the Enduro series. It shares most of the premium upgrades that the larger models have including LED headlamps, stamped cutting decks, corrosion defense, and extremely responsive handling. The steering on the mower is what immediately stands out. There is no power-assist, but it's simply engineered in a way that makes it responsive to the slightest touch. You won't worry about fatigue when using this mower and people of all sizes and strength will be able to maneuver the mower around the tightest obstacles.
The mower does it's job and does it well. The open backed seat is very comfortable and the controls are easy to manage. There's an extra safety feature that must be engaged before the unit can be driven in reverse which will help prevent the hundreds of injuries each year to children.
Regular maintenance is vital to keep riding mowers performing at an optimal level, which is why they've introduced Cub Connect. It's a bluetooth enabled mobile app that syncs with your mower. It monitors your tractor's maintenance needs by the hour and alerts you through the dashboard when it's time to check the oil, air filter, blades and battery.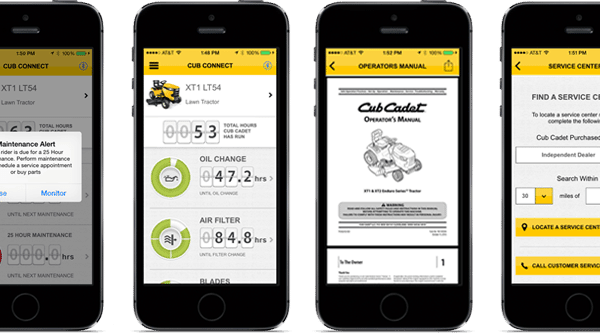 It also provides the option to either follow in-app how-to guides for each task or to locate a local dealer to call to schedule a service appointment. Everything is tracked by the app so you have a service log that accessible for reference.
The XT Enduro Series is expandable with a wide range of accessories to fit every season. Snow throwers, snow blades, baggers, and garden trailers are all available to make your Cub Cadet a year-round companion.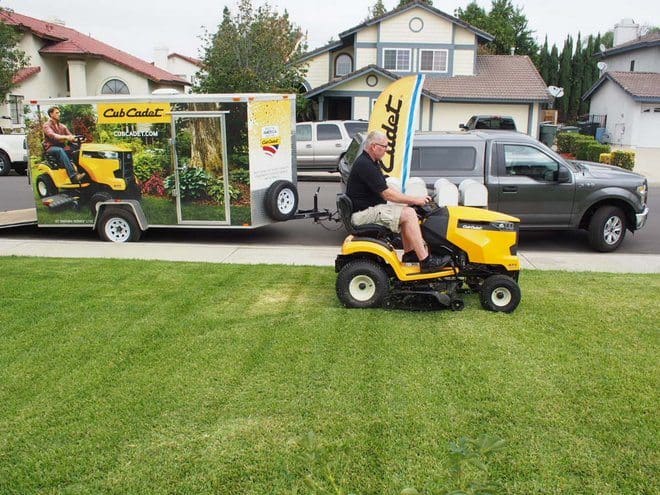 Check out our photos and video from the ride-along and if you see a Cub Cadet trailer in your area, stop by and ask to demo the products. If you chat with Vince or Rich, tell them I said hi!
Disclosure: This post is sponsored by Cub Cadet. All opinions are my own.