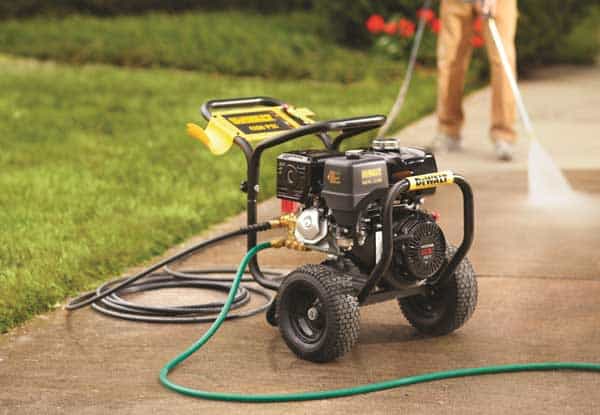 Living in Southern California is great, no snow to shovel or much rain to complain about, but our backyard tends to get dusty and dirty quite easily and we've got a moss issue on the cool side of our house.
We sweep often and it's fairly easy to keep things clean but we've been pining for a true deep cleaning which is what a pressure washer is great for. I always thought that pressure washers were just a waste of water and I'd seem commercial buildings using them on sidewalks and common areas but after a bit of research I discovered that pressure washers actually use less water than simply a hose turned on.
A pressure washer uses the water more efficiently to clean and uses less of it than if you were to attach a garden spray gun to your hose. With a pressure washer we can clean our entire backyard including the ground, walls and outdoor furniture in less than an hour.
The issue buying a pressure washer. There are some cheap pressure washers out there but you can tell just by looking at them that they will underperform and won't last long but the good ones are pricey. This isn't something we use everyday or even every month but just a couple of times a year so it seemed like the best option would be renting.
When I re-sodded our lawn I rented a tiller which was a great experience and obviously it may be years before I use one of those again. Finding a place that rents pressure washers was a bit tougher but RentalHQ had a few shops near me and their website even offers tips on how to use a pressure washer.
Here are a few pressure washing tips courtesy of RentalHQ.
Multipurpose. You can use a rented pressure washer to clean all types of exterior surfaces including sidewalks, patios, steps, parking lots, siding and masonry work. Using a pressure washer, you can make wooden decks and fences look like new or strip paint and remove graffiti from structures. At a lower pressure, you also can clean windows, gutters, boats, campers, trailers, vehicles and equipment using a rented pressure washer.
Saves time. A rented pressure washer lets you accomplish the same amount of cleaning in less time than using a garden hose and scrub brush.
Conserves water. A rented pressure washer uses fewer gallons per minute (gpm) of water than a garden hose.A garden hose uses up to 10 gpm, whereas a rented pressure washer uses between 2 to 5 gpm — a maximum of 80 percent less water.
Environmentally friendly. Renting a pressure washer can give you a lot of cleaning power using just water and no cleaning solvents. However, when a task requires the additional scrubbing action of a cleansing agent, many pressure washers can accommodate green cleaning solutions.
Protects your investment. You can keep your exterior surfaces and equipment looking great while extending their life spans by using a rented pressure washer to free them of damaging dirt, salt, grease, oils and sediment.
Reduces labor effort. You can complete cleaning jobs feeling less tired and more productive using a rented pressure washer since it does most of the cleaning for you.
Good value. Obviously, it costs less to rent a quality pressure washer than to buy one. Since a durable, long-lasting pressure washer costs more than most people will pay for a tool they may use only once a year, renting a pressure washer just makes sense.
Besides just cleaning your yard you can use your pressure washer to wash out your garbage cans, clean under eaves and clean your car.
In the end, renting is smart and easy and a great alternative to buying equipment. I'd rather pay for the time I use something than have it sitting in our garage and taking up space.
Find a rental store near you at RentalHQ.com for help with events, parties, DIY projects and commercial use.
[box type="shadow"] Disclosure: This article is sponsored by RentalHQ. They do not tell bloggers what to say about their products or how to say it. RentalHQ's policies align with WOMMA Ethics Code, FTC guidelines and social media engagement recommendations.[/box]