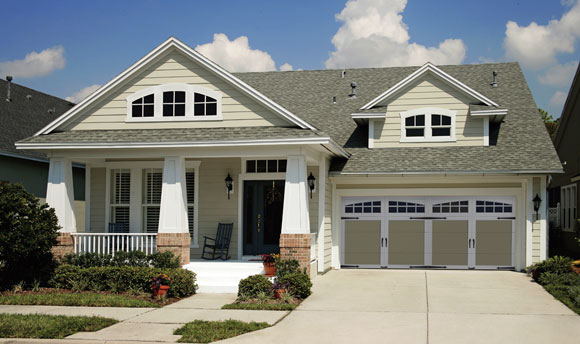 We are always looking for ways to bump up the curb appeal of our home and when Clopay approached us about sharing some interesting new products that do just that, we had to take a look.
But first we wanted to know what a garage door manufacturer knew about increasing a home's curb appeal. Turns out A LOT! Typically garage doors don't rank high on the beauty shot scale and we've yet to come across a Pinterest board dedicated to beautiful garage door photos, but according to a Remodeling Magazine 2011 cost vs. value report, maybe we should take garage doors more seriously.
According to the study, garage door replacement ranks in the top 5 exterior home improvement projects, netting a 71% cost return at resale, on average, nationwide. This is a huge number that could make a big difference in appraisals and your listing price.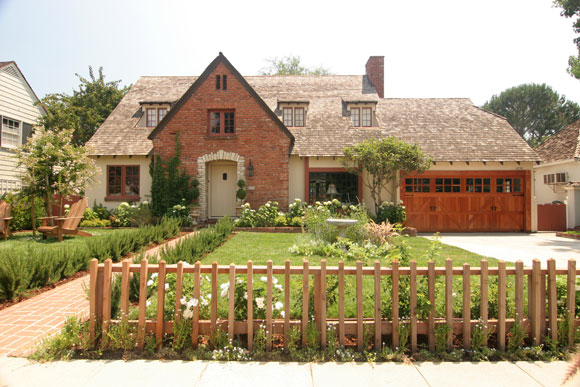 Garage door replacement ranks high in both categories for a few reasons:
1. It is among the least expensive projects in the survey.
2. A new garage door improves curb appeal in a way that can affect a potential buyer's first impression and, consequently, a home's resale value.
Garage doors are a major exterior design feature, especially if the garage faces the street. An upgrade doesn't necessarily cost a lot but it makes a big first impression, considering 73 percent of Americans now enter their home through their garage.
A remodeled kitchen and bath can help sell a home, but curb appeal is what gets buyers through the door. If they don't like what they see from the street, chances are they won't waste time going inside.
Door replacement can be done in less than a day and the visual gratification is instant.
3. Smart exterior upgrades improve energy efficiency – another important factor as homeowners look at ways to reduce the long-term costs of owning and maintaining a home.

Before & After
Have you looked at the condition of your garage door? The above study proves a point that you shouldn't let your garage door become an afterthought when considering the exterior appearance of your home, in fact if you are looking for the best resale value on your home you should carefully consider the door style and condition.
Here are a few before and after photos that leave no question about the value of a good looking garage door.
This homeowner upgraded from a flush panel white steel door to a Clopay Semi-Custom Reserve Collection wood carriage house style garage door that becomes an instant focal point and also complements the wood Craftsman entry door.
BEFORE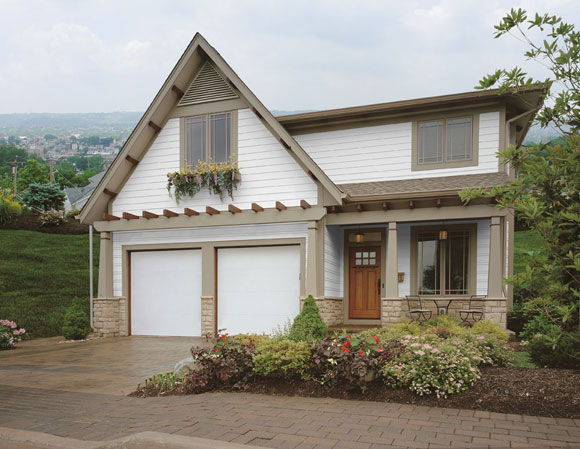 AFTER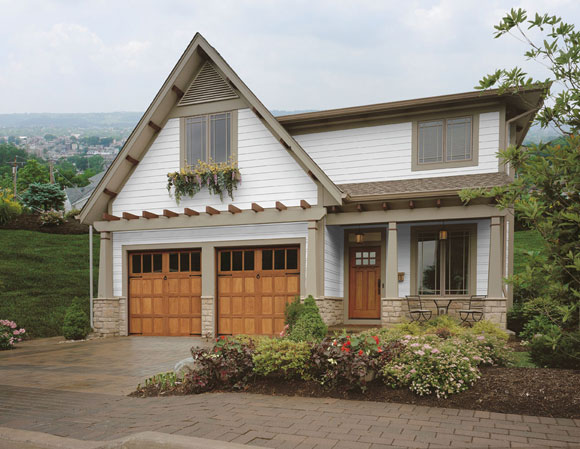 This is an architect's house in Cedar Rapids, Iowa. He didn't realize there were contemporary garage doors to match the look of his home when he built it so he just went with flush panel steel doors to blend in with the facade.
BEFORE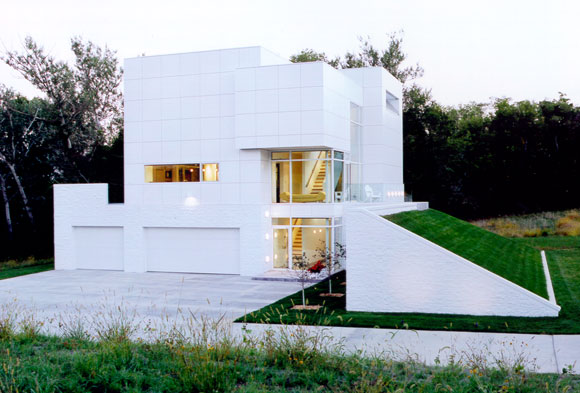 He later replaced them with Clopay's Avante Collection aluminum and glass garage door with frosted, tempered insulated glass panels and a powdercoated white frame. It makes a tremendous difference.
AFTER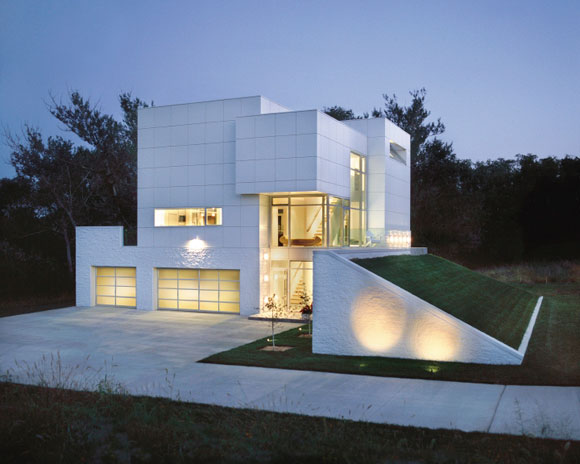 This front-facing two-car garage is definitely the first thing you see from the curb on this Spanish style home. Traditional raised panel steel garage doors were replaced with Clopay Coachman Collection steel carriage house doors with an arched top section design that echoes the architectural details on the windows and front entrance.
BEFORE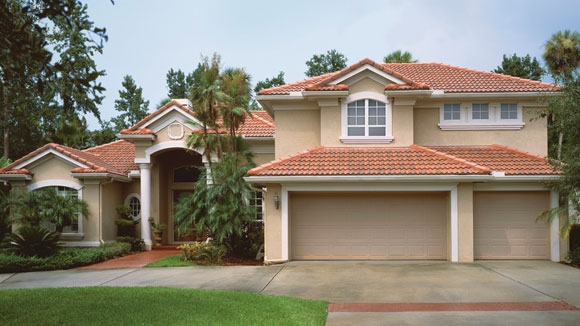 AFTER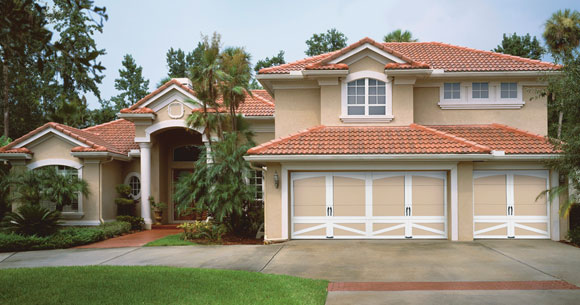 A new steel carriage house door design painted to match the existing color sceme balances out the curb appeal of this Craftsman inspired house.
BEFORE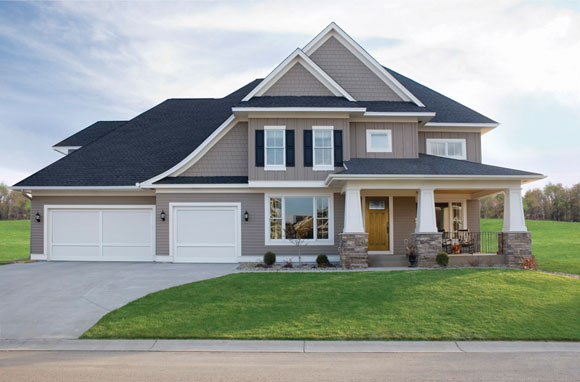 AFTER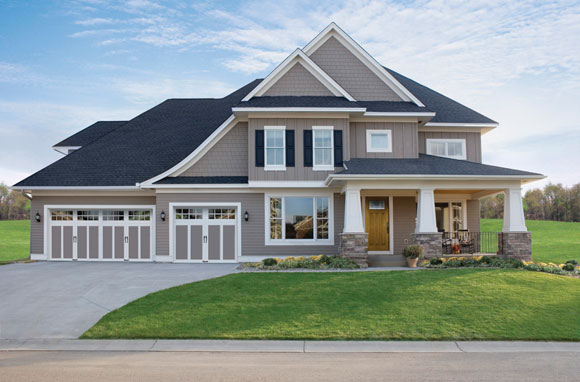 The traditional raised panel steel door feels cold in this warm Southwest climate. A natural wood carriage house door is more in tune with the architectural style of the region.
BEFORE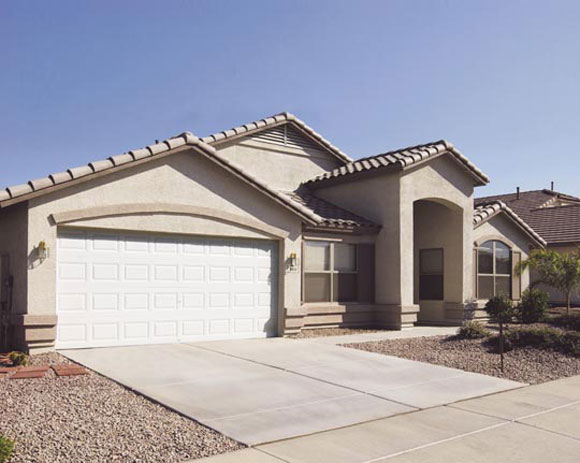 AFTER


If these before and after photos don't convince you that an upgraded garage door will improve the curb appeal of your home, then nothing will. In fact the eye-catching style of most of these new doors enhances the other elements of the house such as the windows, front doors and shutters.
If you think your garage door could use an upgrade, then stay tuned for our next article in which we dive a bit deeper on the overall design of the garage door and show you how to match your front door to your garage door.