C&H readers, you're probably starting to think I'm obsessed with bookshelves. And you'd be right. After dealing with the odyssey of our salvaged Borders bookcase, I look at all shelving with a newfound appreciation. This latest find? Pure genius.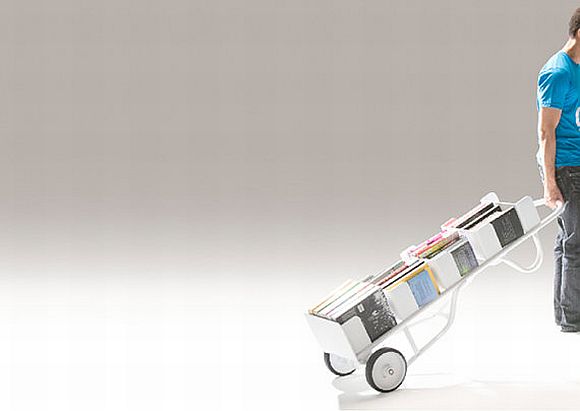 Created by Etsy seller StudioDz, this one-of-a-kind piece combines shelving and a dolly–and what two things could be better together? We all know the worst part of having a ton of books is that they're so incredibly heavy when it's time to move. But if you have this shelf, just strap the books in and wheel away!
A word to the wise? This shelf isn't cheap, but consider it an investment for your home (and your back). Of course, we're wondering about the DIY aspect of the project so that you could replicate this design.

You'd likely need some welding experience so that you could attach the shelves to the dolly. Finding the right pieces would probably be the most difficult part, but once you have the components and have attached the shelves, a few coats of spray paint will add a burst of color–or, if you prefer the same design as in the photo, the classic appeal of bright white.
What do you think of the dolly bookcase? Is this something you'd like to have in your home? And would you attempt this as a DIY project?
Photo courtesy of StudioDz