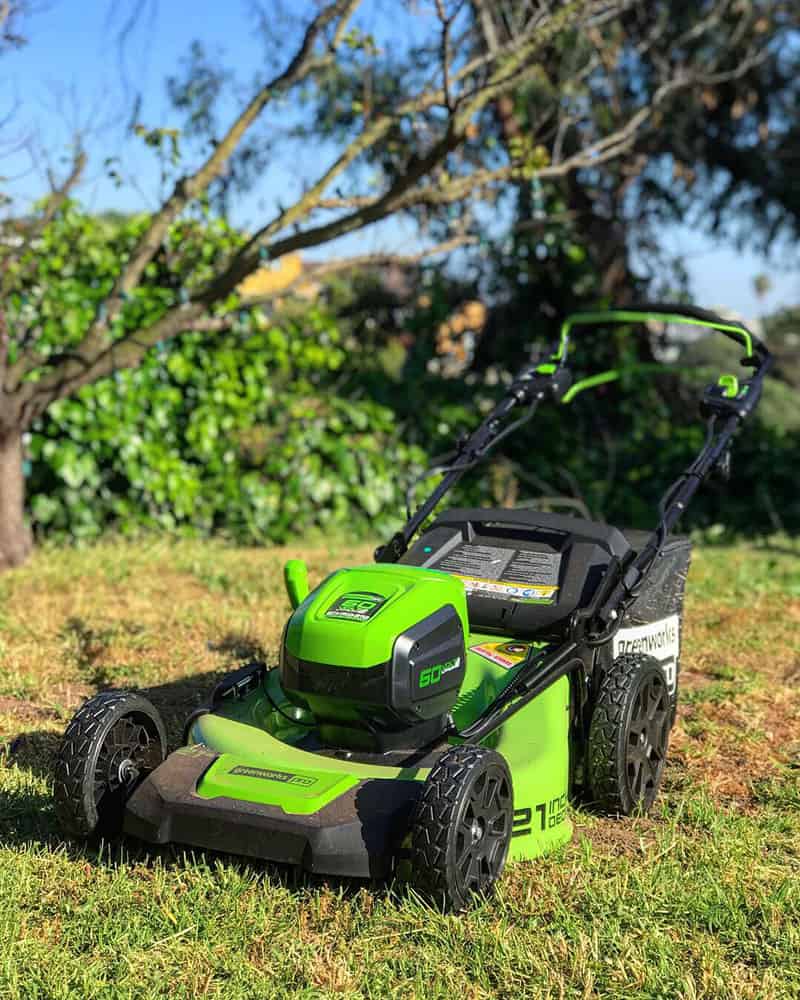 Our lawn sucks. It's a mix of grass, weeds, and dirt, that we really enjoy using, but it's not much to look at. This mix of grass and weeds makes it particularly tough for a lawn mower to navigate, but our new Greenworks 60V self-propelled electric lawn mower was up for the task. This cordless brushless mower performed flawlessly, and here's why we love it.
It's Electric
We've spent years messing with gas-powered mowers, and now that we've discovered the joys of an electric mower, we're never going back.
Even when a gas mower is working well, you've still got the excessive noise and exhaust. But the problem is, gas mowers can be real finicky, and if you don't keep an eye fresh fuel you can get stuck with a dead mower. Fuel and oil now seem messy and antiquated when it comes to outdoor power equipment.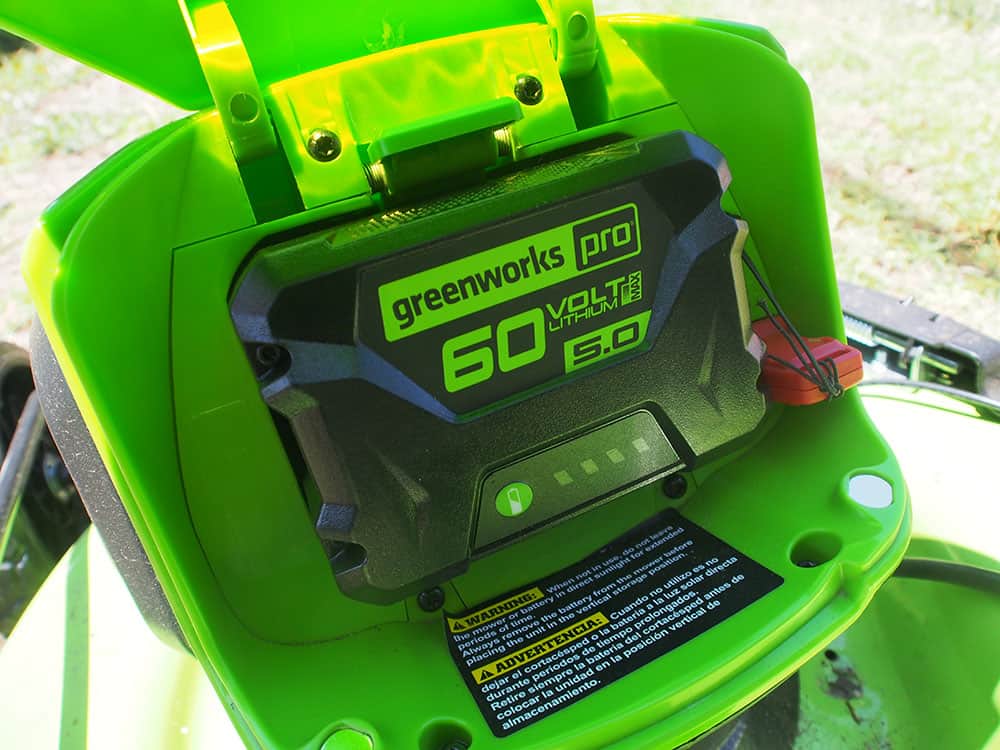 The power of the Greenworks 60V cordless brushless lawn mower is more than enough for 90% of the yards out there. It comes with a 5Ah battery which provides up to 60 minutes of run time. Because our lawn is half weeds it had to work extra hard to clear them, and we finished mowing in 35 minutes and still had half a battery left. The brushless motor really maximizes the efficiency of the mower and will ultimately extend the life of the mower. The mower does come with a 2-year battery warranty and 4-year mower warranty.
Self-Propelled
Our lawn isn't huge, but the self-propelled feature really makes mowing a breeze. The speed is adjustable if you've got a smaller yard or want to make precision cuts. The back of our yard is also on a slope and the self-propelled feature is really a no-brainer when handling this section.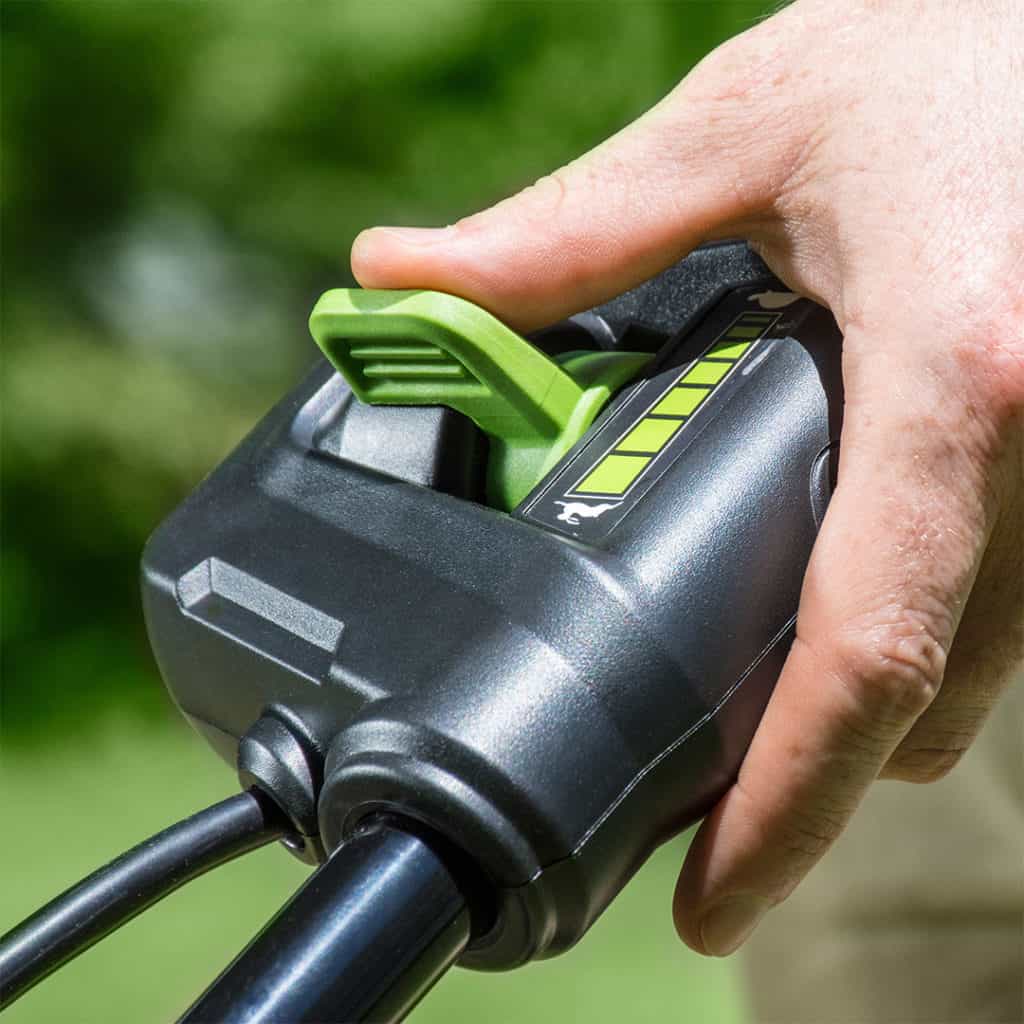 We thought the self-propelled feature might burn through the battery faster, but Greenworks provided a 5Ah battery as opposed to the 4Ah battery that comes with the standard non-self-propelled mower, so you get the same amount of run time.
The self-propelled feature also makes mowing more fun. It really does. In fact, our son can't wait to mow the lawn because of this one feature.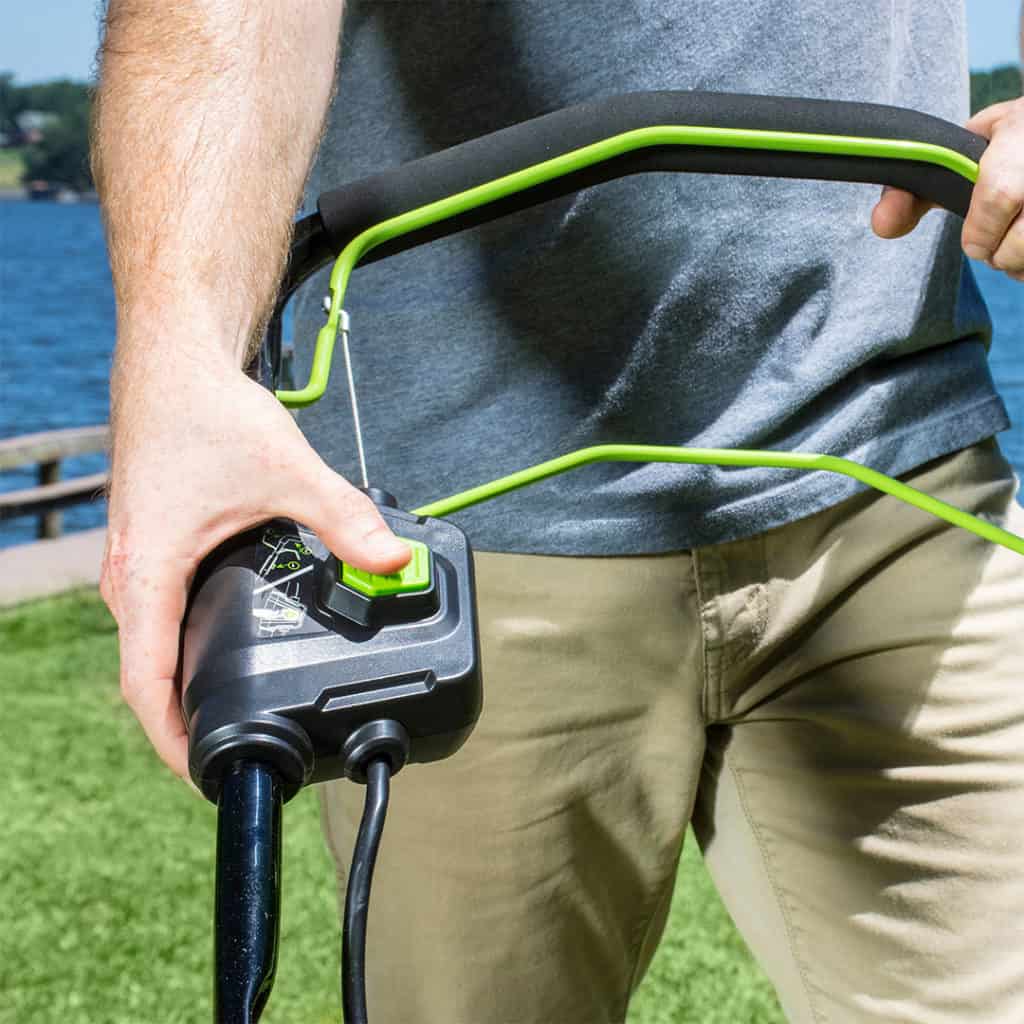 The Greenworks mower does have two safety levers on the handle. The first has to be pulled back to start the mower and the second must be engaged for the self-propelled function to operate.
Vertical Storage
The space in our garden shed is tight, and our previous gas mower took up at least half the floor space even when the handle was folded down. Because it was gas you couldn't store it vertically without spilling fuel everywhere, but the Greenworks mower is meant to be stored that way which frees up precious space.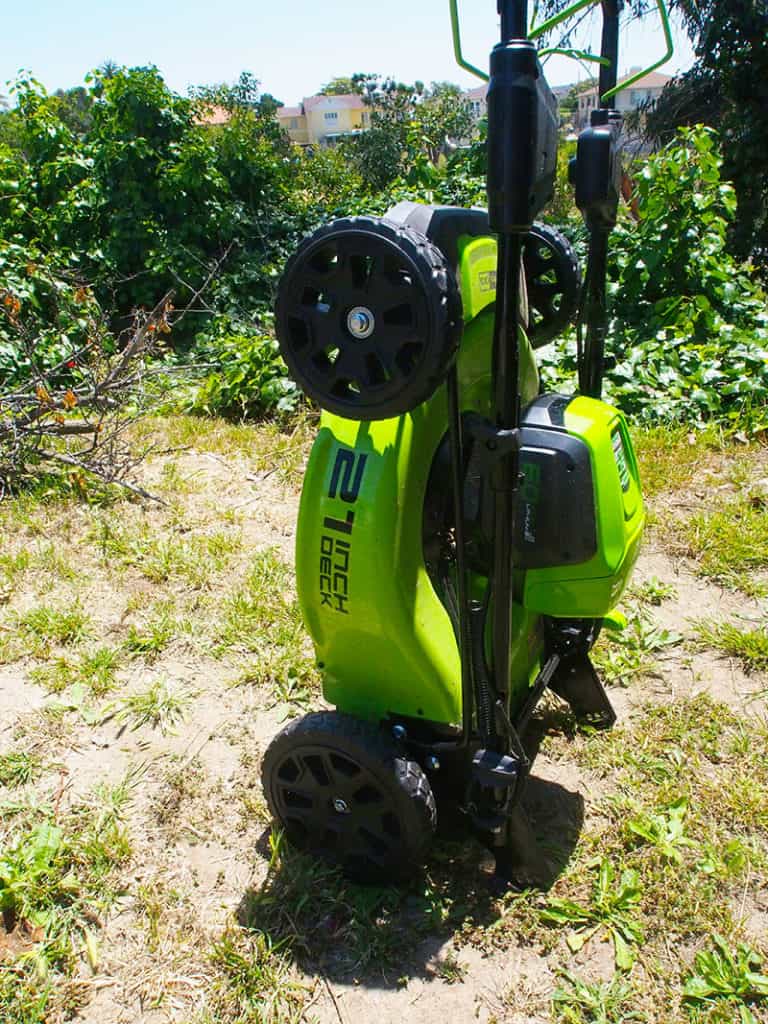 To store the mower vertically you simply fold the handle down using the tool-less knobs and then tip the mower on it's front. In this configuration, it could even fit in an outside storage closet.
Easy Height Adjustment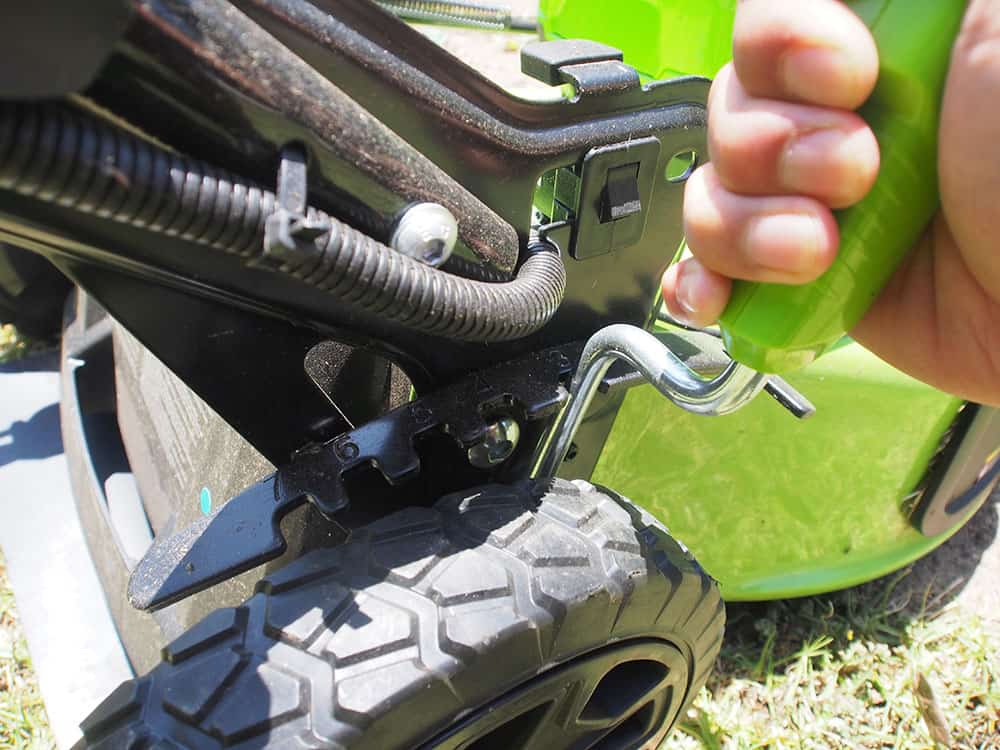 This mower features a 7-position single-lever height adjustment. You can almost change the height on the fly. The seven positions really allow you to fine-tune your cut based on the type of grass you have, the season, and your personal preference. Try to follow the one-third rule for mowing–only the top one-third of the blade of grass should be cut. This will reduce the chances of the lawn burning.
3-1 Discharge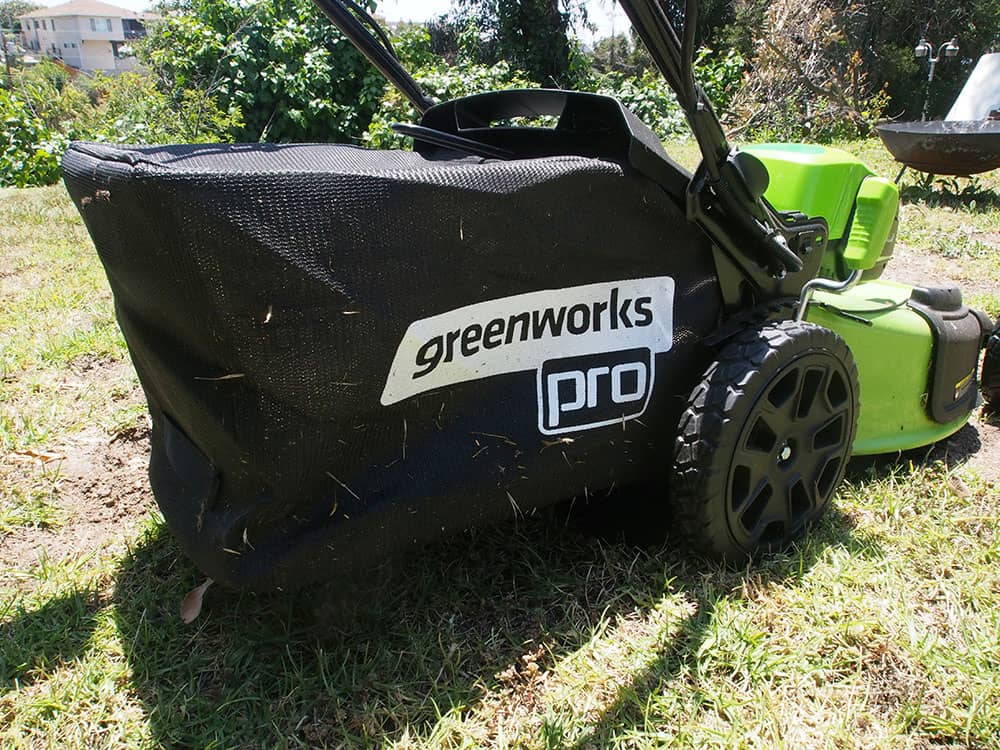 Like most high-end mowers, the Greenworks 60V gives you the option of mulching, bagging, or side-discharge. We used the bag on our first cut which left us which a lawn clear of debris and a bag full of grass clippings and weeds. The bag could've handled a lawn double our size and we never felt the mower slow down despite the extra weight.
60V Battery Platform
One of the stand-out features of this mower is the 60V battery platform. Once you buy into it with one tool, like this mower, you can use the same battery on all of Greenworks 60V outdoor power tools. This includes a string trimmer, hedge trimmer, chainsaw, pole saw, blower, and snow thrower. You can save a bit by purchasing a tool only since you already have a battery.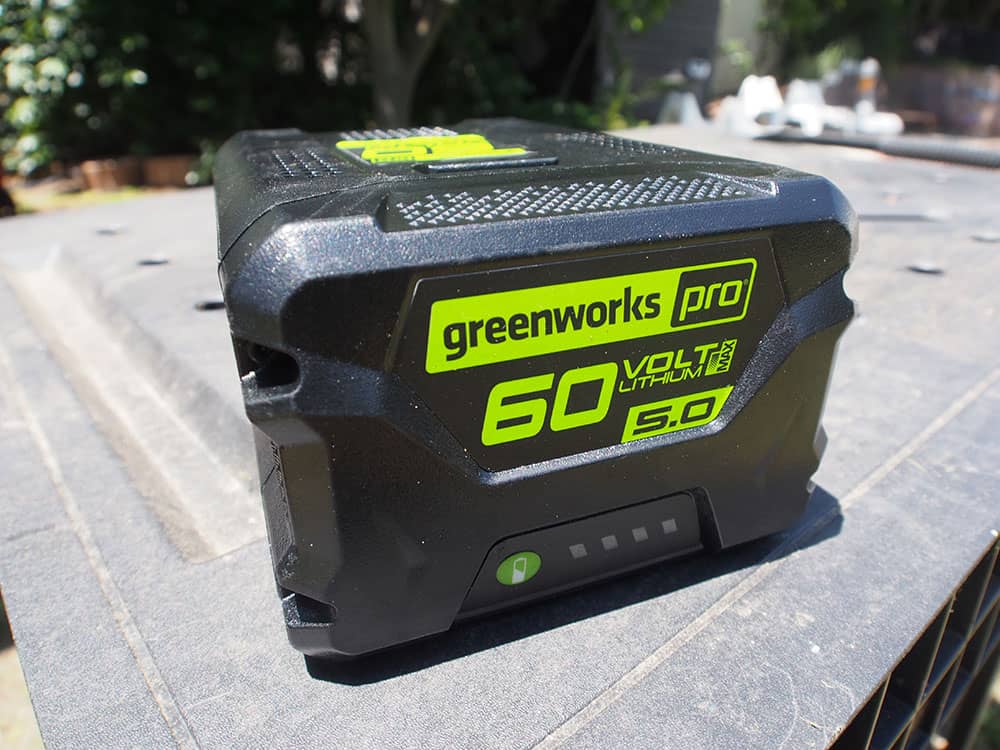 The 60V platform really hits that sweet spot for a homeowner that needs just a bit more durability and runtime in an outdoor power tool.
This mower is currently $469 at Lowe's, which is a great deal considering the warranty and all of the features. We don't hesitate to recommend this mower to all of our friends and family and look forward to it providing years of near maintenance-free performance.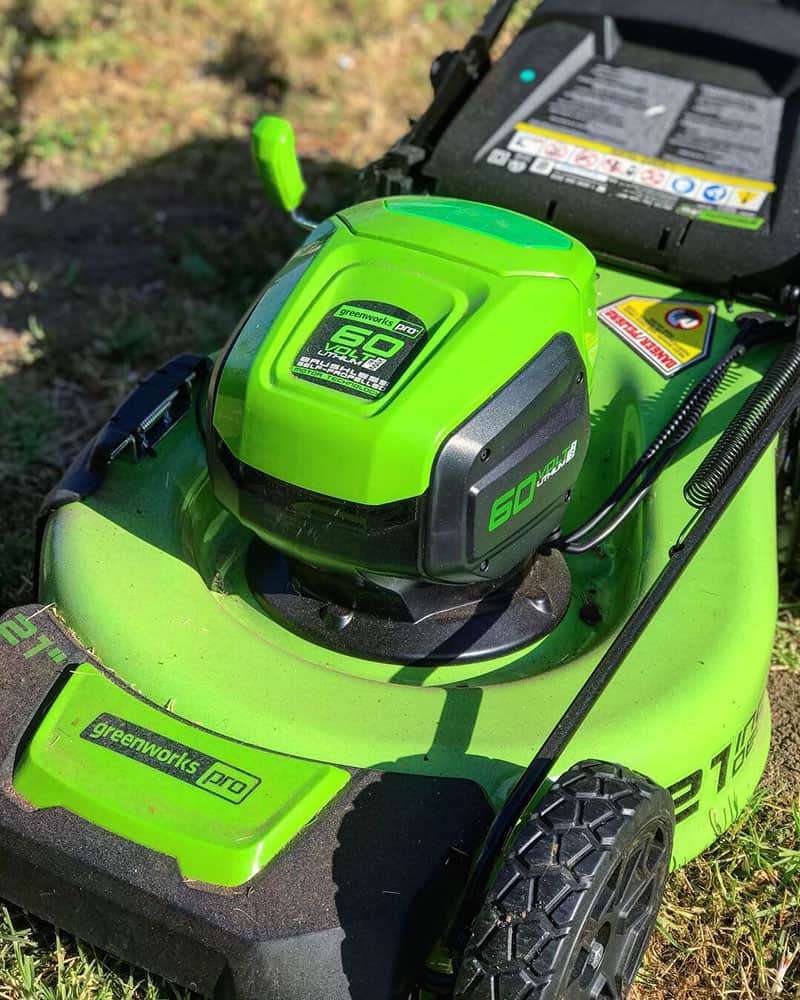 This post is sponsored by Greenworks but all opinions are 100% those of Timothy Dahl of Charles & Hudson.