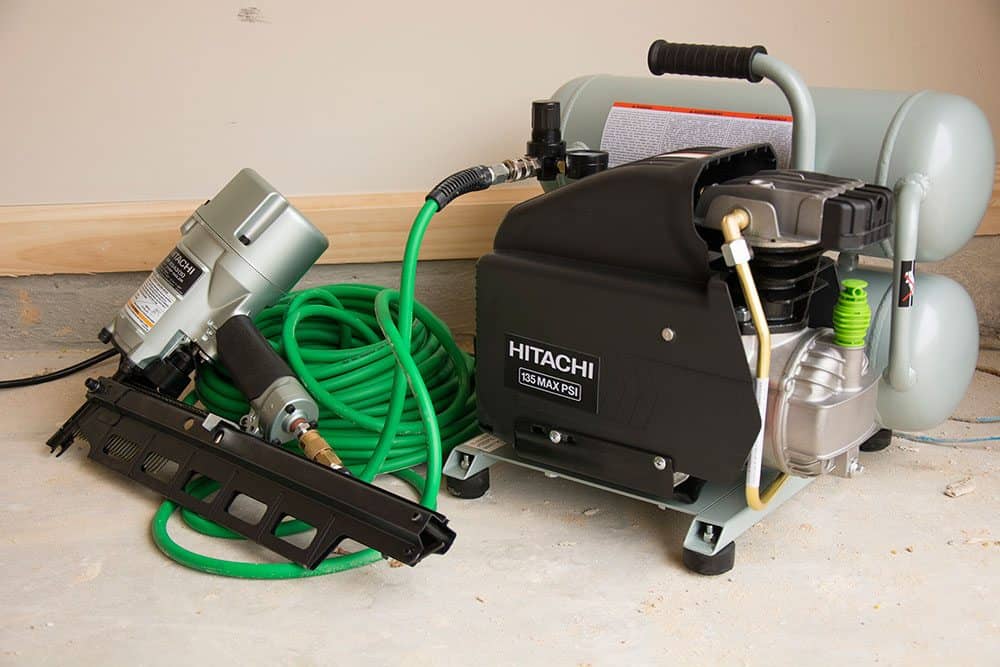 The new Hitachi Professional Twin Stack Air Compressor (model EC99S) delivers plenty of power for your most demanding DIY and remodeling projects.
The Hitachi features an oil lubricated cast iron pump and thermal overload protection. This 4-Gallon twin stack compressor weighs less than 53 lbs and is easy to transport around any jobsite thanks to its ergonomic handle for ultimate convenience.
This portable compressor features a powerful 15 Amp direct drive induction motor for efficient and reliable performance compared to universal motor products. The motor also incorporates thermal overload protection that stops the unit in a possible overheating situation. The contractor preferred 4-gallon twin stack delivers a cast iron, oil lubricated pump for cooler operation during tough applications. It produces 3.1 cfm at 90 psi and 3.05 cfm at 100 psi. The locking regulator and 105 on/135 off pressure switch means no worries about pressure wander or pressure starved tools on the job. The industrial air pressure gauges are encased in steel for higher durability.
The only drawback we came across is that the oil dipstick is in a tough location to access, but besides that the Hitachi is an amazing compressor that won't let you down.