We've always loved the idea of a raised planter box as a way to introduce our son to the responsibilities of tending a garden and enjoying the fruits of his labor (literally).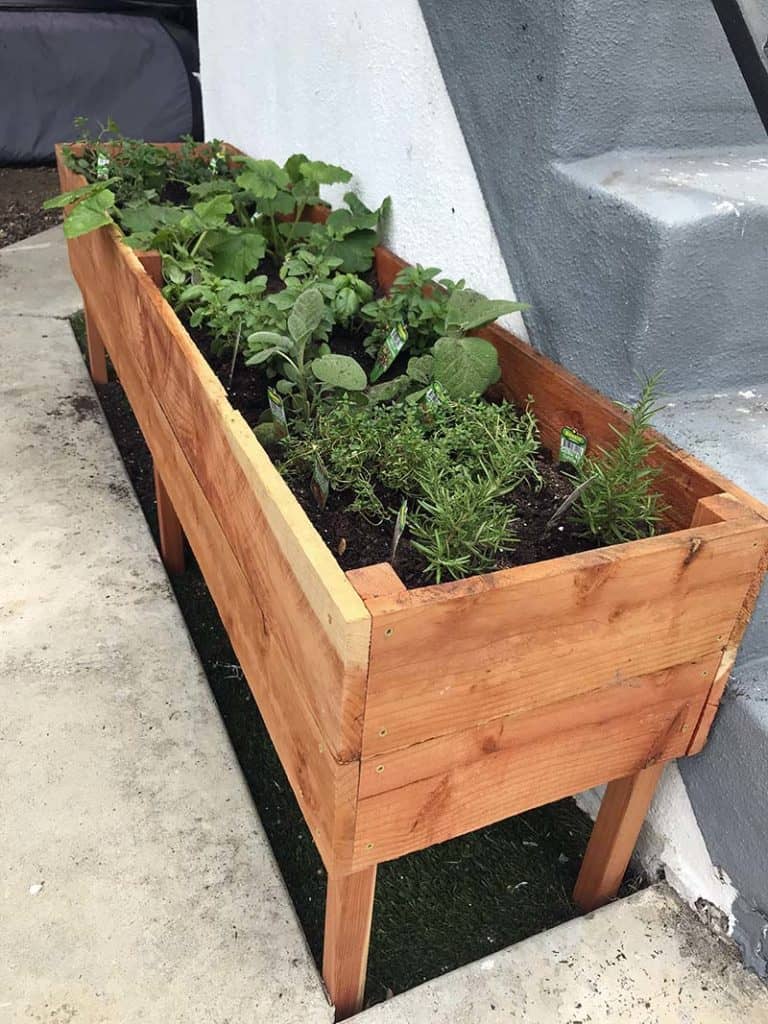 Our previous home didn't have space or sunlight to support a proper garden, but our new home has a nook at the bottom of our stairs that is begging for a planter box.
Years ago we teamed up with our godkids to make an herb garden using an old wheelbarrow. But this time we wanted to build a proper garden that would last for years, but also be easy to build over the weekend with the help of our 7-year-old.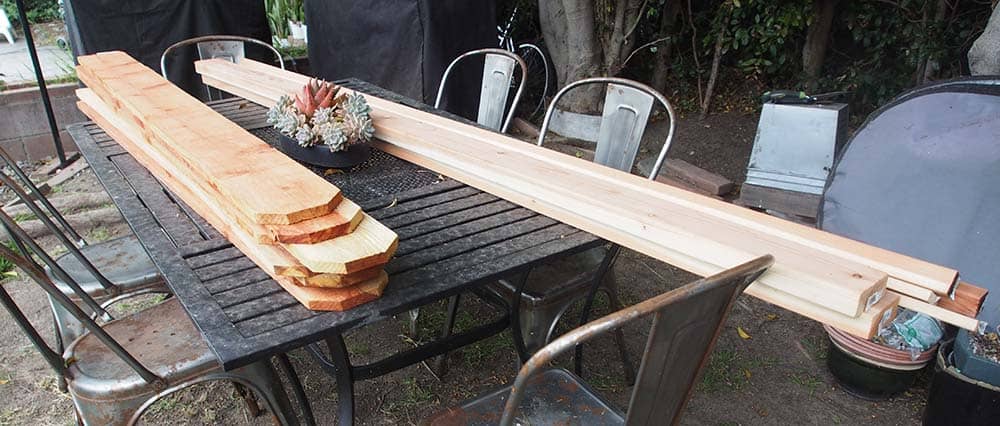 There are a few common material options to choose from when building a raised planter box, but for us, it was redwood all the way. Redwood is 100% natural and resistant to rot and pests, which makes it an ideal material to use for building planter boxes and anything near the soil.
We've also got a small dog and two young boys so we wanted to use a material that has no added chemicals, colorants, or plastics.
We're also keen on the natural beauty of redwood which we used to build a fence at our previous house.
We're aiming for a modern aesthetic with our new outdoor space and we know a redwood planter will complement our outdoor furniture and contemporary builds like our pool equipment shed.
Here are the steps for building a raised planter box.
Choose a Location
The main consideration when choosing a location is the amount of light that the area will receive. We want to plant herbs and vegetables which need full sun, which narrows down the areas that we can use. Our garden must also be easily accessible, but not in a high-traffic area. We chose a small and narrow space at the bottom of our patio stairs that receives a ton of sun and won't be in the line of fire from soccer balls or nerf guns.
Find and Make a Plan
There are a ton of planter box plans available online. A simple Google search should provide you with more than enough options to choose from.
YouTube is also a great source for finding plans and step-by-step instructions. The key to using any plans is to identify the design you want and then adjust the plans to fit your space and needs. If you are too rigid then you will limit what you can accomplish.
Choose a Building Material
As we mentioned above, Redwood was our material of choice. It's available in a few different grades, but for our use, a heartwood garden grade made the most sense.
If you are seeking a more finished and sleek look consider clear redwood which is smoother and contains few if any defects.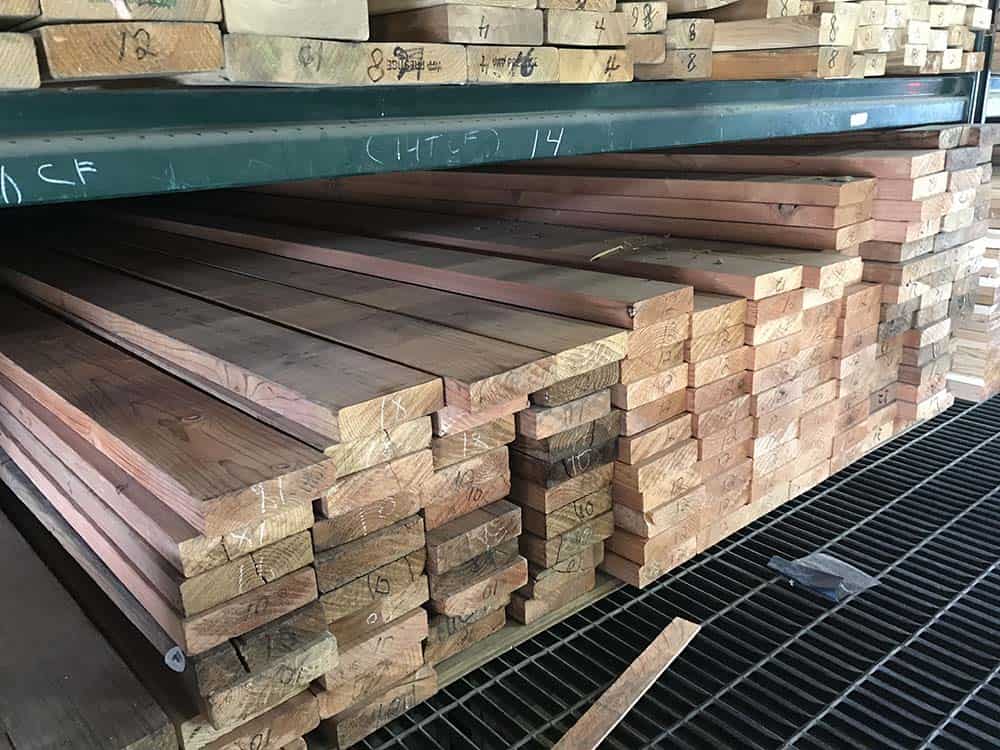 We also really like the look of mixed medium planter boxes. Those that incorporate steel legs and wood sides are always sharp looking. But for simplicity, we went with an all redwood box.
Assemble Tools and Materials
Our list of tools is as follows:
cordless drill/driver
drill and driver bits
jigsaw or circular saw
tape measure
heavy-duty stapler
metal shears
pencil
wood glue
sanding block
woodworking clamps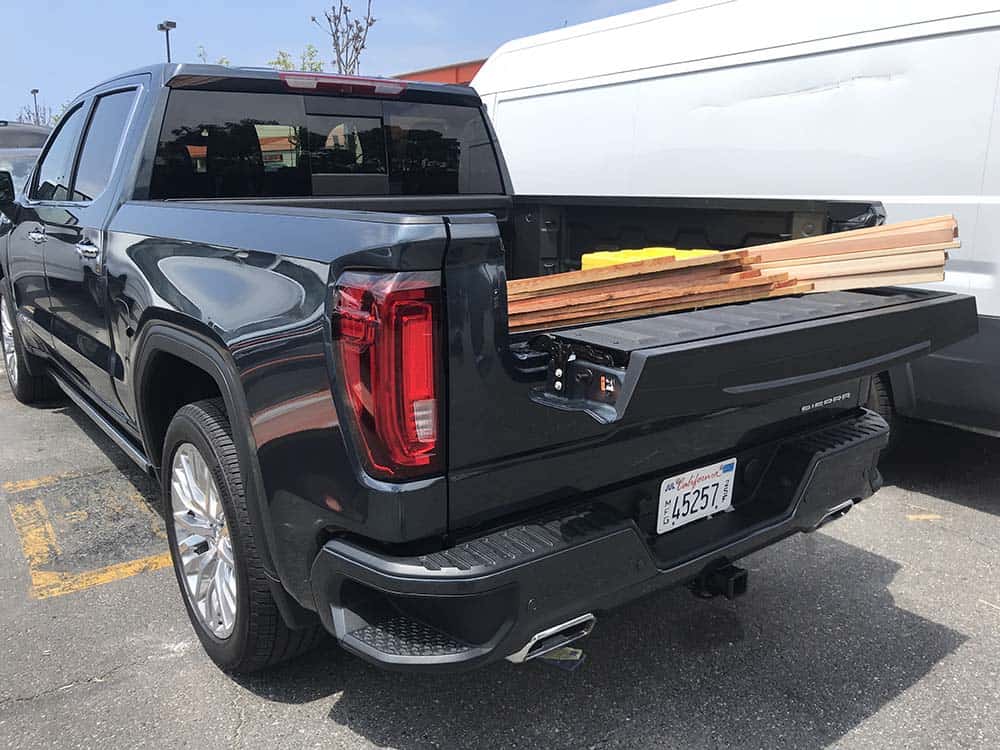 Our cut list and materials:
6 – 1-inch x 6-inch x 6-foot Humboldt redwood fence boards from our local lumber yard. Also available at most Home Depots. These boards will serve as the sides and ends of our planter box.
2 – 2-inch x 2-inch Humbolt redwood lumber. This will be the legs and also connect the sides and ends to each other, as well as support the bottom hardware cloth.
1/2-inch hardware cloth to support the soil and allow drainage.
landscape cloth to provide drainage and prevent soil from seeping out of the planter box.
1 1/4″ corrosive-resistant outdoor screws. Avoid black or silver screws as they will be highly visible against the redwood.
Cut Boards to Length
To fit our space we needed to use the full length of the fence boards but needed to trim the tapered end on each one. We then used the jigsaw to cut four foot-length boards for the ends.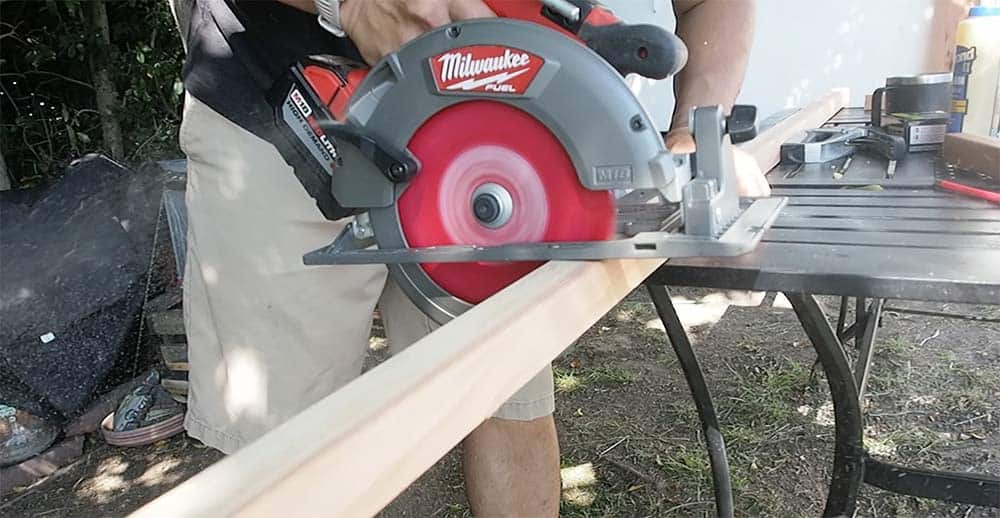 The 2x2s were cut to 24-inch lengths and we needed four for the legs and two more for the middle to add support.
Use a sanding block to clean up the edges after cutting.
Assemble Planter Box
Pre-drill holes before driving the screws. Use wood glue to make the box even stronger, but it's not necessary. Use woodworking clamps to secure the boards while you glue and screw them together.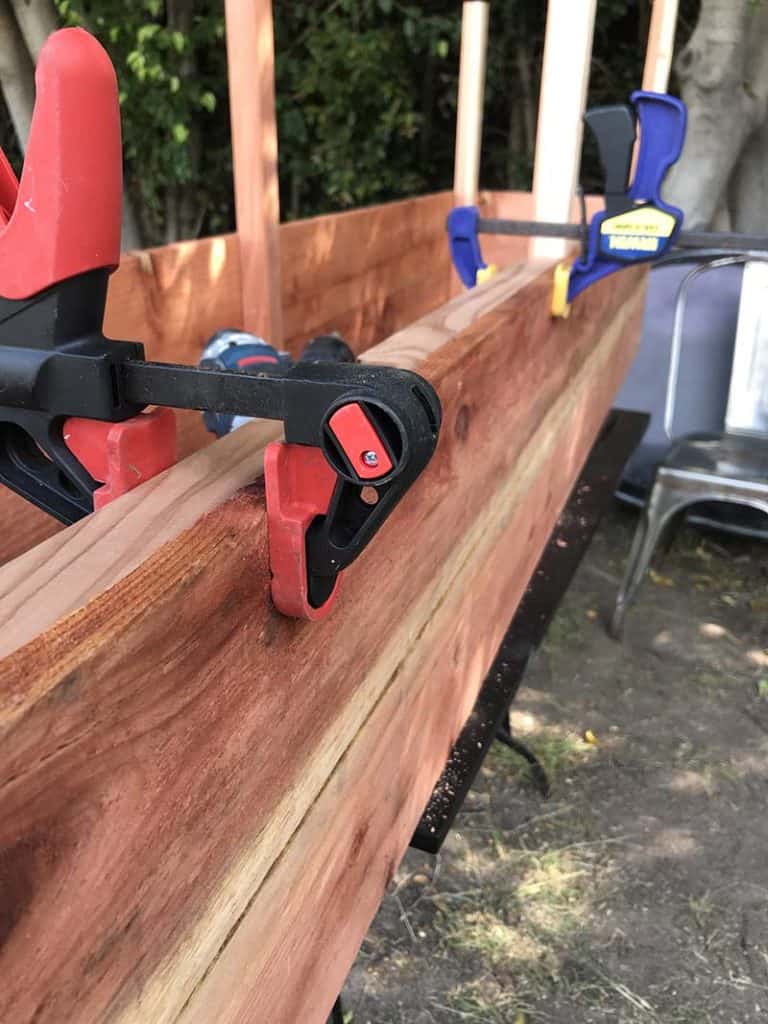 Start with the legs on one side and then move to the other side and finish it by adding the support legs in the middle. Then cut 2x2s to fit inside the bottom of the box and secure those.
Install Hardware Cloth
Unroll your hardware cloth and trim it using the metal shears. You'll need to cut two pieces to fit the length of the inside of the planter box.
We mistakenly first stapled it to the bottom of the box from underneath, but if you do that the weight of the soil can cause the staples to release over time. So make sure and place the hardware cloth inside and staple it to the 2×2 rails you created.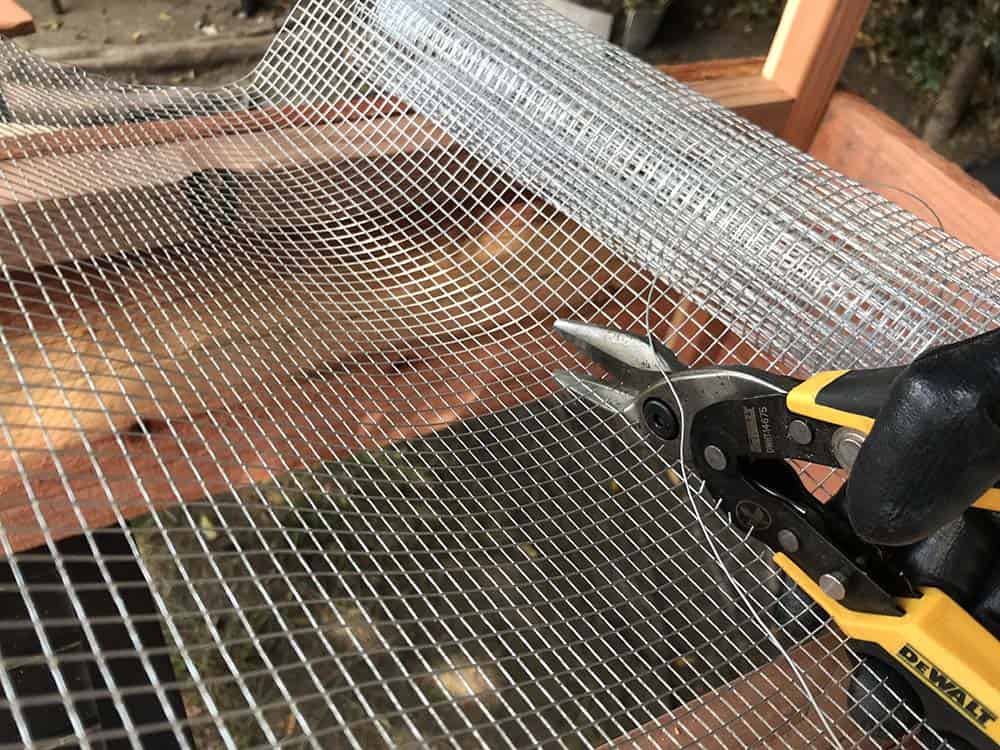 Hardware cloth is strong and will provide great drainage, but you'll also need to staple landscape cloth on top of the hardware cloth to prevent soil from spilling out of the sides and bottoms of your box.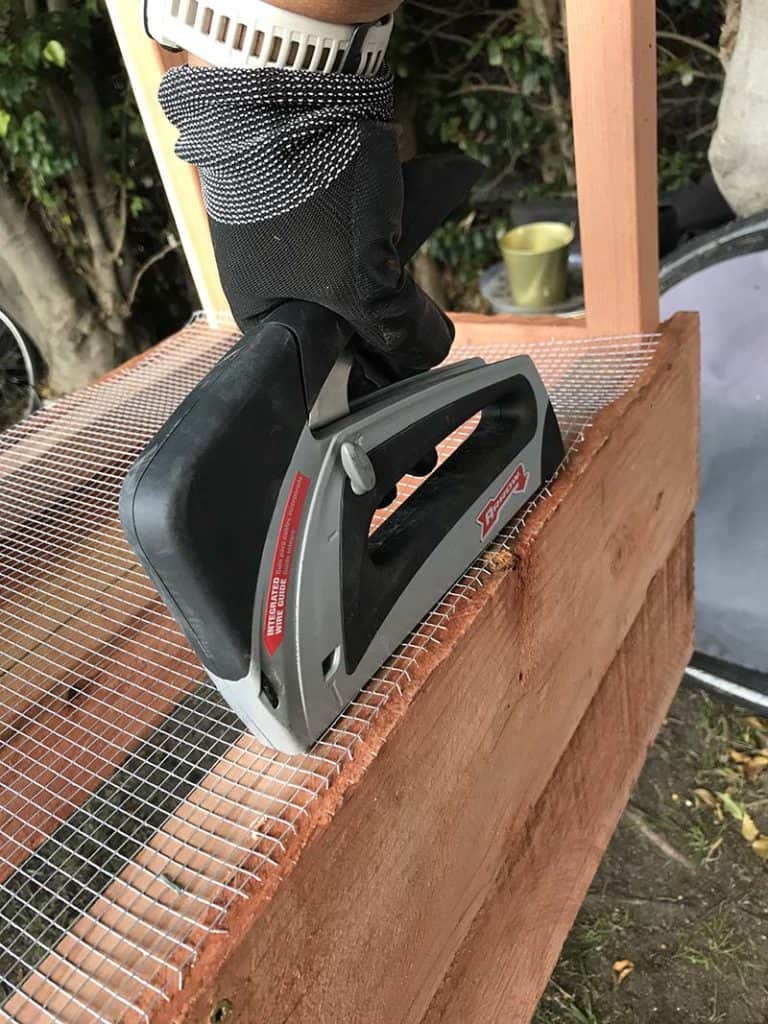 Add Garden Soil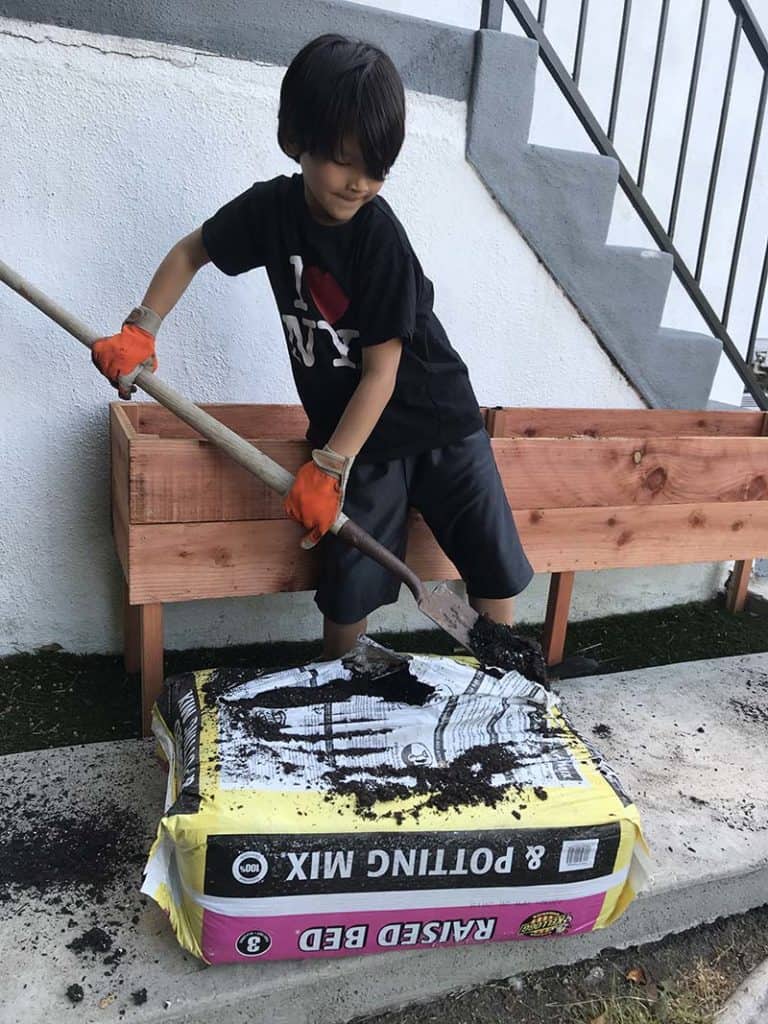 You're almost done! Next up is adding garden soil. Fill your planter box about two inches from the top with soil and lightly tamp it down.
Plant Your Herbs and Vegetables
Now comes the fun part. It's time to plant your herbs and vegetables. We kept the herbs on one side and veggies on the other. Some of the veggies need more space, so plan accordingly.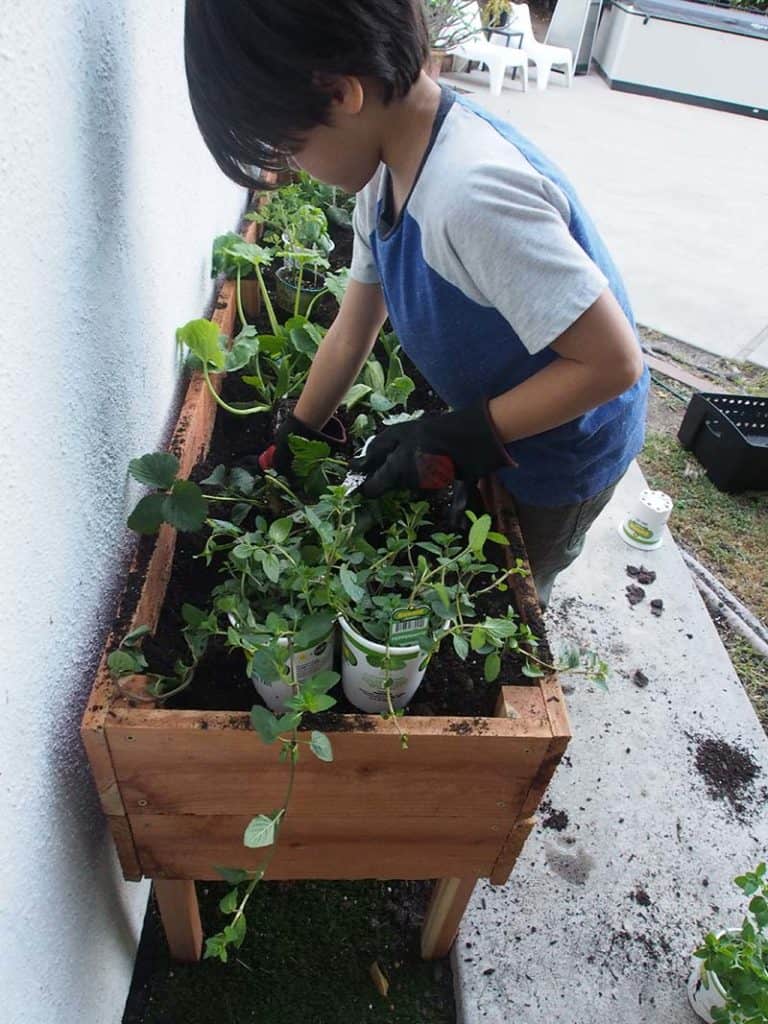 Make sure to lightly water your garden daily for about a week, just enough that the soil never dries out. The first month is vital to the long-term health of your plants.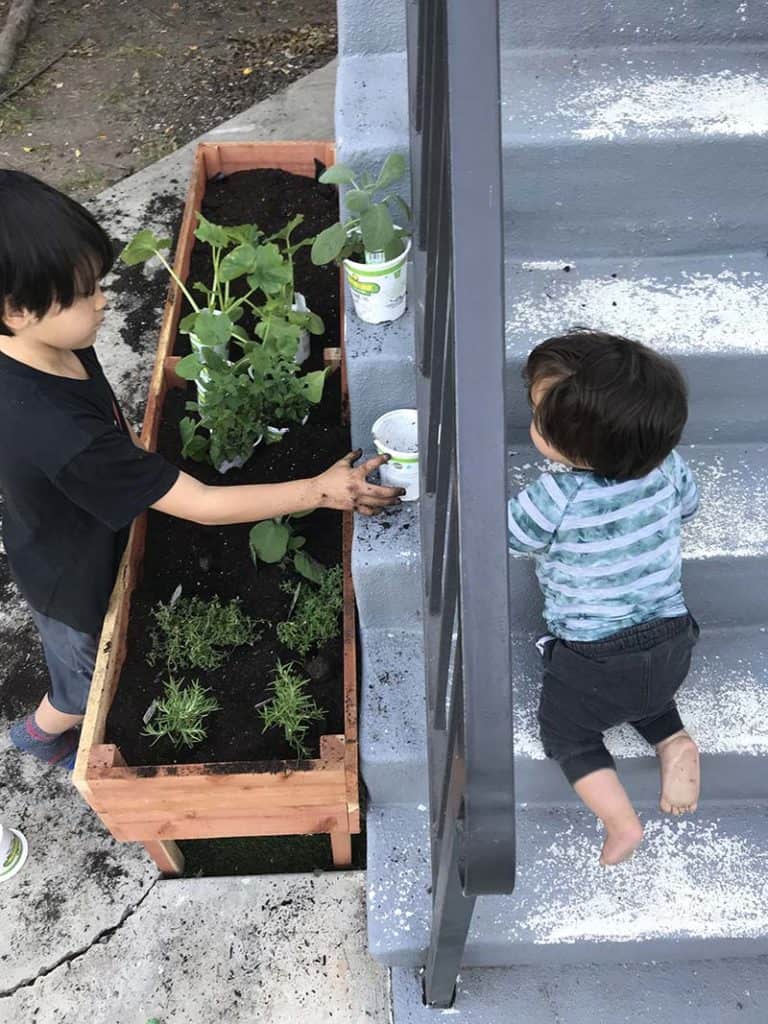 Our son has immediately taken ownership of our new garden and in addition to helping us build it he joined us at a nursery to select the seedlings and he planted them himself.
He's in charge of watering and tending to the garden (with our help), and we're excited to enjoy the rosemary, thyme, sage as seasonings in future meals. He's most curious about the strawberries and cucumbers he planted, so now he's also learning a lesson in patience.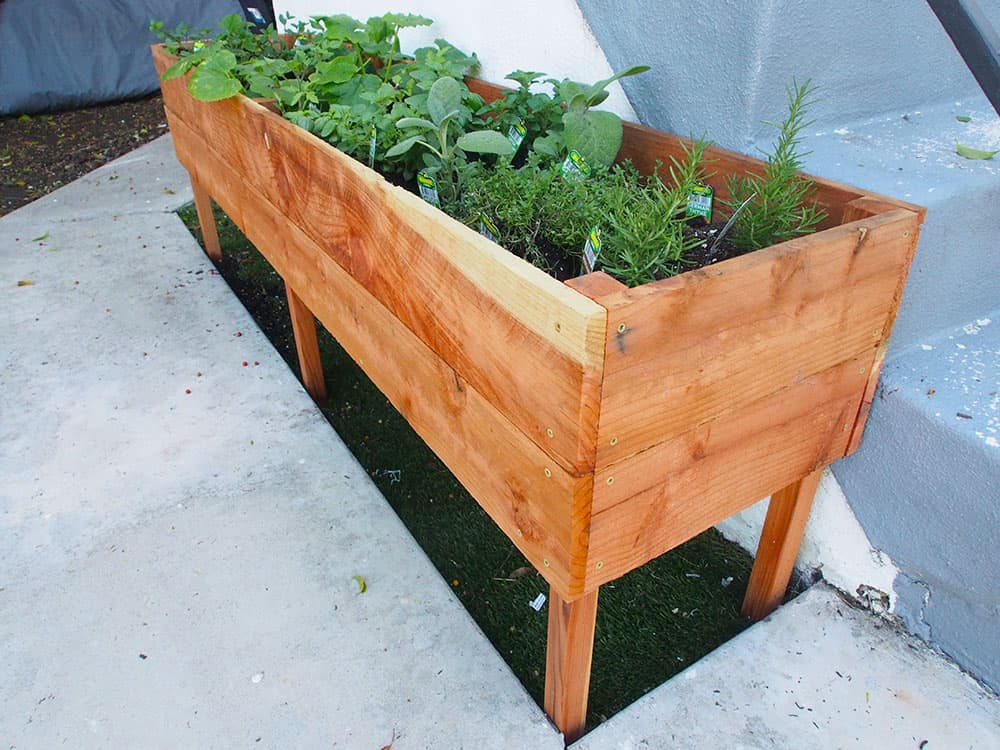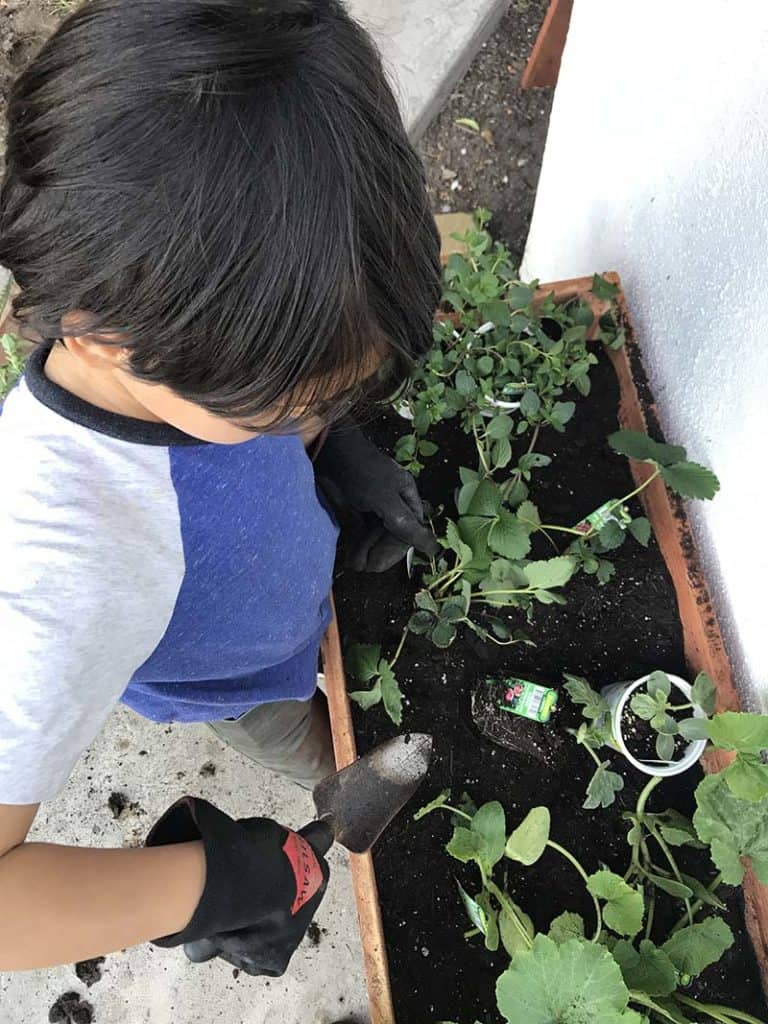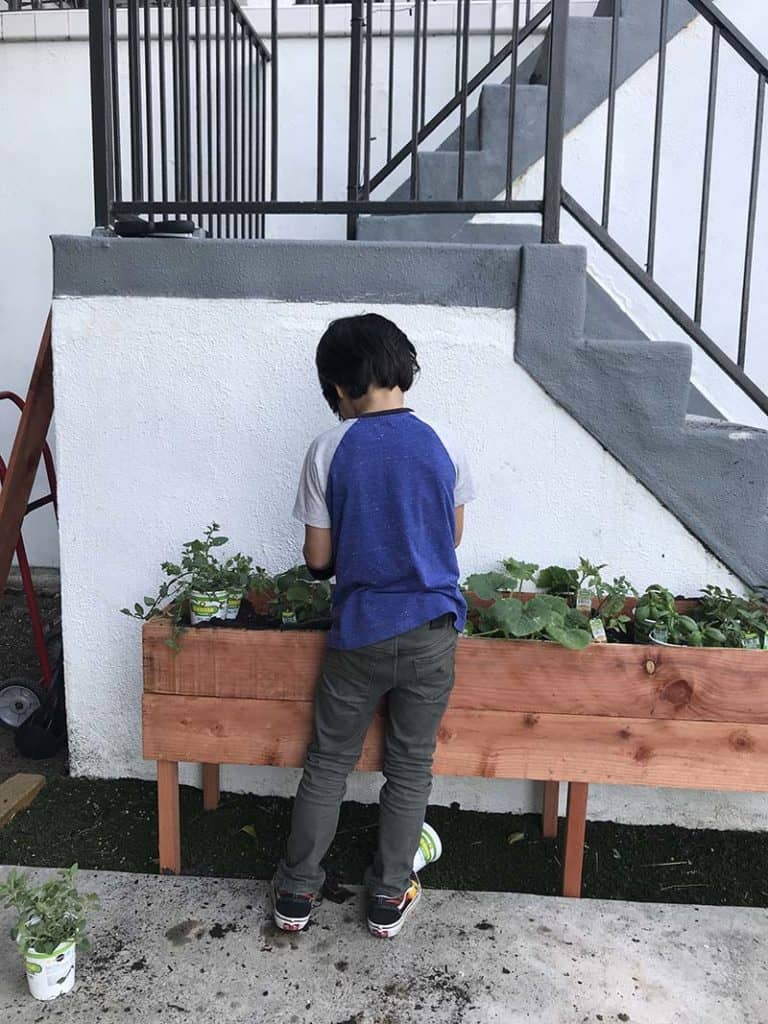 More Raised Planter Bed Ideas
Here are some more raised planter bed ideas that we hope serve as a great inspiration for your DIY project.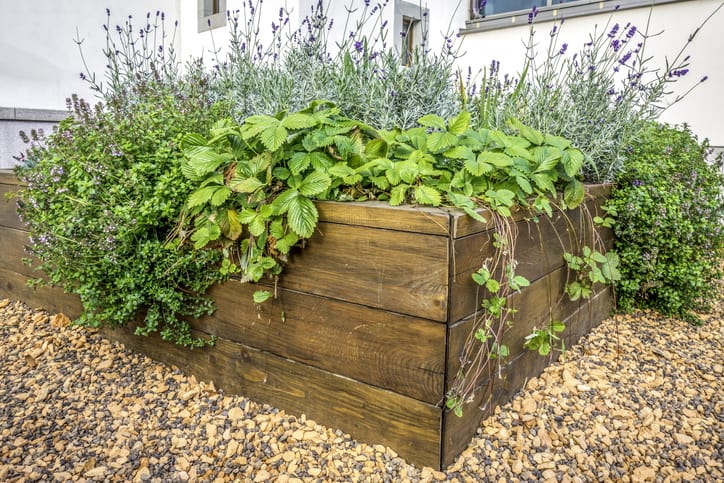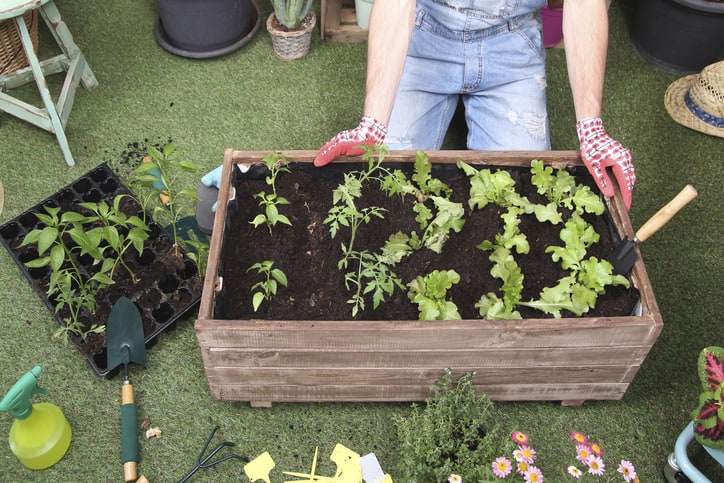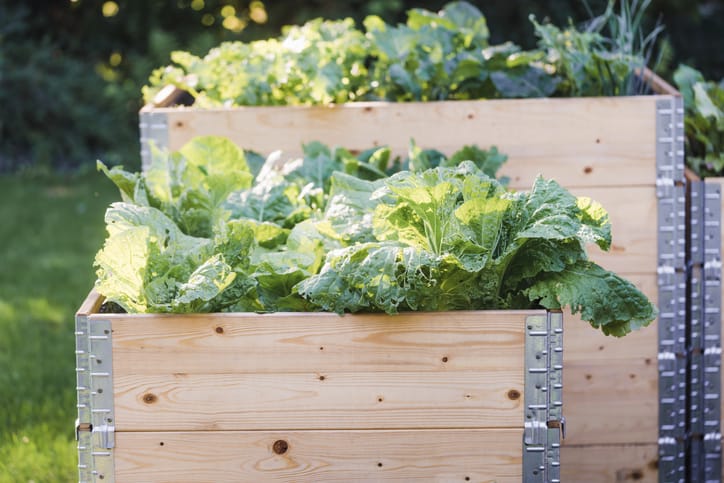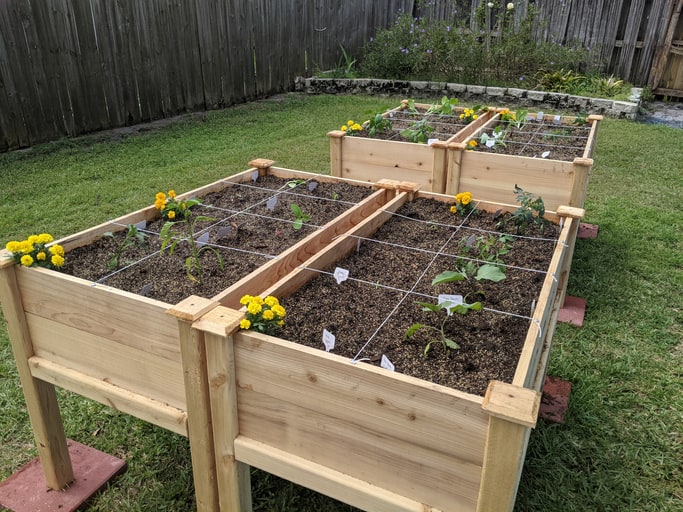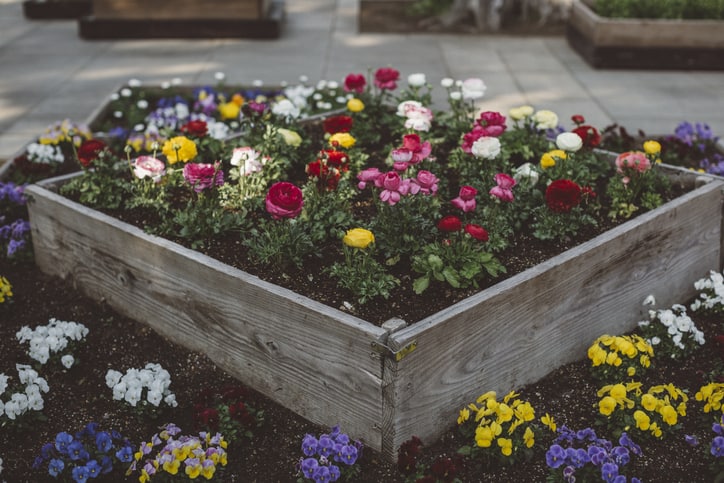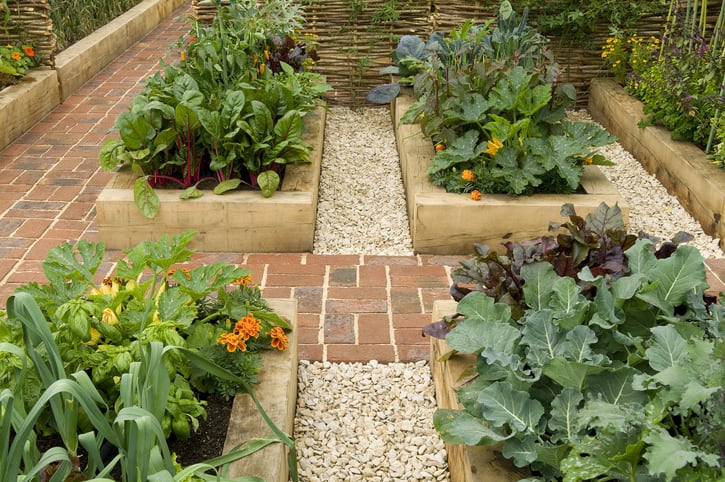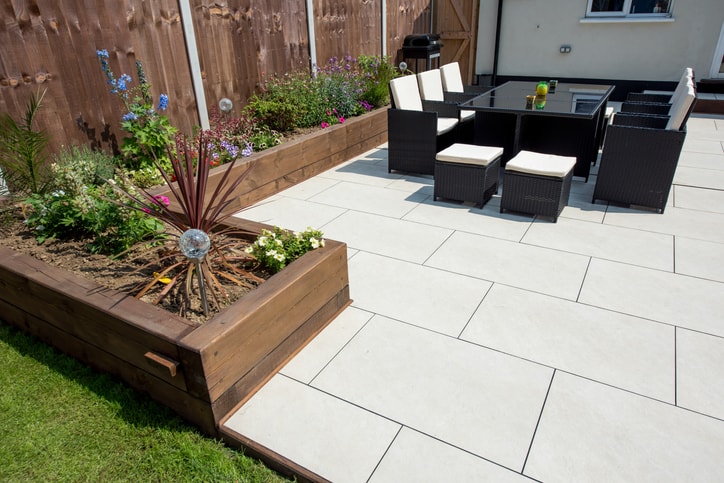 This post is sponsored by Humboldt Redwood. All opinions are 100% those of Timothy Dahl of Charles & Hudson.