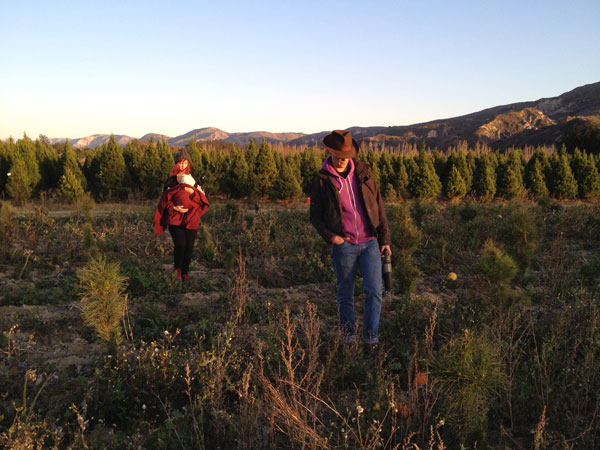 Christmas Tree farms are popping up all over the country as the demand for live but sustainable trees is met. Nothing smells better than a live tree and if it's harvested from a sustainable Christmas Tree farm and then recycled then there is no impact to the environment.
If you have a choice of Christmas Tree farms in your area you need to consider these points before taking the drive to select your Christmas Tree.
1. Is the Christmas Tree farm family-owned? What do they do the rest of the year?
A good Christmas Tree farm will rely on other business throughout the year and cultivate Christmas Trees like crops and plant and cut them accordingly. They aren't in the business to make a quick buck and treat the land with respect.
2. Stay away from pre-cut trees on Christmas Tree lots
If you drive up to a Christmas Tree farm and see a bunch of pre-cut trees just like you'd see at your local corner lot then turn around. These may have been shipped in from a different location and may have been sitting for quite some time. Just because they are in a more "romantic" forest setting doesn't mean they are legit. Pre-cut seems easiest but if you are shopping for the most fresh tree then it must get in the water within two hours of being cut or the trunk will start to heal and won't take water as well.
3. Talk to the help
Are the Christmas Tree salespeople just that, salespeople? Or do they work the Christmas Tree farm and know exactly the type of tree you are looking for and how long it's been growing? Salespeople are in it for the quick buck and the sign of a corporate Christmas Tree farm.
4. Reputation
Run a quick Google search on the Christmas Tree farm of your choice. Don't just consider the user-review websites but seek out magazine or more likely local newspaper articles about the farm you are looking at. Family run businesses have relied on local press for years and typically strive to maintain their good standing in the community.
5. Have Fun
Don't feel rushed to pick your tree. Take your time and walk the lot. Best to go during the weekday and make sure you bring the proper clothing (gloves) for handling the tree. Most Christmas Tree farms will provide you with the tools or cut the tree you've selected for you and wrap it properly.