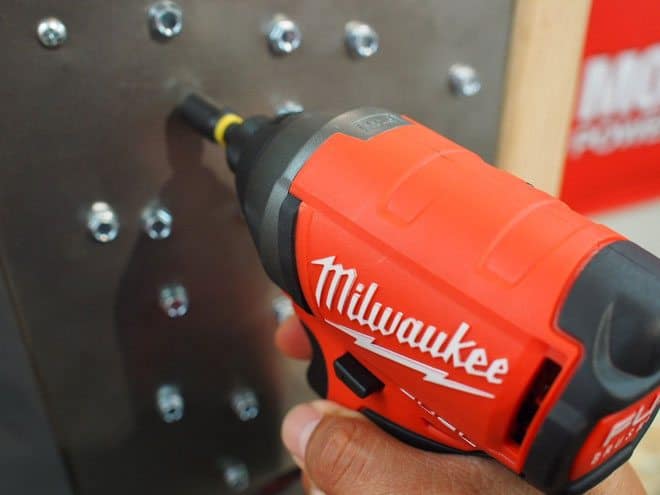 The biggest tool media event on everyone's calendar is the Milwaukee Tool New Product Symposium. We had the pleasure of attending again this year with the promise of more innovation and 80+ new tools across all of the trades. Milwaukee Tool did not disappoint. It's a hand's on event where we not only get all the specs plus demonstrations and comparisons, we get to fire up any and every tool we want.
It's amazing how they can innovate from year to year among so many categories.
Here's our recap of our favorite new tools and innovations, with a caveat that the biggest breakthrough won't be released until August 1.
9.0 amp hour battery – M18™ REDLITHIUM™ High Demand™ 9.0 Battery Pack
The Milwaukee Red Lithium 5.0 XC is their standard high-capacity battery and instead of jumping to 6.0 they decided to just go ahead and go to 9.0. It's got more than double the runtime and will truly change the applications that this tool can be used for. They've just got even more serious about cutting the cord. Think of all the traditional corded shop tools that could benefit from being more mobile, not to mention the all-day power this battery provides for their circular saw, sawzall, and more.
Standing Portable LED Lamp – M18 Stand Light
Halogen work lamps really suck. They're hot, fragile, unwieldy, and have a damn cord to tow around. This standing LED lamp provides just as much workable light but in a portable package that can extend to 7 feet in height. Another game changer.
2nd Generation M18 FUEL Drill/Driver – M18 FUEL 1/2″ Drill Driver, M18 FUEL 1/2″ Hammer Drill Driver
The first gen M18 FUEL drill/driver is an amazing tool, but honestly it's a bit heavy and bulky for a brushless tool. The 2nd generation changes all of that. The ergonomics are much better as they've taken the electronics out of the handle and moved it up into the tool to create a smaller diameter grip, and the motor is actually thinner but creates even more power.
Ultra View Empire Levels – UV LED Box Levels
It's been a year since Milwaukee Tool acquired Empire Level and they wasted little time with innovating the brand. They have redone the framing squares and speed squares with laser etching and added an awesome LED feature to the bubble levels on their premium levels. It's not simply an LED that would just add glare, but a glowing LED that makes viewing the bubble extremely easy. If anyone could innovate in a utilitarian category like levels it would be Milwaukee.
Everyday Carry Knives – Insulation knives, Duct knife & Camo Fastback Spring Assisted Knife
The Milwaukee Fastback is bad ass, but not the best everyday carry knife. Well Milwaukee wants to change that by introducing 3 flip out knives in 2 1/2", 3", 3 1/2" sizes. They will be available in black and Real Tree camo and will suit the lifestyle demands of those in the trades who often carry a pocketknife with them at all times. Milwaukee has also introduced two new knives for HVAC workers that are ideal for cutting foam, insulation, and more.
Storage and Gloves – 46" Rolling steel storage chest & cabinet and Milwaukee Work Gloves
The new Milwaukee tool storage chest and drawers are awesome and an amazing deal for $700. They are introducing a portable hardware bin this year as well as a set of Milwaukee work gloves. The leather gloves feature a knuckle gesture pad for touching a smart phone or tablet and a sweat pad on the top for clearing your forehead (I always need this).
As we mentioned there is one major announcement on the power tool front that will propel Milwaukee Tool into a new direction for both the company and the industry. We can't wait to share it with you on August 1.
There are a ton more innovative products but these were my stand outs. Thanks again to Milwaukee for hosting us and we've shared a ton of photos from the event below and check out our video page as well.