We're launching a new series profiling the workshops of our friends, families, readers and other home improvement and tool bloggers. We're hoping these profiles of Winning Workshops inspire some ideas for you to apply to your own workspace as well as show some innovative ways to store and use tools that are beneficial to your project process.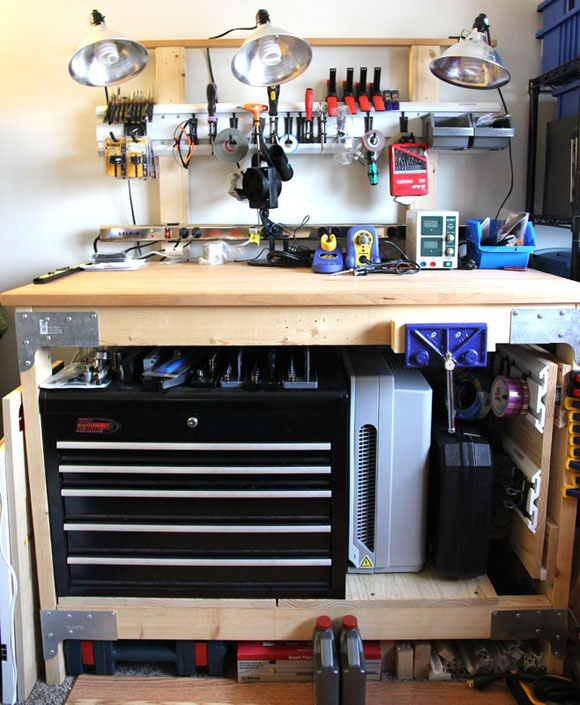 Our first Winning Workshop is from Stuart Deutsch who is the man behind the tool blog, ToolGuyd. We first met Stuart at the DeWALT event last year and we knew he took his tools seriously.
We've asked him to share some photos of his workshop as well as in is own words how he setup the shop and what inspires him. He works from his apartment so space is an issue but we think he's done a great job with the resources and room available to him.
More from Stuart:
I have never really considered myself a DIYer until somewhat recently. Before that, I only thought of myself as a hobbyist. A few years ago, if you wanted a small wheeled robotics platform to experiment with, you built it yourself. If you wanted to improve the cooling performance or noise levels of a computer, you drilled blowholes and soldered together fan speed control circuits yourself.
Most of my DIY inspiration comes from these hobbies, from the occasional need to create a custom solution that cannot be store bought. There's also the thril and and satisfaction of producing something unique, creative or useful. Of course some of my DIY activities come out of necessity or the need to save a few bucks as well – minor installations here, small repairs there.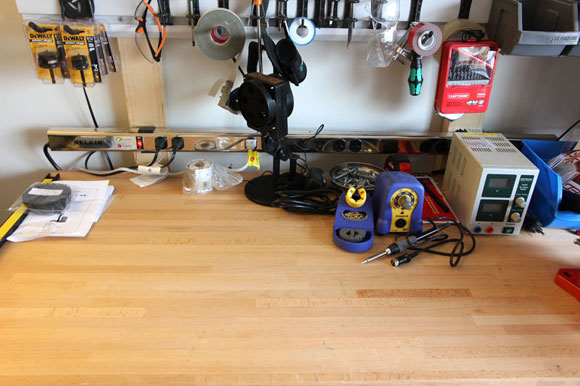 It may sound silly, but the project I'm still most proud of was my first self-built computer. Back in about 2004 I needed a new desktop PC but wasn't satisfied with any of the major manufacturers' offerings. So, I learned how to put together a system from scratch and got it up and running. I didn't stop there – inspired by modding pioneers like G-gnome and MNPCTech's Bill Owen, I worked on my own modding projects that led me to learn new skills and techniques. What started off as something simple helped save myself, my family and friends tons of money on computer repairs, and sparked another interest that helped greatly expand my metal and plastic-working skills.
I am actually about to start what I think will be my toughest project yet – a rock, mineral and fossil display case. For this project I hope to greatly improve my joinery and fine woodworking skills through multiple iterations and lots of practice experimenting with different types of joints.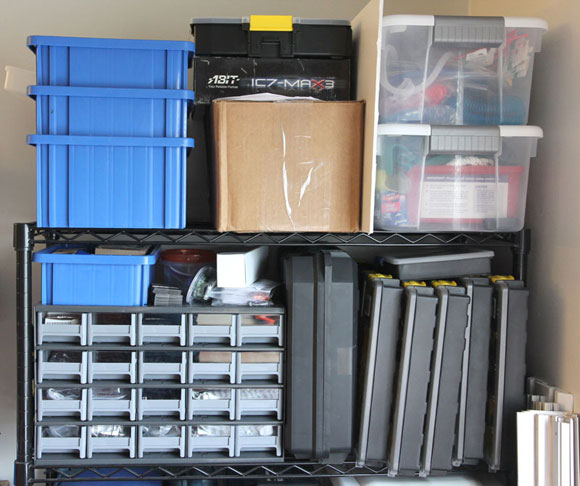 If I had to identify the three tools I couldn't live without, it would be my computer complete with internet access, a 4-6mm ball hex driver set, and, although this may be cheating, my Leatherman Wave. Even with access to a large library, I heavily rely on the internet as a reference source, and as they say – knowing is half the battle. I remember a time when I would curse and shout trying to use tiny 4,5, and 6mm L wrenches. I have sinced explored other options – T handles, large L handles and screwdriver handles, and will never turn back. These more ergonomic ball hex drivers have been a lifesaver on more occasions than I can remember. As for the Leatherman Wave, it's extremely compact and packs a useful array of tools in a very compact package. If it's not on my body, it's at least somewhere close at all times.
My dream tool would be a multi-purpose wood, plastic and metal-cutting machine that produces absolutely no dust or debris of any kind, for under $500. Quite a few manufacturers offer what they call ultimate cutting machines, but I often find these claims to be highly exaggerated. A little more unrealistic, my fantasy tool would be a "Makerbot" type 3D printer that could construct objects out of metal, perhaps aluminum.
It's hard to put a finger on what I like about my workshop, so I'll point out all the things that need improvement. I need more space, better lighting, better dust and chip control, better organization, and did I mention more space? Right now I'm living in an apartment, and a lack of space is the number one issue. I am in the middle of a large-scale spring cleanup, but there's a limit as to how much can fit into a finite workspace.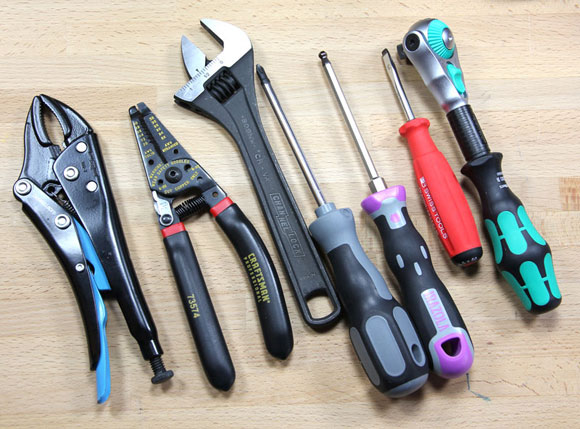 Favorite tools, from left to right: old Channellock locking pliers, made by Grip-on; Craftsman Stride-made fine gauge wire stripper, Channellock Irega-made adjustbale wrench, Wiha 3K anti-cam-out Phillips screwdriver, Irazola 5mm ball hex driver purchased in England, PB Swiss slotted screwdriver, Wera Zyklop swivel-head ratchet. Not shown is Dewalt's 12V Max 1/4″ hex screwdriver which is by far my favorite cordless driver.
We'd like to thank Stuart for sharing your workspace and insights on his inspiration and favorite tools. If you're looking for tool reviews and news check out his website at ToolGuyd.com
We're on the lookout for more Winning Workshops so please contact us if you've got an interesting space or unique tools or both.