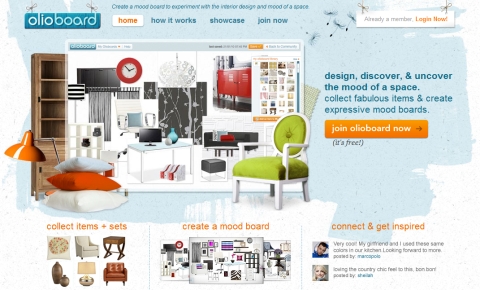 Ever get stuck on a home decor project? Have problems envisioning a room finished (you know, past the bare drywall and exposed wires)? Or wondering how an out-of-this world color palette might actually work together, but afraid of purchasing and painting your way to disaster?
Me too. That's why I was so excited to find OlioBoard, a website that helps you create mood boards for spaces using real items from accessible brands, like West Elm, IKEA, and Graham & Brown.
The site says that an OlioBoard "… is yours to craft — an interactive tool to experiment with the style and mood of a space." They encourage you to collect "sets" of items to create your ideal living space. And then they offer a community where you can get feedback on your possible design and learn how to make your fictional space work best for you — all before you purchase a single chair or picture frame.

I've cruised around the site a bit and I think it's going to come in SO handy in the next few months for me, as I work on finishing up a few spaces with a newborn and a toddler underfoot.
I suspect Mama's not going to have many brain cells left to process the nuance of interior design between sleep deprivation and spending the majority of my time with two non-verbal kids under two years old. And I love that the sets are made of real items I can purchase instead of just ultra-haute designer pieces that will only keep me up at night with angst about how exclusive and expensive they are.
I've already made an account, and I plan on making a mood board this week. Why don't you hop on over to OlioBoard and tell me what you think of my interior design skills, and while you're there, why don't you make a board for me to peruse too?
Photo: OlioBoard.com