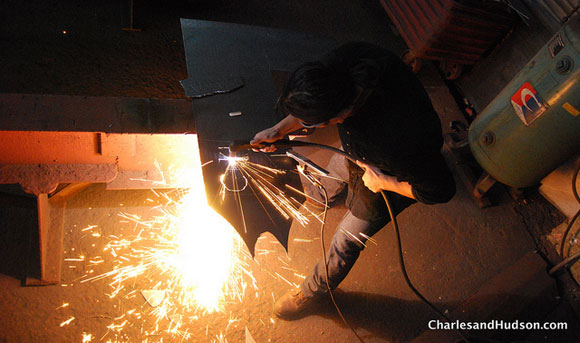 2010 has been a whirlwind at Charles & Hudson. We kicked off the year at the Builder's Show and also attended the National Hardware Show and Greenbuild Expo. But our favorite events of the year were presented by retailers and manufacturers and most included a bit of do-it-yourself.
Forget the stuffy lectures in board rooms, we wanted an opportunity to get our hands dirty and we were certainly given the chance. The events we were invited to not only gave us an exclusive opportunity to see, feel, and test new product but also meet the amazing people who design, fabricate and market the products.
On to our favorite DIY events of 2010!


Fifty for Five in New Orleans
We joined Sears and Rebuilding together to build 50 homes in 5 days on the 5th anniversary of Hurricane Katrina in New Orleans
event photos

A Day with DeWALT at Black & Decker University
We were invited to DeWALT headquarters in Baltimore for their media launch of the 12V MAX cordless line of power tools.
event photos


Shaw Floors Launches Tigressa Carpet
Our visit to the Carpet Capital of the World (Dalton, GA) was amazing. Shaw Floors gave us a behind the scenes tour of their carpet making facilities as well as design and R&D labs.
event photos


Delta Faucet Media Day
C&H received first-hand demonstrations of the full Delta Faucet and Brizo product lineup in Indianapolis and installed a faucet in 5 minutes flat (above photo).
event photos


Winter Wonderland at the Craftsman Experience
This summer Sears/Craftsman opened the Craftsman Experience in downtown Chicago and we had an opportunity to spend three-days with them and help them build a winter wonderland that included the Ultimate Sleigh.
event photos


Behind the Scenes at Etsy
Charles & Hudson got a sneak peek into the handmade capital of the world.
photos
Make sure you follow us on Twitter and Facebook as we post multiple updates during each event including photos and news, not to mention thorough pre and post event articles on C&H.