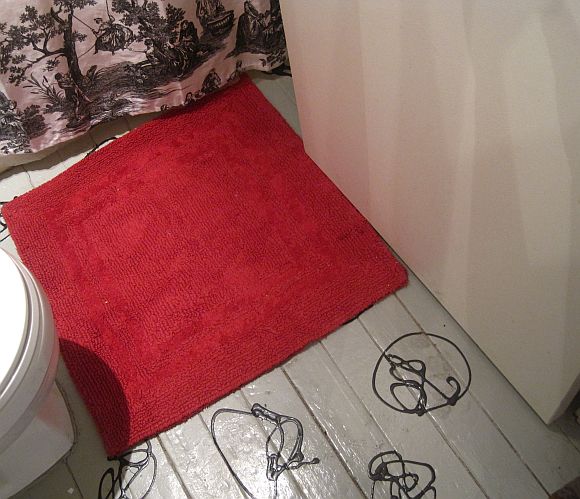 We've talked before about the pros and cons of painting wood trim and brick walls/fireplaces. Although there's no doubt that a fresh coat of paint can do wonders for the look of the piece, one of the biggest disadvantages is that you're covering the natural appearance, texture and grain of the material.
What about hardwood floors? I can't take credit for this project, as it was completed by a previous tenant of my loft. I have hardwood floors throughout the unit, but they're not sealed and a little … er … rustic looking, if you will. I do love them, but they're so tough to keep clean!
Our bathroom, however, is a different story. The wood is painted a light gray, with artful black swirls applied on top. Thankfully the former tenant chose a relatively neutral palette that could work with a lot of bathroom decor (and fits our current black, white, red and gray scheme beautifully!).

And the paint acts as a seal, meaning there are less cracks exposed between the planks, making them easier to clean. I love a project that has both aesthetic and practical applications!
I'm not sure I'd commit to painting the entire floor of the loft, because the dark wood does have its own character and beauty. But in a small room like a bathroom, it's an interesting addition.
What say you, readers? Would you ever paint hardwood floors, or is that a DIY no-no?