Just so you know? I love my job. I had the honor of representing Charles & Hudson at Shaw Floor's media event to unveil the company's new flooring partnership with HGTV.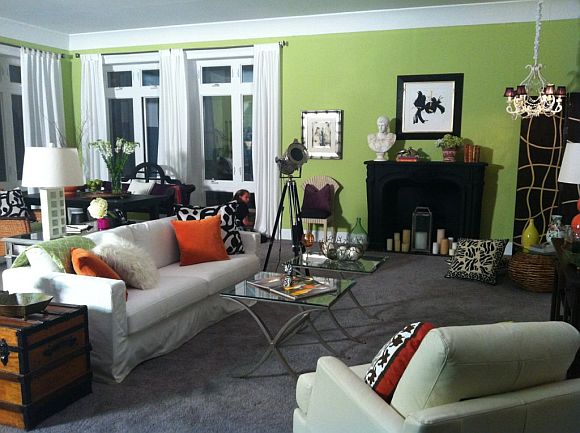 We learned about the new products (and they're cool – more on that later this week!) And we were treated to an amazing tour of Asheville's Biltmore House, which is undoubtedly a national treasure. If you get an opportunity to see it, don't hesitate!!
Wednesday and Thursday, we headed to the Tribuzio-Hilliard Studio in High Point, N.C., for a design challenge in which we were tasked to create a complete room using our selected Shaw HGTV flooring, the paint of our choice from Sherwin-Williams' HGTV line and furnishings and accessories from Tribuzio-Hilliard's MASSIVE prop room. AND we got to hang out with a special surprise guest – the beautiful Lisa LaPorta of HGTV's Designed To Sell!
I teamed up with the amazing Julia of CasaSugar. We instantly bonded over our shared love of the color gray, which made selecting our carpet an easy task.

After picking the gray carpet, we went crazy with color. We called our room an urban bachelorette pad, and Julia and I both wanted to move in and stay forever!
I still have so much to share, and Timothy and I will be unveiling some fun stuff related to the challenge — prizes, perhaps? That's all you get to know for now! I'd love to hear what you think of the room. More photos to come (including professional shots!) and in September, you'll get to vote for your favorite of the 5 rooms as part of HGTV Month. More on that, too. It's going to be an exciting few weeks, and I hope you'll come along for the ride!