I've been a bit sidetracked by the Olympics and every four years I find myself watching sporting events that I've never seen or cared about but for some reason I can't look away. But wrestling is different. Since competing in high school wrestling I've continued to follow amateur wrestling and in particular the NCAA championships which I watch each year. I wasn't raised in a hotbed of wrestling (Arizona) but our state had traditional powers and to my chagrin, Arizona State always produces All-Americans.
The Olympics is a time when the best of the best compete and it seems that the top guys at the Olympic trials are typically multiple NCAA winners.
I wanted to share a quick primer on the sport of amateur wrestling which is completely different from professional wrestling which is pure entertainment.

Wrestling is one of the oldest sports in existence and can be traced back to the Sumerians 5,000 years ago. But it was the Greeks who perfected wrestling which is one of the original Olympic sports.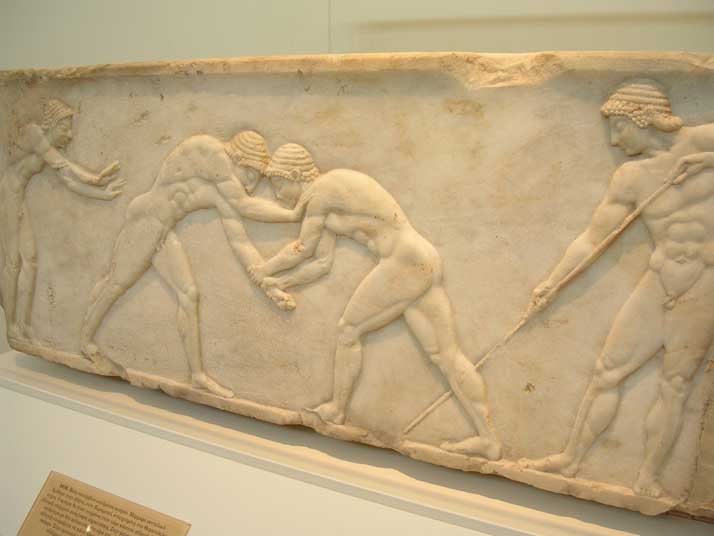 There are numerous wrestling "styles" that adhere to different rules but they all require a minimum amount of equipment but demand a maximum amount of discipline and training.
Equipment
Wrestling requires very little equipment, which is one reason why the rate of participation remains high around the world. Brothers (and sisters) have wrestled each other in living rooms for years but to participate safely you should have a regulation wrestling mat, head gear (to protect ears from rubbing) , wrestling shoes (for traction and flexibility) and comfortable clothing or a wrestling singlet which is a one-piece body-tight uniform.
Preparation
Wrestling requires discipline off the mat, which makes it one of the most difficult sports to compete in.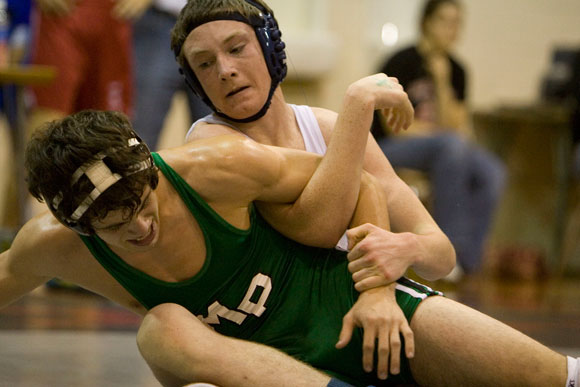 Like boxing, competition is divided into weight classes and wrestlers are required to weigh-in a few hours before the match. If a wrestler cannot make the weight in the allotted time they forfeit the match. "Making weight" impacts the lifestyle of the athlete who must not only eat to maintain good nutrition but also to maintain a specific weight.
The practice of "making weight" or "cutting weight" should be monitored closely and children should always compete at their natural weight.
Styles
Amateur wrestling in the United States consists of three major styles (Professional wrestling is not one of them) and includes American folkstyle, freestyle and greco-roman.
American Folkstyle
Folkstyle wrestling has been around since the days of our founding fathers and many of the greatest American leaders were very accomplished wrestlers (Abraham Lincoln and Theodore Roosevelt).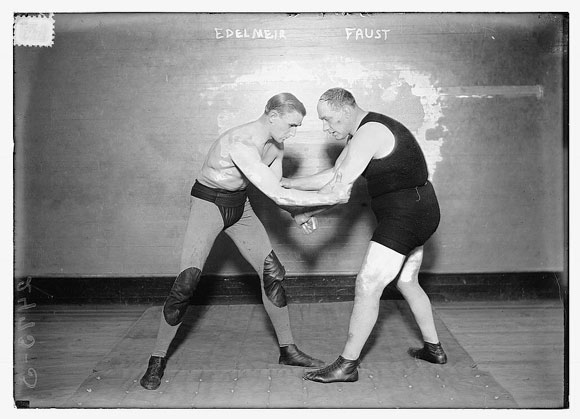 Folkstyle wrestling is the most popular form of wrestling in the US and organized competition exists in every state at the high school and college level.
Folkstyle matches consist of three periods. Period length varies from high school to college but can be 2-3 minutes. The first period always begins in the standing (neutral) position, and alternatively each wrestler is given the opportunity to choose the starting position (top, bottom or neutral) in the second and third periods.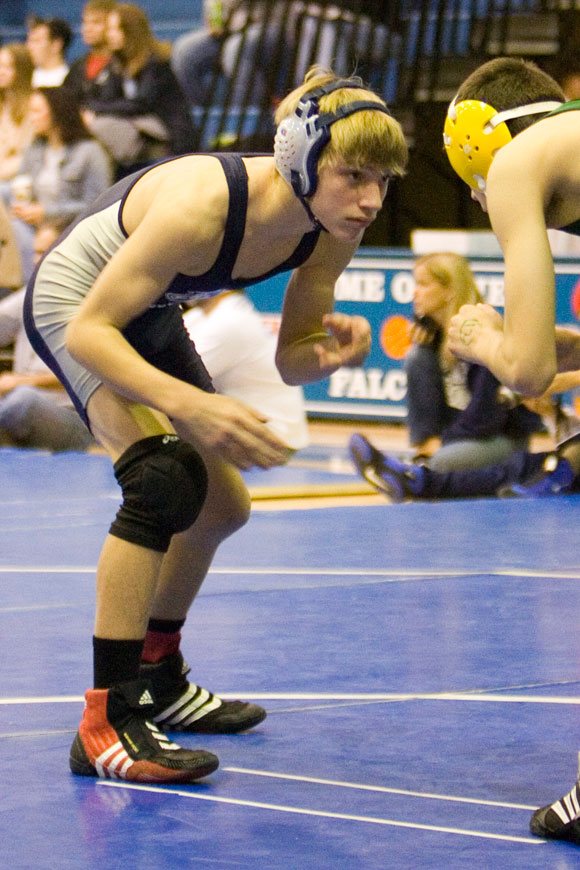 There is no rest between periods and points are awarded for takedowns (2 points), reversals (2 points), escapes (1 point) and back exposure (2-3 points depending on time). In college points are also given for riding time, which means maintaining a dominant top position for more 60 seconds more than your competitor.
A wrestling match can be decided in four ways. A pin, when a wrestlers back is held to the mat for two seconds; a technical fall, when a wrestler scores 15 more points than their opponent; by over all points at the end of three periods; by disqualification (usually due to a penalty).
Freestyle
Freestyle wrestling is popular around the world and is contested at the Olympic games. The rules are slightly different and there are subtle differences in scoring but the main objective is to take down your opponent and expose their back to the mat.
The legendary American wrestlers such as Dan Gable and more recently Cael Sanderson were able to excel at folkstyle wrestling by winning multiple state and national championships and transition into freestyle by winning world and Olympic championships.
Greco-Roman
In the US this is the least popular style but it can be the most exciting to watch as prohibits any leg attacks and relies on upper body strength and technique to throw an opponent to the mat.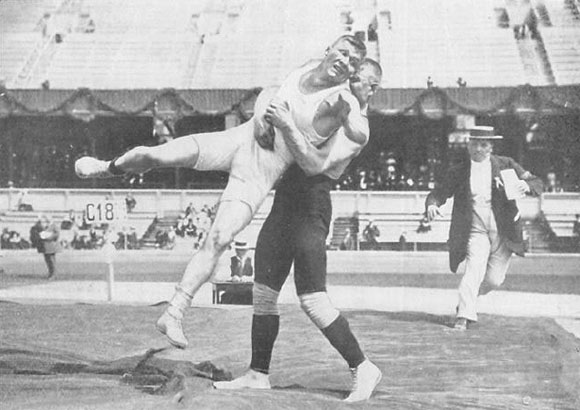 Greco-roman wrestling is similar in style to Judo but without the gi.
Female Wrestling
Wrestling has traditionally been a male only sport but more women and girls now compete at all levels and women's wrestling was added to the Olympics in 2004.
The Impact on Mixed Martial Arts
Amateur wrestlers compete for the love of the sport and unlike basketball or football there is no dream of financial riches by playing professionally (although many professional wrestlers do have a background in amateur wrestling, i.e. Kurt Angle).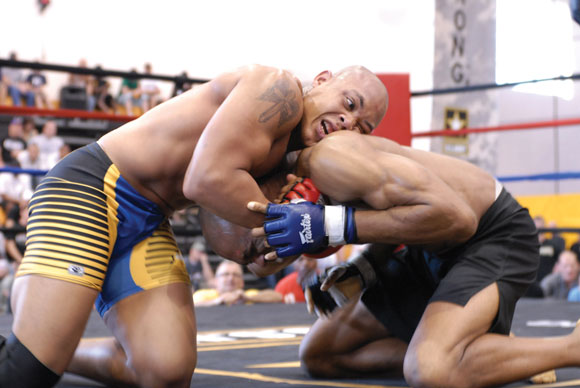 But all that has changed with the rise of mixed martial arts and in particular the UFC. Many of the UFC's biggest stars have a wrestling background and have competed at the college and Olympic level (Randy Couture, Matt Lindland, Brock Lesnar, Dan Henderson).
Having a base of wrestling is arguably the greatest asset over any other fighting discipline when competing in mixed martial arts. The muscle memory and body control that wrestling instills in competitors cannot be matched.
Hall of Fame
The next time you are driving down I-35 through Oklahoma, exit at hwy 51 and take a side trip to Stillwater, Oklahoma, the home of Oklahoma State University but also the Wrestling Hall of Fame which may be the greatest sporting Hall of Fame in the country and contains as much history and artifacts as its contemporaries in Canton and Cooperstown.
That's me next to the Dan Gable display (I know I'm a nerd).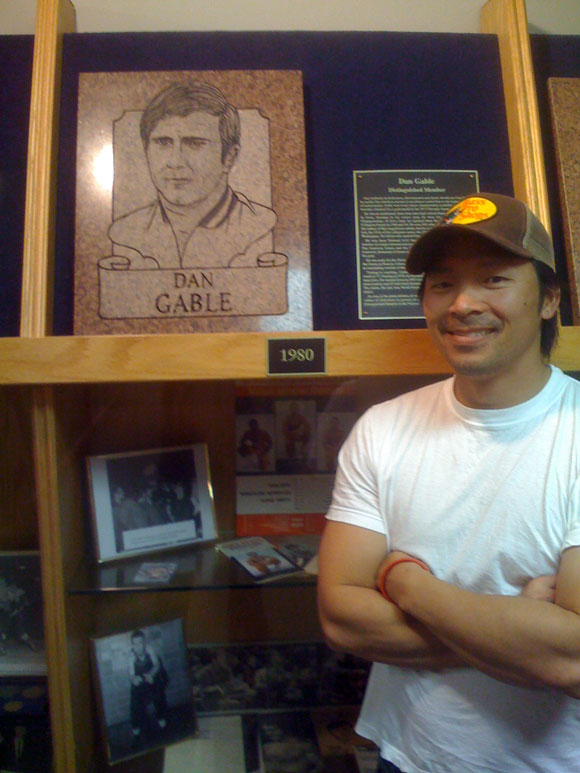 Support the USA
The United States competes in Olympic freestyle wrestling on August 10th, so take your new found knowledge and enjoy the strength and grace of the Olympic wrestlers and cheer for our athletes including gold medal favorite, Jordan Burroughs.